The Fédération Internationale de l'Automobile (FIA) is most known to the general public as the governing body for auto racing events such as Formula One. What fewer people know is that the organisation, which has represented motoring clubs and drivers since 1904, also lobbies on transport policy. Historically, it has mostly dealt with safety issues, but of late, new climate legislation has become a major focus.
From her base in Brussels, FIA Region I director general Laurianne Krid represents members in Europe, the Middle East and Africa. The members are mostly driving clubs, although there are now some cycling clubs as well. On their behalf, she lobbies for changes in policy on safety, environment, digitalisation and ensuring adequate transport options. She says bringing drivers' views into policy discussions can be challenging because these are "often more industry-led and focused on the value chain, not so much on consumers". Energy Monitor spoke with Krid at her Brussels headquarters.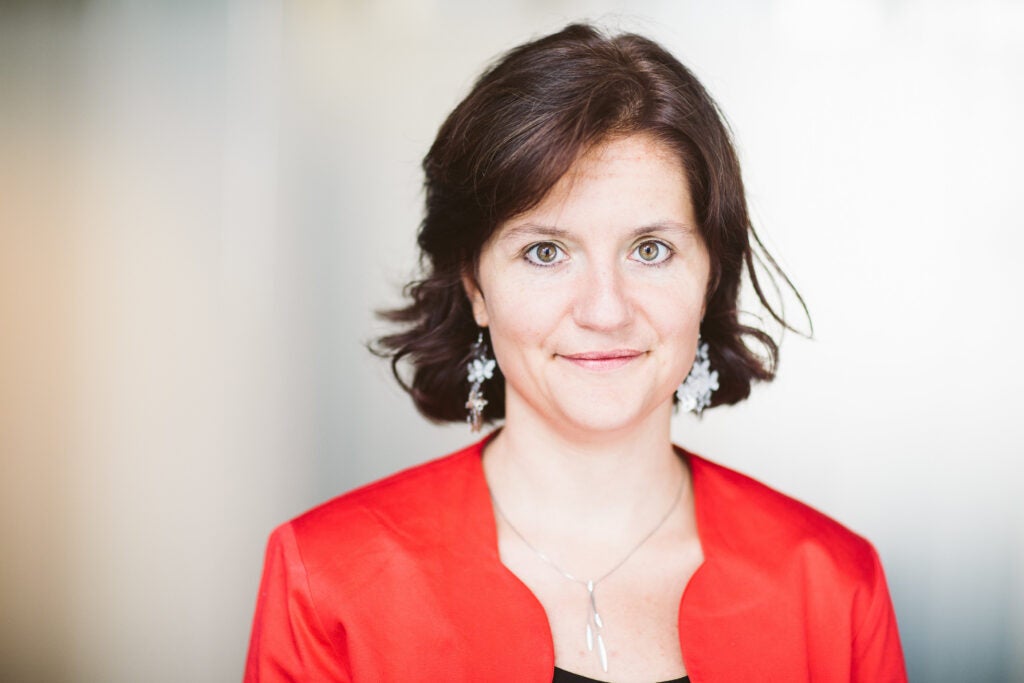 When it comes to the energy transition, what are the issues now being discussed at EU level that will affect drivers most?
About 13% of the revenue available to consumers in 2018 was spent on transport, according to Eurostat, and we see now, with the spike in energy prices, that there is a certain stress on energy, so the cost of energy is going to be key in that transition. Not only because we see the effects right now on vulnerable consumers but because we'll all be competing for green energy. If you want to decarbonise all sectors, green electricity will be something that we need to boost production by so much – literally every sector will be competing for it.
Transport is a key enabler for everything we do in our daily business. You might think it will become less so as teleworking becomes more common, but we still see the weight of transport growing. One impact of the pandemic is that maybe we don't move ourselves as much, but more things are being delivered to our homes, and that also creates a lot of traffic and demand for transport energy. Nobody disputes there will be an increased cost on moving around, not only on people but also things.
The European Commission released its mammoth 'Fit for 55' package last summer. What aspects of that affect drivers most?
The first one is the [new] car CO2 targets obviously. They say that by 2035 we will only have zero-emissions-at-tailpipe vehicles on the market, so that will have a direct impact on the availability of models. Pure electric vehicles (EVs) also mean that use patterns will be impacted – you won't be able to refuel quite as easily unless we have a significant roll-out of recharging infrastructure. Refuelling an EV isn't like refuelling a petrol or diesel engine.
In terms of performance too, there are a number of things that will change, notably range. Our Norwegian club is doing a big EV rally right now. They tell me Norway is about five years ahead of the EU on EVs, which is probably true. They have a lot of EV sales and a lot of experience, and they have found the average range in cold temperatures is much lower than what is advertised.
If you are given a choice between heating your car and doing the last 20km while it's -10 outside, that's a bit tricky.
What we need to do is explain what EVs really are, but the debate is so loaded now – you're either in favour of EVs or against – it has become difficult to talk at all. I fear we won't be able to give consumers the right information. They need to know they are buying an apple, not a pear. It doesn't meant the apple is bad or the pear is the best choice, it's just that people should be made aware of the benefits and limitations of different types of vehicles before they buy them so they know how to use them.
A lot of the elements of 'Fit for 55' are going to make driving more expensive, there is no way around it. The Energy Taxation Directive and adding transport into the Emissions Trading System all lead to higher prices. Electricity is not taxed as a fuel today, but if it becomes so dominant that 80–90% of the fleet is electric, it will change the tax revenues governments get – they will have to come from somewhere else.
[Keep up with Energy Monitor: Subscribe to our weekly newsletter]
The European Commission has foreseen a Social Climate Fund, which defines vulnerable transport users as "lower middle-income households significantly affected by the price impact [of new climate legislation] and [having a] lack of means to purchase zero or low-emission vehicles or to switch to alternative sustainable modes". That largely applies to rural areas – there will be a big divide between the transport available in urban and rural areas. So the support is key.
The main point with this Social Climate Fund is that it is intended to be mostly financed by the new ETS for transport. This is supposed to generate €72.2bn for it, to be matched by member states. Whether or not the money actually materialises however, remains a big question. [There is still a question over whether this new transport ETS will even exist.]
There has been a big debate in Brussels about whether EU legislation is technology-neutral and whether we are looking enough at other alternative fuels. What do drivers think? Do they have a preference for electric because they understand what it is, while other types of fuel like hydrogen, e-fuels and biofuels are less known?
When it comes to drivers, what we see through our clubs and members is that they are quite confused as to what to do today. Our members have dedicated lines where they can ask questions, and they are asking 'what vehicle should I have next based on factors like urban vehicle exclusions? Will I be able to buy such and such a car and drive it into the city?' It is true that for technologies other than electric right now it is really just the most convinced people that know the technology well, because it does seem today that the debate is around liquid [fossil] fuels versus electric.
You mentioned before that infrastructure will be crucial for rolling out new low-carbon vehicles. The Commission's Alternative Fuels Infrastructure Regulation aims to force member states to build a certain number of recharging stations for each EV sold. Based on what you hear from your members, which needs to come first, the cars or the infrastructure?
Range anxiety is a reality, and there are also certain limitations because it is hard for people to charge at home or at work. The question is about investment. We're looking to invest a huge amount into public infrastructure that would allow people to travel longer distances. To me, it shouldn't be either or [for which comes first] but more hand-in-hand as we move forward toward 2035. In addition, we cannot forget that offering private space to charge at work and at home will also be key to solving that catch-22, to give governments an opportunity not to have to spend so much on public infrastructure and at the same time allow people to use their cars in the best way.
My French member has a few members who exchanged their old diesels for hybrids, which might very well be a bridge in-between, but it's not the best of both worlds. You have two engines so it's really a challenge in terms of weight and price, but we see these members are finding it so hard to charge, they actually consume ten litres [of fuel] per 100km. For the majority to make this step [to full electric] we need them to be able to fathom powering these vehicles.
You mentioned that 'Fit for 55' will inevitably mean higher transport costs for drivers. We know people generally want to be greener and feel less guilty about driving, but do they want it enough to pay?
We're going there step by step so it allows people to understand step by step. To be frank, none of us really has the full picture of exactly how much this is going to cost. A lot of EV drivers in the EU are still seen as early adopters or green-minded people. Others want to know 'how much will I need to pay per kilometre?' and 'how much will it affect my ability to move?'. Maybe they'll have to look into having everything closer to them, but again that works for cities, not rural areas.
It's a real challenge to get people on board and understanding the transition, but also having the flexibility to address the big issues. For now, the reality is that electricity isn't taxed as a fuel, but we need more money to have the right infrastructure and support the people who need that support – but selling less liquid fuel will mean a lot less revenue for governments.
Fundamentally, it's a question of affordability for the whole of society. We have to respect that there's a certain incompressible level of mobility. Maybe we're higher than this level right now, we'll see, but we've shown in our studies that demand for transport is relatively inelastic. No matter how much more expensive it is, people need to move around. What's very often forgotten is, yes that has a cost, but it also brings a lot of value back into society.