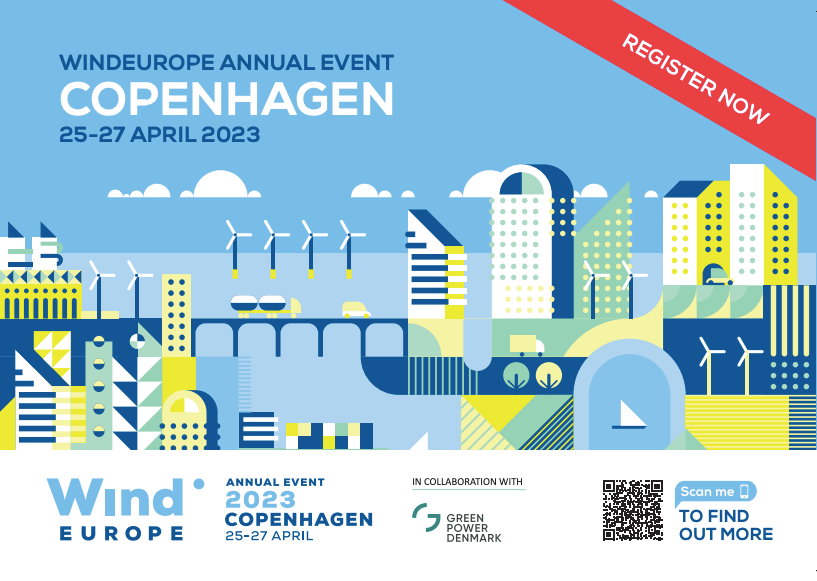 The European wind industry will gather in Copenhagen, Denmark, next week for its annual get-together hosted by trade association WindEurope. With more than 50 sessions and 250 speakers spread across three days, the WindEurope 2023 event will cover a lot of ground. The programme is packed with content on every aspect of wind energy today: supply chains, permitting, grids, sustainability, finance, resource assessment and more. Ministers, CEOs and academic experts will be among the more than 10,000 participants expected.
If you have not yet registered for WindEurope 2023, do so here now.
Energy Monitor will be there too, with reporter Nour Ghantous [nour.ghantous@globaldata.com] available for interviews on the ground – both short video interviews in the spirit of our successful COP27 video series and more in-depth discussions, such as conversations with: John Kraus, CEO of Engineers Without Borders UK, about why the energy transition skills gap is more than technical; senior management at renewables developer BayWa r.e. about what is in store for the renewable energy industry in 2023; or Mads Nipper, CEO of Ørsted, about why "consent" is the biggest threat to renewables.
In addition to our on-the-ground presence, as the event's official Intelligence Partner, Energy Monitor will be providing all WindEurope 2023 participants with a "Number of the Day" for the duration of the conference, just as we did in Bilbao last year.
So please keep an eye on your inboxes! Our "Number of the day" will be sent to you in a dedicated daily email by WindEurope. You will see a number, but also data visuals and accompanying insight on what that number means, courtesy of our in-house data journalists. The topics will centre on some of the hottest issues at WindEurope 2023, including permitting and supply chain challenges. The data itself is primarily drawn from our parent company, GlobalData, which gives us access to more than one billion data points collected daily about companies, deals, projects, forecasts and trends.
GlobalData's suite of 30-plus B2B websites attract up to 19 million users a month. If you are interested in following up with GlobalData for more market insights and/or want to discuss a targeted lead generation or outreach campaign, please contact Joe Roberts (joe.roberts@verdict.co.uk) to learn more about our award-winning AI-based marketing solution.
Either way, our reporter Nour looks forward to meeting you for a chat and a coffee in Copenhagen!