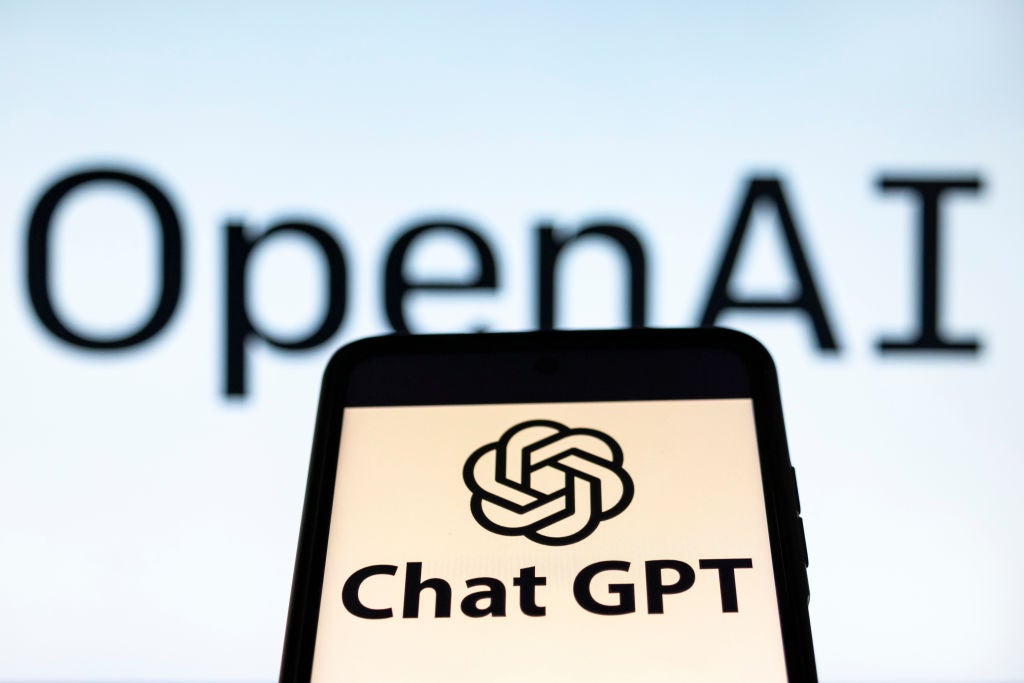 ChatGPT, the open-source language model by OpenAI, has taken the world by storm since its launch in November 2022. With its capabilities already being realised across sectors, clean energy companies are asking what the technology can do for the energy transition.
The free-to-use version of the chatbot, GPT-3, is trained on 570GB of text data and uses state-of-the-art deep learning algorithms to generate human-like responses to natural language inputs. Its potential goes beyond revolutionising the way we communicate and process language, with users having demonstrated its ability to write hours' worth of complex code in just minutes.
GPT software can perform a variety of mathematical operations including geometry, algebra and calculus, as well as complicated equations. The scientific disciplines of physics, chemistry, biology and astronomy may also be handled by GPT-4, the latest version of the programme released just four months after GPT-3 and available to paying users. GPT-4 can quickly assess complex scientific papers and offer insights and explanations because of its powerful processing and language modelling abilities.
Inevitably, companies have begun to incorporate ChatGPT's myriad abilities into their corporate strategies. Investment bank Morgan Stanley's content library houses hundreds of thousands of pages of knowledge and insights in PDF form across internal sites, which once proved tricky administratively when employees wanted to locate specific information. Since the company leveraged OpenAI's GPT-4 to power an internal chatbot to perform a comprehensive search, Morgan Stanley's content library has become more readily accessible and actionable for advisors (who for now, are keeping their jobs as content creators).
ChatGPT-3: speaking for itself
When Energy Monitor asked ChatGPT what it could do for the energy transition, GPT-3 wrote: "GPT can play a significant role in the energy transition by helping to accelerate the adoption of renewable energy sources, improving energy efficiency, reducing waste and promoting sustainability. GPT can be used to analyse large datasets, predict energy demand, optimise energy usage and support the development of new energy technologies. Some specific applications of GPT in the energy sector include energy demand forecasting, load balancing, predictive maintenance and energy efficiency optimisation. These applications work by analysing large datasets, identifying patterns and trends, and using machine learning algorithms to generate insights and recommendations that can help improve the performance and efficiency of energy systems."
Some, like environmental technology company Kayrros' chief analyst Antoine Halff, argue those are existing applications of AI in the industry. "These days when you say 'AI', most people think ChatGPT, [though] the role of AI in the transition goes well beyond generative AI. Much of [Kayrros'] work falls into three categories: we produce data to measure manmade emissions and reduce our climate footprint; we assess climate risks and protect people and assets from wildfires and floods; and we accelerate the energy transition itself by monitoring both renewable and fossil fuel supply chains in near real time. AI plays a big role in each."
He adds: "AI can use satellite imaging to assess the extent of the damage to a ruptured pipeline and give accurate predictions of the effect this will have on production and supply. It can analyse travel patterns during major events, such as the Chinese New Year, and how, say, energy consumption will be affected. Using remote sensing, AI can also track carbon emissions from industrial processes and monitor the progress of renewable energy projects such as wind farms and solar installations.
Keep up with Energy Monitor: Subscribe to our weekly newsletter
"We habitually use AI to extract actionable data and actionable measurements of climate impact and climate risks from raw satellite and geolocation input. With the introduction of the Carbon Border Adjustment Mechanism, it is clear that AI, combined with earth observation data, will play an important role in helping governments quantify embedded emissions in imports and establish the quantitative aspects of the regulations. This is equally true for new methane regulations that aim to impose penalties on those behind excess releases by oil and gas infrastructure, and to implement bans on imported deforestation."
Energy Monitor asked GPT how its applications in the energy transition differ from other AI technologies, to which it answered:
"GPT has a unique advantage over other AI technologies in that it can generate human-like text and understand the context of language, which makes it particularly useful for natural language processing and decision-making. However, other AI technologies like machine learning and deep learning can also play important roles in accelerating the energy transition by analysing large datasets, optimising energy usage and supporting the development of new energy technologies."
ChatGPT: friend or foe?
Industrial data operations company Cognite has already incorporated ChatGPT into its renewables data processing. "So, the positive side is it is going to make the user interface easier," says Rafed Hossain, technical director at Cognite. "That is the most important part; the purpose of GPT is to [provide] the end user [with] an enriched data source.
"The negative is over-reliability on GPT," he warns. "You have to remember that, at the end of the day, there needs to be a human element to make sure that this is the correct data."
Hossain explains Cognite's adoption of GPT. "Over the past months, especially after [Cognite] started seeing how open AI and ChatGPT was making data availability easier, we realised we could summarise a lot of results in an enriched manner by using GPT. For example, [I can ask GPT] to summarise a document that is 20 pages long and tell me what the important elements in this document are. It will give a summary of 100 or 200 words […] This you could perform not only for PDF files but complex text structures where, for example, you could say to GPT, 'find me this document within this parameter'."
He adds: "But since we are working with maybe millions of data points and billions of time series, we must be very careful. The purpose of using something like ChatGPT is more to enrich the data, not to use it as a final solution."
Beyond text analysis, Hossain mentions Cognite's interest in what he calls "potential use cases", which involves GPT in the company's strategic decision-making by requesting it to interpret and make suggestions based on data. "But this is still in the testing phase [for Cognite]. We want to be sure it works," he adds.
"One of the biggest [questions] is where is the limit?" says Hossain. "You could do a lot of things to enrich the data, but if a document is really complex, human intervention is needed. Otherwise, you might get something inaccurate. There needs to be a human filter, when it comes to critical infrastructure like power plants. [Cognite] would recommend GPT only be used by subject matter experts."
Read more from this author: Nour Ghantous
Jeremy Suard, CEO of non-intrusive subsurface mapping company Exodigo, shares Hossain's sentiment. "We need to remain clear that AI is a tool. It is not a silver bullet or a quick fix to the climate crisis. The application of AI needs to be thoughtfully and intentionally designed with assumptions and values clearly explained."
He adds: "There is a risk that AI could be used to optimise energy systems in ways that prioritise efficiency over other considerations such as safety, reliability, equity or social and environmental impact. As the use of AI grows to inform key decisions, policies and procedures that directly impact human lives, we have a duty to ourselves and future generations to ensure that AI is deployed ethically and responsibly."
"One of the threats to relying on AI in the energy sector is the possibility that it could put the energy grid in jeopardy," says Richard Gardner, CEO of AI technology company Modulus. "Essentially, without all the necessary inputs and information, AI will make mistakes where human expertise and intuition would prevail. Of course, there is also the question of job displacement, which looms large."
"The applicability of AI to specific energy problems is a great opportunity, but even more actionable is how quickly it can enable teams to advance solutions," says Don Tappan, a partner at New York-based venture capital firm Braemar Energy Ventures, who lauds AI's speedy bureaucratic capabilities. "We have seen companies cut developer time on applications by [more than] 80%. Less time doing the mundane means more time for the exciting."
"The clean energy transition is marked by rapid technological progress across many countries, and complex regulatory frameworks and tax codes that present barriers to entry and often harsh bureaucratic burdens on small companies and on green investors trying to identify opportunities for investments," says Steve Brumby, CEO of AI technology company Impact Observatory. "ChatGPT and similar systems are going to greatly reduce the friction in the system.
"Clean energy operators will have tools to quickly and cheaply generate all the compliance and reporting paperwork for every jurisdiction, and new tools to keep up with progress in the technical literature across all languages. Regulators and banks will have automated assistants that will instantly read, cross reference to policy and tax codes for compliance, and catch and highlight concern in every report and plan. Green investors will have the tools to keep up with all the reporting and identify trends and opportunities in the sector," he adds.
"[But] generative AI systems are excellent at generating human-like text, and so can be used to fabricate disinformation at unprecedented speed and scale," he warns. "Regulators and investors are going to need to watch for AI-assisted fraud, and deal with AI-generated spin that is amplified by social media networks that might be heavily infiltrated by sophisticated, human-like bots."
Mitigating the risks of AI
GPT-3 outlined some of its own weaknesses and potential harms to Energy Monitor. "Some ethical considerations associated with using GPT in the energy sector include potential bias in data and language, data privacy and security concerns, and the potential for misuse or unintended consequences. For example, if GPT is trained on biased data, it may replicate and reinforce these biases in its outputs, potentially perpetuating social and environmental injustices. Additionally, the use of GPT in the energy sector may involve collecting and processing sensitive data about individuals or communities, which raises concerns about privacy and security."
"The ultimate responsibility for a successful energy transition will always stay with the humans wielding the tools," says Exodigo's Suard. "AI can help us analyse large datasets, identify patterns and optimise operations. It can help us design more efficient and effective renewable energy systems, predict and mitigate risks associated with climate change, and improve the performance of energy storage technologies. However, when all is said and done, the political will and resources to act on those insights and implement policies need to come from people – from those in positions of authority and power, and from everyday citizens who want to see change and progress."
He adds: "Like any tool, we need to know when and how to use AI. It is crucial for governments and companies to understand 'the black box' of how AI works, its limitations, and the reality that outcomes are heavily influenced by the quality and quantity of data ingested. Important research is being done today on mitigating bias in AI, and we should continue to invest in these efforts – as well as investing in the necessary systems, infrastructure and talent to develop and implement AI solutions that accelerate the clean energy transition."
"To address these ethical considerations, it is important to develop and deploy GPT systems responsibly, with a focus on transparency, fairness and accountability," says GPT. "This may involve establishing clear guidelines for data collection, handling and use; ensuring diverse and representative datasets; and regularly auditing and evaluating GPT systems for bias and unintended consequences.
"Additionally, stakeholders should be engaged in the development and deployment of GPT systems, to ensure that they are aligned with the needs and values of the communities they serve. Finally, it is important to prioritise transparency and communication with stakeholders, to build trust and understanding around the use of GPT in the energy sector."