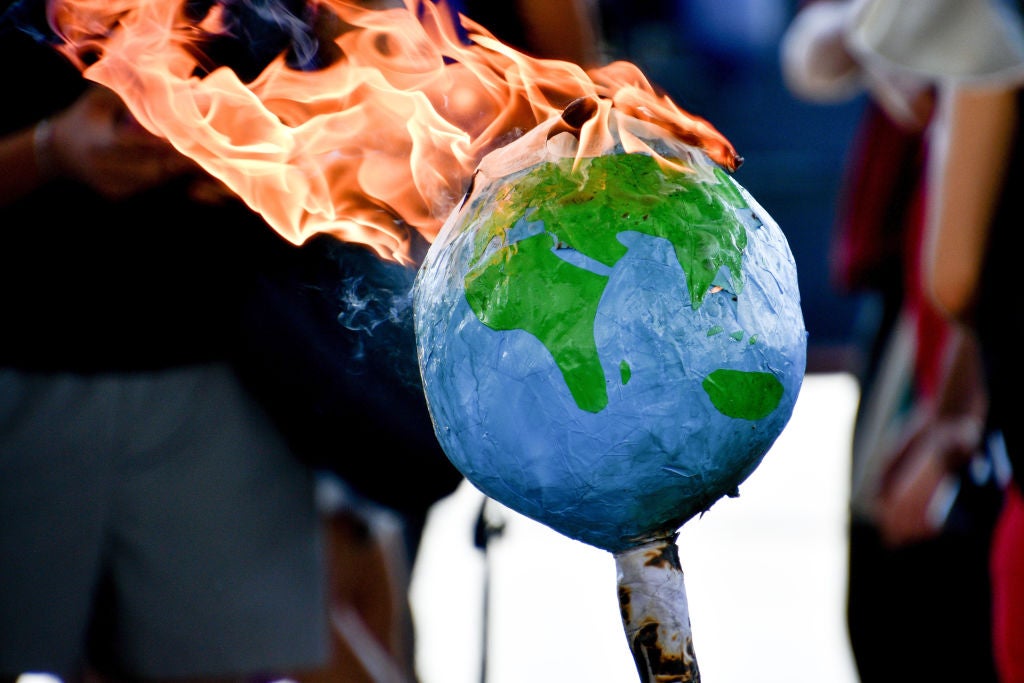 There is no single way to measure which country globally is responsible for the most carbon dioxide emissions. One approach is to add up a country's cumulative emissions over time. This would expose the US as the world's largest emitter historically with a 24% share of cumulative global CO₂ emissions from fossil fuels and land use as of 2021.
China (14%), which is fast catching up with the US, and Russia (7%) would be next on the list, followed by former colonisers Germany and the UK – these last two would appear much lower down the ranks of if only contemporary production and consumption were considered.
The most common approach used by contemporary global CO₂ emissions inventories for calculating national emissions focuses solely on territorial emissions – measured on the basis of production taking place within a country's borders. Although this is a useful indicator of which countries are producing the largest amounts of material goods, it fails to capture the flow of emissions associated with goods or services produced in one country for consumption in another. Equally, territorial accounting fails to capture where a country's residents consume a high proportion of imports.
For example, while the US has recorded an 8% decrease in CO₂ emissions relative to 1990 levels when looking only at production, it has actually increased its emissions by 3% over the past 30 years when accounting for emissions embedded in imported goods.
These conclusions are drawn from data that comes from the scientists-led Global Carbon Project, which uses an 'input-output' model that subtracts territorial emissions from emission consumption to showcase emissions embedded within traded goods and services. Countries that consume more emissions embedded within goods than those they produce domestically are therefore net importers of emissions.
As the map above shows, countries in the Global North, including in Western Europe, are more likely to be net importers of CO₂ embedded within traded goods while countries in the Global South along with Eastern Europe are more likely to be net exporters.
China, Russia and India – in that order – are the world's three largest exporters of CO₂ emissions when accounting for trade in goods and services, whereas the US, followed by Japan and the UK, are the largest importers.
Yet if you go one step further up the supply chain, and focus on which countries are the biggest net importers and exporters of fossil fuels, a different picture emerges. Norway, for example, which is not a particularly large exporter of goods, is Europe's second-largest oil and gas producer after Russia, and the world's fourth and 14th-largest exporter of gas and oil, respectively. Arguably, imports and exports of fossil fuels are important factors when it comes to assessing emission responsibility.
The map below exposes countries such as Norway and Saudi Arabia, which are among the world's largest producers of crude oil, as net exporters of fossil fuel production – and therefore emissions.
Although it is one of the world's largest producers and consumers of fossil fuel energy, the US is neither a large net producer nor consumer when looking at production and consumption in relation to one another, given that the country exports a similar amount of energy that it imports.
China was the world's largest importer of fossil fuels in 2021, importing more than 9 million barrels a day from countries such as Saudi Arabia (18.4%), Russia (17%) and Iraq (11.1%), according to the Observatory of Economic Complexity. Russia was the world's largest exporter.
In light of European sanctions on Russia, following the country's invasion of Ukraine, China overtook the EU to become a larger monthly importer of Russian fossil fuels by value earlier this year. Saudi Arabia, followed by the UAE, is the biggest supplier to Japan, the world's second-largest net importer.
Keep up with Energy Monitor: Subscribe to our weekly newsletter
Another way of comparing countries' emissions is to look at CO₂ per capita, adjusted for trade.
As the map below shows, Qatar, followed by Singapore, Brunei, Kuwait, the UAE and then Saudi Arabia, are the countries with the highest per capita CO₂ emissions when counting imports of goods and services. Other countries that stand out with relatively high per capita emissions from consumption include the US, Australia and Mongolia, with China and India much further down the ranking due to their large populations, as well as the fact that they export the majority of their emissions.
Despite having a population of fewer than four million people, Mongolia, whose capital city Ulaanbaatar houses almost half of the country's entire population, ranks 41st globally for coal consumption.
Climate legislators are on the lookout for more equitable ways of apportioning responsibility for global CO₂ emissions. For example, the EU recently adopted the world's first carbon border tax, the Carbon Border Adjustment Mechanism (CBAM).
Through CBAM, goods imported into the EU from countries with weaker climate legislation will now pay a carbon levy to counteract the risk of European companies leaving the continent for more competitive locations. Shifting the framing of emissions away from a simple calculation of what is produced within a country's borders will be vital for sufficiently ambitious climate action and a just transition.