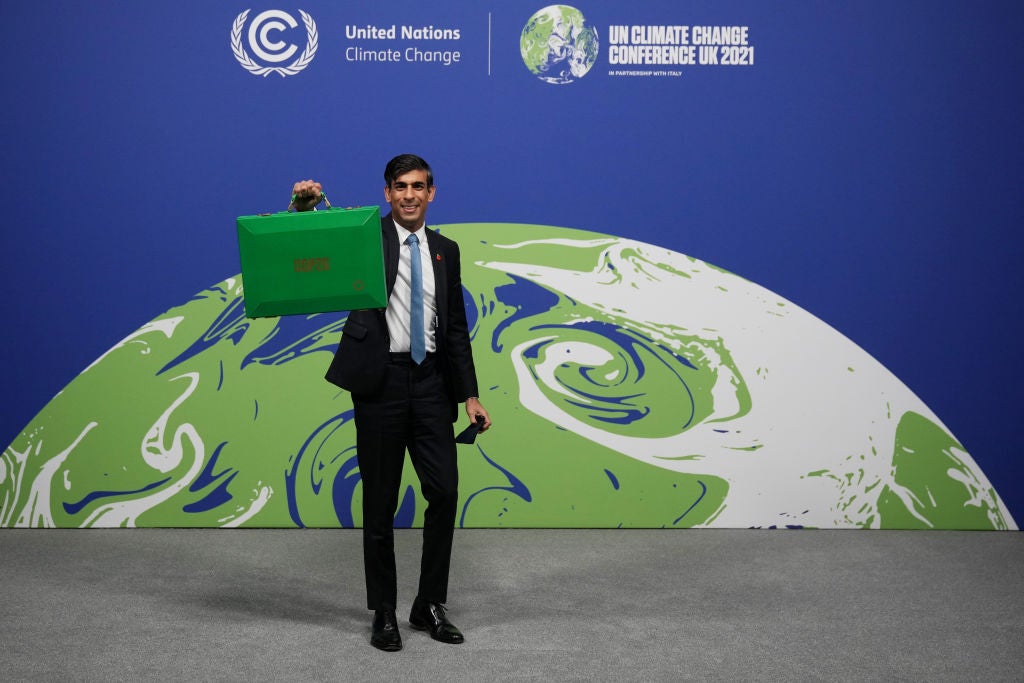 Shadow Secretary of State of Climate Change and Net Zero Ed Miliband's fears that the UK government's Green Day would become a "boulevard of broken dreams" were confirmed yesterday, with green groups and politicians expressing disappointment at the lack of new green funding measures. UK Green Day, the name used by the Rishi Sunak government to launch its new net-zero strategy, was rebranded Energy Security Day, likely in order to downplay its possible climate credentials.
Following a successful legal challenge by three climate-focused non-profits – Friends of the Earth, ClientEarth and the Good Law Project – the UK government was ordered by the High Court in July 2022 to publish a revised net-zero strategy by 31 March 2023. A trickle of policy papers were released throughout the morning of 30 March; as of midday yesterday, Carbon Brief's Simon Evans counted 44 new government documents totalling 2,800 pages accompanying the revamped strategy, Powering Up Britain.
However, to the disappointment of many, the government's revised strategy so far appears to lack any new funding or policy announcements; instead the measures are largely a repacking or reiteration of existing plans.
Green Party MP Caroline Lucas tweeted yesterday morning that the "greenest thing" about the UK's Green Day plan "is the recycling of already announced ideas", noting the absence of any plans to introduce a mass insulation programme, remove the existing onshore wind ban or mandate solar panels on new homes.
Similarly, in a press statement published on Thursday, Ed Matthew, campaigns director at think tank E3G, complained: "Most of the policies launched today were announced last year and are not bold enough to keep the UK competitive in the clean tech race or put us back on track to net zero. It is underwhelming."
However, contrary to what many anticipated, the government has so far not used Energy Security Day to approve the Equinor-owned Rosebank oil and gas field project in the North Sea, although on Thursday afternoon, the Independent reported that the government had refused to commit to stopping the development of the contentious project.
On energy, key commitments in the government's new 'Powering Up Britain' policy and accompanying Energy Security Plan, include a fifth round of the flagship contracts for difference scheme for clean energy, worth £205m ($254m), as well as £160m of funding towards investment in floating offshore wind farms.
In addition, the brief highlights the government's plan to launch Great British Nuclear, a body responsible for delivering the government's new nuclear programme, which was first announced in the Spring Budget on 15 March.
In a similar vein, the government details plans to launch a 'Great British Insulation' scheme, which is a rebranding of the UK's existing ECO+ scheme that aims to deliver improvements to 300,000 of the UK's least-efficient homes by March 2026, generating estimated annual savings of £300–400 per household.
Other energy efficiency measures in the Powering Up Britain strategy include a £30 million Heat Pump Investment Accelerator competition aimed at incentivising domestic manufacturing of heat pumps.
On transport, the government announced it was putting £381m towards its Local Electric Vehicle Infrastructure Fund, a scheme first announced in March 2022 as part of its electric vehicle (EV) infrastructure strategy, to deliver EV charge points and associated infrastructure.
Other announcements include the naming of eight carbon capture and storage (CCS) projects, which were selected to proceed to negotiations for support in the government's CCUS [carbon capture, utilisation and storage] Cluster Sequencing Process; BP's Net Zero Teesside Power and Viridor's Runcorn CCS are among the successful bidders. This follows the government's recent announcement in the Spring Budget that it is committing £20bn to CCUS over the next 20 years.
As part of Green Day, the government unveiled the much-anticipated update to its Green Finance Strategy, which expands on its plan to become the "world's first" net-zero-aligned financial centre, and also largely consists of confirming existing plans as opposed to any new announcements. For example, the government confirmed that an already-delayed consultation on a UK 'green taxonomy' will take place later this year, and that it will launch a consultation on climate transition plans for large listed and private companies. In addition, it took steps to promote alignment of international standards through an assessment of the International Sustainability Standards Board's standards.
James Alexander, CEO of the UK Sustainable Investment and Finance Association, said in a statement that he welcomed the updated framework. "Today's update provides some much-needed clarity for our members on the future direction of travel of the UK's sustainable finance regulatory framework," he said.
Others expressed disappointment at the plan's lack of new material, with Lewis Johnson from financial non-profit ShareAction stating: "We had hoped for something bold and visionary, but this amounts to little more than a restatement of existing commitments."
Although the government's revised strategy is still fresh out of the oven, some are already speculating that it could prompt another legal challenge, as in its new Carbon Budget Delivery Plan the government concedes that projected emissions fall 32mtCO2e short of meeting the UK's sixth carbon budget target.
When asked if this shortfall would lead the three green groups to take the UK government to court once again, the Good Law Project's legal director Emma Dearnaley told Energy Monitor that the company is "already reviewing the government's revised plan very carefully with our lawyers, and we won't hesitate to take legal action for a second time if this vital climate strategy continues to fall short of what is required."
She added: "Nothing is more important than protecting our planet. We need a proper plan to ensure that carbon budgets and the 2050 net zero target are actually met, with the detail necessary for Parliament and the public to scrutinise and understand the progress being made at every step of the way towards a sustainable future."