Mining companies are making progress on decarbonisation, according to a report on the mining sector from Energy Monitor's parent company GlobalData. For the report, researchers analysed company filings from more than 140 mining companies.
"Over the last two or three years considerable progress has been made by mining companies in terms of setting emission reduction targets and net zero goals, and, more recently, outlining their decarbonisation pathways," write the analysts.
Environmental, social and governance (ESG) strategies are increasingly important, and the mining industry has become aware of the need to comply with both environmental and community standards. In recent years, the industry faced a backlash after the destruction of ancient aboriginal rock shelters in Australia, inhumane conditions at cobalt mines in the Democratic Republic of the Congo, and the Brumadinho dam disaster in Brazil that resulted in the death of 270 people.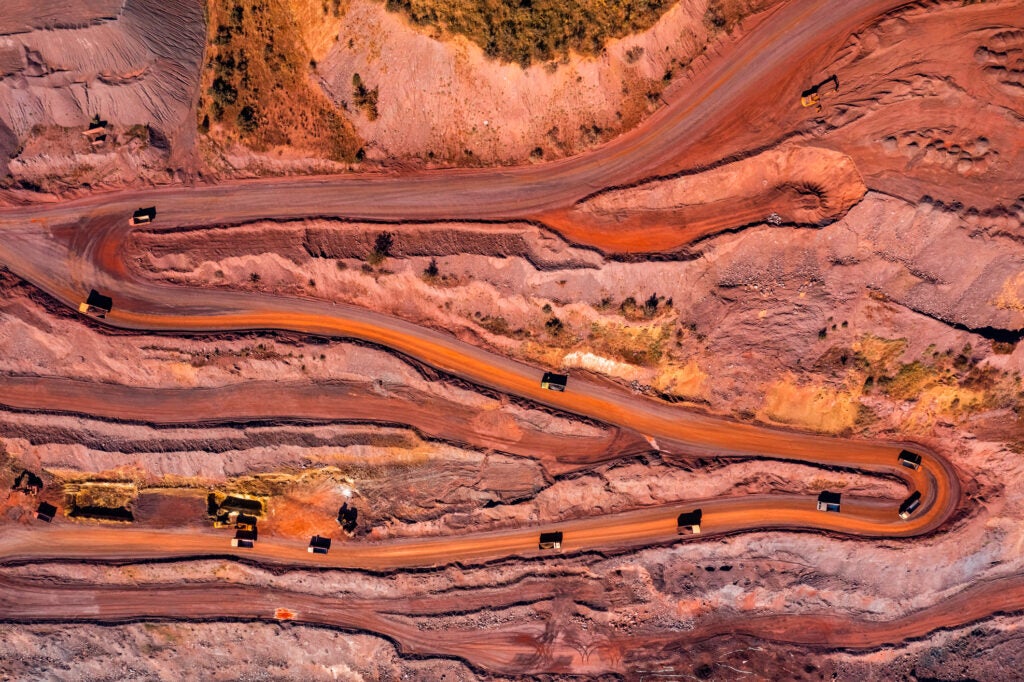 According to GlobalData's analysis, references to 'decarbonisation', 'carbon neutral', and 'net zero' were made three times more in 2021 than in 2020. Compared with 2018, it is nine times more.
ESG is also seen as the biggest risk for disruption by mining executives in 2022, according to a survey in accounting organisation KPMG's global mining report. It is the first time in the report's history that commodity prices are not the leading concern.
Decarbonisation amid rising demand
The mining industry is currently responsible for 4–7% of global greenhouse gas emissions, according to consultancy McKinsey. While reducing scope 1 and 2 emissions would help reduce the industry's overall climate footprint, the most significant share (28%) "would be considered Scope 3 (indirect) emissions, including the combustion of coal". As for other industries, tackling scope 3 poses problems of calculation and influence.
[Keep up with Energy Monitor: Subscribe to our weekly newsletter]
The challenge for the industry lies in having to reduce its emissions while ramping up production of critical minerals to fuel the energy transition. According to a report from the World Bank, clean energy technologies need more materials and minerals than fossil fuel-based technologies. A Belgian university recently warned that Europe faces a critical mineral shortfall.
"Greater ambition on climate change goals, as outlined by the Paris Agreement, requires installing more of these technologies and will therefore lead to a larger material footprint," the World Bank says.
One example is the commodities needed for electric cars versus traditional combustion engine vehicles; a battery-electric vehicle needs six times more critical minerals.
Production changes
In terms of reducing emissions in recent years, results vary. Some mining companies have reduced their emissions, while others saw a steep rise. According to GlobalData, some of the increases can be explained by an expansion of operations – and some of the reductions can be explained by lower output due to Covid-19. Mining company Glencore says its fall in emissions was "mainly due to lower production volumes owing to the Covid-19 pandemic, as well as some operational abatement and production changes".
With future demand only due to rise, the challenge will be reducing emissions without reducing production or output. In the short term, it looks like emissions reduction plans mostly revolve around the use of renewable energy "either directly via on-site power plants or through purchasing power, assisted by diesel displacement efforts as diesel-fuelled mining vehicles are gradually replaced by those powered by electric batteries or fuel cells", explains GlobalData.
This is confirmed in a survey GlobalData did for its report. The company asked senior managers at 139 mining sites what they thought were the most viable options to minimise emissions within the next few years. Over half of the respondents saw the greatest potential for electric vehicles, while 41% saw on-site power as a viable option. Hydrogen-powered vehicles were the least-selected option, with 16%.
When it comes to renewables as a share of total electricity consumption, United Company Rusal and Teck Recourses currently lead the way with 98% and 88%, respectively. Harmony Gold Mining and Polymetal International are lagging, with just 3% of their electricity consumption coming from renewables.
Some companies benefit from renewables in the national electricity mix of the countries where their mines are located, reports GlobalData. Brazilian mining multinational Vale is an example of this: the high share of renewable energy in the Brazilian energy mix contributes to the company having an 87% share of its power consumption from renewables. Others are investing in on-site renewable power, such as solar power plants, to be less dependant on fossil fuels.
Editor's note: The first data visual was updated on 5 May to include only those companies whose activities are centred on mining and was also updated on16 May to correct the dataset on the emissions of South32 Ltd.