When Spain's energy minister entered the EU Energy Council in Brussels on 24 November, she left little doubt on how she felt about the European Commission's proposal for a cap on the wholesale price of natural gas unveiled two days earlier. "It's a joke," she said flatly. She wasn't alone. Polish energy minister Anna Mowska also called the proposal a joke, and French energy minister Agnès Pannier-Runacher said it is "insufficient" and does not honour the mandate given by EU countries to the Commission in October.
For months, 16 of the 27 EU countries have been asking the Commission to put forward a proposal to cap the wholesale price of natural gas to bring down the skyrocketing price of energy. The 16 countries from Europe's South and East, including Spain, France, Italy and Poland, together have enough votes to pass a qualified majority vote for such a cap in the Council. But a group of countries from Europe's North, led by Germany, are adamantly opposed to such market intervention.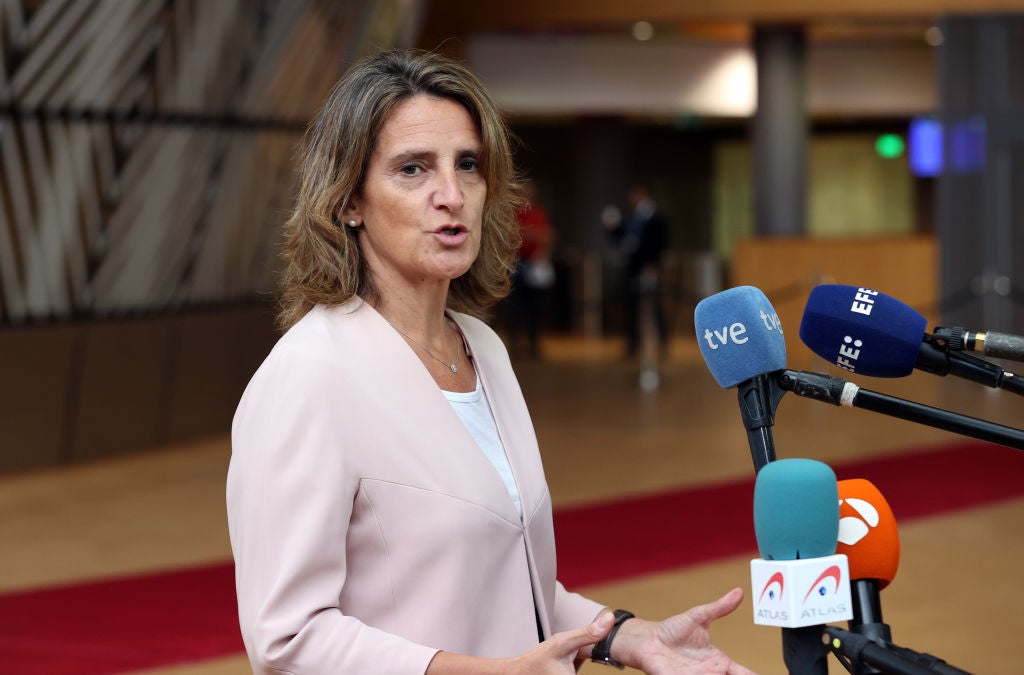 The Commission is also wary, fearing the measure could backfire and cause the liquified natural gas (LNG) the EU needs so badly to replace Russian pipeline gas to sail to global competitors like Japan who would be willing to pay more than the EU's cap. The 16 pro-cap countries don't have a uniform position on what level they would like the cap to be, but they argue that a "dynamic cap" could be adopted that would always be a bit more than competitors like Japan. Commission officials have said privately that would be very difficult to do, because those LNG contracts setting the price with countries like Japan are private.
And so, when the Commission finally did come out with a proposal for a "market correction mechanism" on 22 November, it came with so many conditions and caveats as to render it effectively unusable. It could only be triggered if two conditions happen simultaneously: one, prices on the Dutch TTF, Europe's main gas trading hub, rise above €275 for more than two weeks and two, prices outside Europe do not rise.
Using emergency energy measures as collateral
The pro-cap countries had threatened to veto a wider energy package containing new legislation for joint gas purchasing, faster renewables permitting, gas-sharing solidarity measures and a new benchmark for the price of LNG, if the Commission didn't come forward with a gas price cap proposal by the time of a scheduled vote on the package on 24 November. The Commission did, but the countries decided its proposal was not enough for them to drop their threat to block the vote.
Czech energy minister Jozef Sikela, who chaired the 24 November Energy Council because Czechia currently holds the Council's rotating presidency, stressed after the meeting that the "content" of the wider energy package had been agreed. "We are not opening the champagne yet, but put[ting] the bottle in the fridge," he said. "The formal adoption is to go hand-in-hand with reaching political agreement on the [gas price cap] proposal we discussed today."
He scheduled another extraordinary meeting of energy ministers for 13 December where they will again try to vote on the package. But that vote is unlikely to materialise unless an agreement on the fifth measure – the gas price cap – is found. Ribera told journalists at the 24 November meeting that it would be "extremely unbalanced" to adopt the package without first addressing the Commission's gas price cap proposal.
Sikela acknowledged that energy ministers' discussion over the price cap had been "quite heated" and common ground was hard to find. He is in a difficult position because as presidency chair he has to be a neutral arbiter, but behind the scenes Czechia is one of the countries that wants a price cap.
EU gas price cap: Back to the drawing board?
So far the Commission has declined to withdraw its proposal, meaning it will be up to member states to amend it in Council. In theory, because this is an issue determined by qualified majority – that is a vote of member states weighted by population – the 16 pro-cap countries should be able to get their way. However, German Chancellor Olaf Scholz obtained a gentleman's agreement from the Czechs at an EU summit on 20 October that they would not hold a vote against Germany's objections. That means Berlin can veto any gas price cap even though technically it should not be able to.
Sikela confirmed at the November Energy Council that he will not call a majority vote overruling Germany. "There's simply too much at stake," he said.
[Keep up with Energy Monitor: Subscribe to our weekly newsletter]
EU energy Commissioner Kadri Simson defended the Commission's proposal after the November meeting. "We were given a very specific mandate by the Council at the end of October," she said, disputing the French government's claim that the proposal does not honour the mandate. "What we have proposed has to be seen in that precise context."
"The intention of [the] market correction mechanism is to intervene when the TTF gas price is no longer reflecting the market fundamentals," she explained. "This is why we introduced the second condition, which is crucial to ensure we continue to attract LNG cargoes to replace Russian gas." Any price cap comes with risks, she stressed: "It's therefore necessary to have safeguards in place to avoid unintended negative consequences. Most importantly, mechanisms can be suspended at any moment in a security of supply risk."
No one is happy with the proposal now on the table. Dutch energy minister Rob Jetten told journalists in November that it still goes too far and contains "a lot of risk for damaging the energy security of supply and also for the stability of the financial markets". The pro-cap countries, who think the proposal does not go nearly far enough, want the €275 threshold for the cap to kick in to be lower, and they want to remove the second condition that says the cap cannot kick in if price spikes are not matched globally.
Time running out for energy security
Industry figures have raised alarm that the dispute is holding up badly-needed measures in the wider energy package. "European companies urgently need emergency measures on energy and regulatory breathing space," said Fredrik Persson, president of the Brussels-based industry association BusinessEurope. "The current crisis is dramatically exacerbating the risks of Europe's deindustrialisation.  We need a game-changing solution at EU level to mitigate skyrocketing energy prices, such as urgently considering a temporary decoupling of electricity prices from gas prices."
If no agreement can be reached at the energy ministers' meeting on 13 December, the issue will have to be bumped up once again to the level of prime ministers and presidents, who will be meeting for an EU summit on 15 December. Governments are desperate to avoid that scenario, since the last leaders' summit in October was already hijacked by the issue.
Nevertheless, the Czechs have scheduled one final extraordinary energy ministers meeting for 19 December, just before the Christmas break, in case they need to quickly implement something decided by leaders.
If, after all that, still no agreement is reached, and the pro-cap countries continue to block adoption of the wider energy package, it will fall to Sweden, which takes over the rotating Council presidency on 1 January, to try to broker an agreement. But this could be even more difficult for Stockholm than for Prague, given that Sweden is one of the countries opposed to a cap.