It is worth remembering, with the $1.75trn bill that would fund much of Joe Biden's domestic policy agenda held up in the Senate by Joe Manchin and the entire Republican caucus, that action on climate continues in state capitals. Democratic governors in California and New York have recently proposed new investments and initiatives as ambitious as those envisioned in the Build Back Better Act (BBBA).
Joe Biden and Democrats in Congress have pledged to redouble their efforts to construct a spending package that pleases Manchin. Democrats believe much of the $555bn in clean energy and climate spend floated in the most recent House version of the BBBA will survive in a revised package. Joe Biden even singled out climate provisions as the centrepiece of such a package during his press conference on 19 January.
"I think it is clear that we would be able to get support for the 500-plus billion dollars for energy and the environmental issues that are there," he said.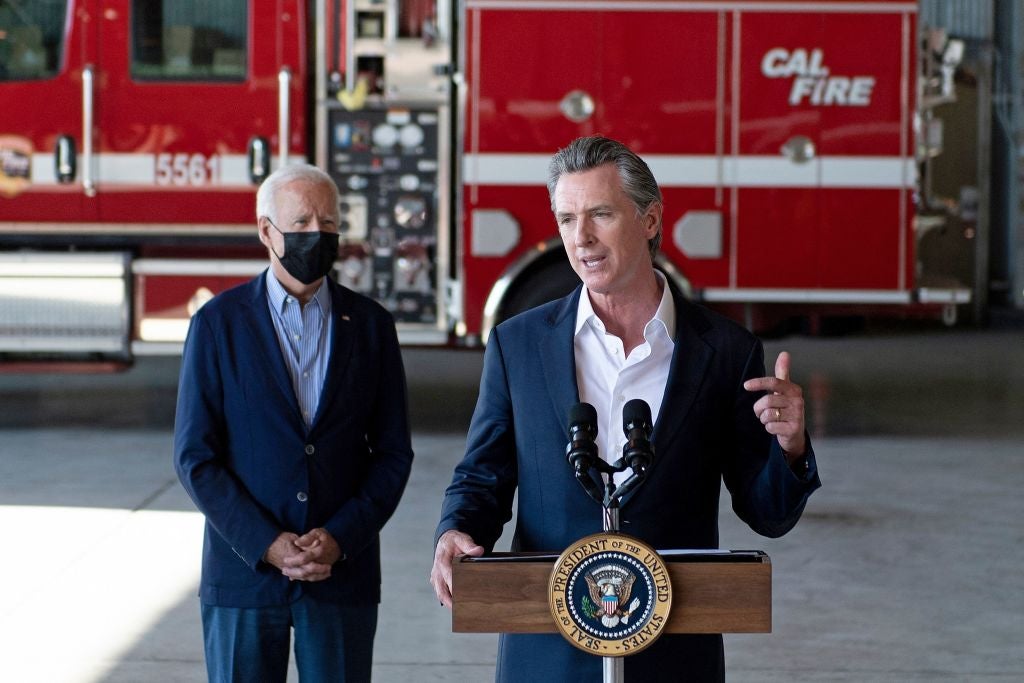 However, until Congress passes such a package, states are again leading the way. The US's decentralised political system makes it possible for states to maintain momentum on climate action even when the White House is hostile to those efforts, as was the case under Donald Trump, or action stalls at the Capitol.
Over the past two decades, more than 30 states have enacted some form of renewable or clean energy standard. In recent years, nearly a dozen of those states have passed requirements for 100% carbon-free electricity. Actions announced recently in California and New York, two of the nation's largest state economies, would accelerate the energy transitions already under way in each state.
California: $10bn for zero-emission vehicles
California Governor Gavin Newsom released a preliminary budget on 10 January that proposed directing $22.5bn of the state's projected $45.7bn budget surplus for 2022–23 to climate and clean energy initiatives. Add to that money agreed to in last year's budget and California will have allocated $37.6bn to climate and clean energy programmes over six years. Democrats hold supermajorities in both houses of the state legislature, so the final budget to be approved this summer will hew to Newsom's priorities.
Newsom's proposal would invest $10bn to get more zero-emission vehicles on the road. California is the US's largest electric vehicle (EV) market by far but will need to accelerate their roll-out ahead of 2035, when a ban on the sale of new gasoline-powered cars and trucks takes effect. New money for 2022 includes nearly $1bn for zero-emission heavy-duty trucks and transit buses, $1.5bn for electric school buses and associated charging infrastructure, and $400m to electrify ports.
"The future is electric, and we are making it easier and cheaper than ever before to go electric," said Newsom in a 10 January statement. "That means more assistance to help folks buy clean cars and more charging stations in more communities throughout the state."
His budget proposal also includes $2bn to support the roll-out of new clean energy technologies. Among the proposed spending is $1bn to decarbonise buildings, with two-thirds reserved for "a statewide, low-income direct-install, building retrofit program", $380m for long-duration energy storage, $210m for industrial decarbonisation, $100m for green hydrogen, and $45m to build infrastructure to support California's emerging offshore wind industry.
The governor's office is also working with the US Department of Energy's Loan Programs Office to explore the potential for California to provide loan guarantees or other financial assistance to companies active in EV supply chains, virtual power plans, geothermal energy production, lithium extraction and other emerging technologies.
"These loans will be structured so that if businesses become profitable, a share of benefit from these projects can be shared with Californians," according to the governor's budget summary.
New York: the first state to ban fossil fuels in new buildings?
In New York, Governor Kathy Hochul used her 5 January State of the State address to announce a goal to achieve two million "climate-friendly homes" – at least one million all-electric homes, and up to one million electrification-ready homes – by 2030. Realising the goal would require a more than ten-fold increase in the 20,000 homes currently electrified each year by the end of the decade, according to the governor's office.
Hochul also proposed legislation to "require zero on-site greenhouse gas emissions for new construction no later than 2027". If signed into law, New York would be the first state to ban the use of fossil fuels in new buildings. The move follows the passage of a similar measure in New York City in December 2021.
[Keep up with Energy Monitor: Subscribe to our weekly newsletter]
To maintain New York's leading position in offshore wind, Hochul said the state would invest $500m in ports, manufacturing and supply chain infrastructure. New York's offshore wind target, 9,000MW by 2035, is the nation's largest. The state will hold a third offshore wind solicitation early this year that is expected to result in 2,000MW of new projects.
The US will not reach Joe Biden's ambitious climate targets if getting there means relying on state action alone. Republican lawmakers control too many state houses for that. Only substantial federal investment, like the $320bn to extend clean energy tax credits for ten years proposed in the BBBA, will ensure the energy transition advances even in the reddest states. However, until Congress acts, it will be up to states like California and New York to build markets, lower technology costs and keep alive the prospect of transformational national climate action.