An EU energy strategy originally meant to cushion the blow of rising energy prices is undergoing a radical transformation this week following Russia's invasion of Ukraine. The strategy, delayed from its original publication date of 2 March, is now expected to be adopted on 8 March with its focus shifted to reducing energy dependence on Russia. Decreasing fossil fuel use overall, not originally part of the draft strategy, will now be a major focus, according to EU sources.
"We have seen a change between the leaked draft [before the war] and this week's," says Raphaël Hanoteaux, senior policy advisor on gas politics at think tank E3G. "There is now more on energy efficiency and renewables. There is still some things that are not exactly up to the task, but it increases focus on the green deal and 'Fit for 55', which is something absolutely fundamental to support that ambition. Who knows, we could end up with an even better draft within days."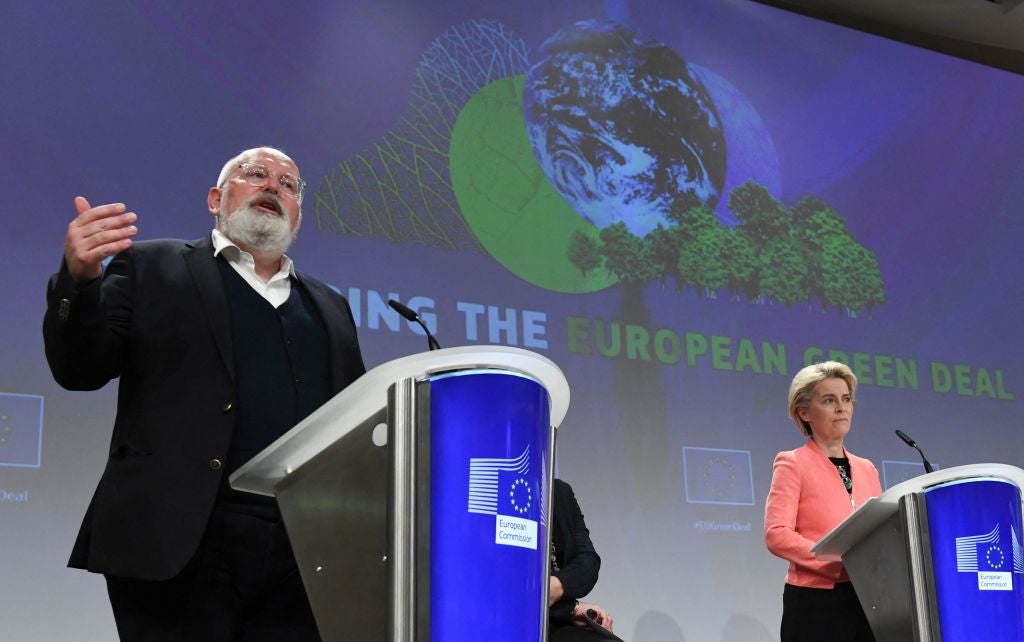 Speaking at a meeting with Ukrainian President Volodymyr Zelenskiy last week, European Commission President Ursula von der Leyen said: "Every kilowatt-hour of electricity Europe generates from solar, wind, hydropower or biomass reduces our dependency on Russian gas and other energy."
Green Deal link
The Ukraine war has painfully exposed Europe's dependence on Russian gas. The EU relies on imports for 90% of its gas, 40% of that coming from Russia. The latest draft of the strategy lays out several steps to reduce that dependence, including diversifying Europe's gas supplies and forming a "new energy compact" to increase renewable energy.
While initial comments from von der Leyen suggested the EU was going to focus only on short-term needs by diversifying from Russian gas to liquified natural gas (LNG) from non-Russian sources, what has emerged over the past week is a Commission intent on making the EU Green Deal the cornerstone of the medium and long-term strategy to ditch Russian gas.
"There is now a direct link between the Green Deal and energy security in the draft, which was lacking before," says Hanoteaux. "This would not have been thinkable five years ago. It is also due to changing economics on the ground that make investment in renewables profitable." Renewable energy is now much cheaper than gas. The strategy now also includes a financing facility for energy efficiency, grid prioritisation for renewables and a loosening of bureaucratic hurdles for building renewable installations.
At the same time, the strategy still puts a large emphasis on short-term methods of diversification through LNG. "But it is really not clear how this could be a short to medium-term solution," says Hanoteaux. "70% of LNG is [delivered through] long-term contracts, which comes at a high cost with big competition with Asian markets."
Climate policy under threat?
The Commission's strengthening of the climate elements of the strategy comes despite pressure from politicians who say the EU's climate policies should be scaled back in light of the current challenge. The government in Poland has been particularly vocal in making this case.
Christian Ehler, a German member of the European Parliament who sits on the energy committee, says the Ukraine war means a rethink of EU climate policy is in order. "We need a change in perspective," he says. "The green deal was modelled […] without [factoring in] external shocks in security of supply, but I think what was modelled with the green deal is no longer valid for the current situation. It requires a reorientation of energy policy to make sure energy remains affordable while climate neutrality is achieved."
However, he stressed that the European Peoples Party, the centre-right pan-European bloc that is the largest group in the parliament, does not believe the EU's 2030 emissions reduction goal and its 'Fit for 55' legislative package on how to get there need to be changed. Instead, the revision of EU gas legislation needs to be rethought, he says.
[Keep up with Energy Monitor: Subscribe to our weekly newsletter]
In the UK, which is now free from having to follow EU climate law, there has been growing pressure over the past week from conservative politicians to ditch the country's 2050 net-zero target in light of the war. Lead Brexiteer Nigel Farage is now demanding net zero be put to the public in a referendum.
Julian Popov, a former Minister of Environment of Bulgaria, says now is not the time to be lowering climate ambition. He notes that some of the earliest climate action in Europe came as a result of the 1973 oil crisis. "We have consistently got it wrong and aren't learning lessons from history," he says. "If we look back at the 1973 oil embargo, it hit Europe and the US very badly – and then we gradually forgot about it. But that is the moment which gave massive [impetus to the] development of renewable energy and energy efficiency. That is when the wind industry started."
A coalition of business leaders sent a letter this morning to Commission President von der Leyen saying the war means climate efforts should be redoubled. "Gas prices are five times higher than just a year ago and are set to remain high in the medium term. We need to dramatically reduce dependence on Russian fossil fuels by doubling down on the energy transition in the EU Green Deal." The signatories include Coca-Cola Europacific Partners, EDF, Iberdrola, Hybrit, Microsoft, Signify and Unilever.
Short term versus long term
While the strategy published tomorrow is expected to put a short-term emphasis on securing new gas, it appears the worst fears of climate campaigners – that EU climate policy would be whittled away in panic – are not being realised. It also appears that the importance of gas in the EU's energy mix is being re-evaluated. Andrius Kubilius, a member of the European Parliament from Lithuania, says that is how it should be.
"The gas industry promoted the idea that gas is a transition fuel and we have to go through gas to get to renewables – that is simply not true," he says. "If we look at countries that reduced their coal dependency, we see they don't replace it with gas, they replace it with a combination of renewables and energy efficiency. They are giving us sufficient tools to rapidly reduce our gas consumption.
"In the immediate term we have to replace Russian gas supplies with non-Russian LNG supplies, but what we need now is a wartime resilience effort," he adds. "We have to have an energy security strategy that I call 123; one year, two years, three years. By next winter we can do a lot of things on the side of energy savings. There are hundreds of small technologies that are ignored just because they are small and not very interesting, such as heat insulators."
Energy stakeholders will be keenly watching tomorrow's strategy for any sign the Commission is re-evaluating its climate strategy. If anything, however, it appears the Commission now sees the gas supply crisis as an opportunity to double down on climate policy. Whether that actually happens will depend on whether the 27 EU national governments embrace this idea, but it looks like they will be under increasing pressure from citizens to do so.
"In terms of citizens, there is new awareness and responsibility to act in the face of these security risks," says Luca Bergamaschi from the think tank ECCO. "There is new opportunity for engaging with citizens, everyone understands now what this is about."