Six years on from the Paris Agreement, annual climate finance flows across the globe surpassed the $1trn mark in 2021, according to new research from US non-profit the Climate Policy Initiative (CPI). However, that level still needs to increase fivefold by 2030 for the world to avoid the worst impacts of climate change, the group warns.
The average annual flows in 2021 and 2022 hit $1.3trn, double the level of 2019 and 2020, according to the CPI's report, Global Landscape of Climate Finance 2023, released this month. However, 28% of the increase was a result of the increased availability of data.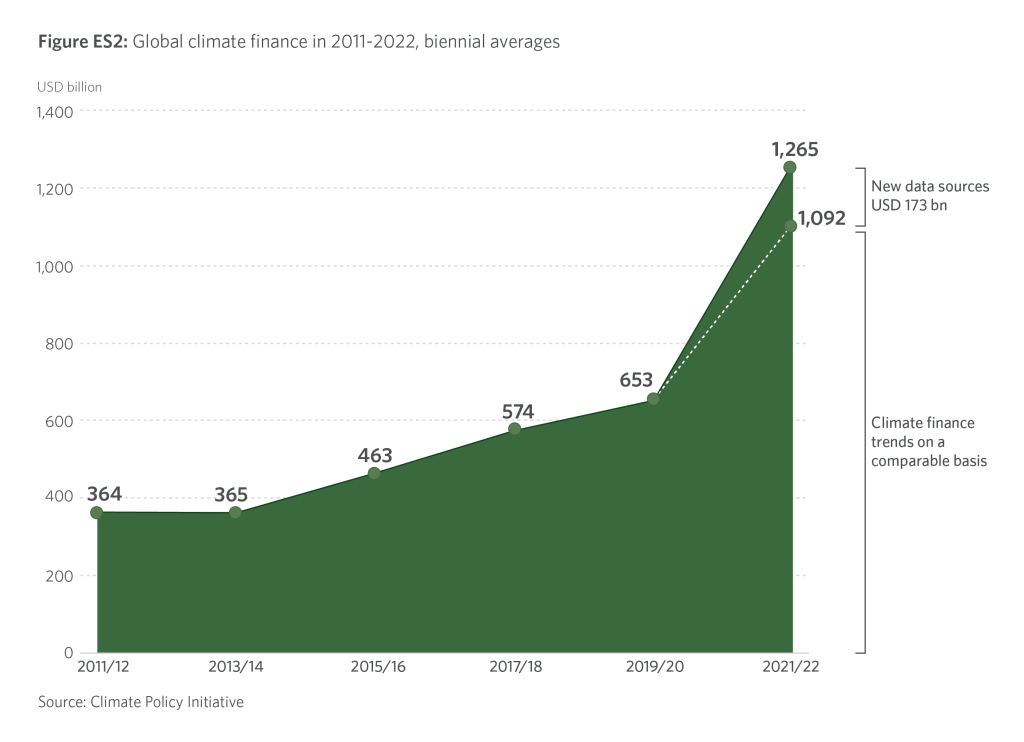 "While crossing the $1trn threshold is undeniably good news, it is important to emphasise that this represents just 1% of global GDP," said Barbara Buchner, global managing director at the CPI, at a press briefing for the report's launch. "All actors must accelerate investments now to significantly reduce future economic and social costs, but it is not just about costs – there are immense opportunities for businesses to pursue low-carbon and climate-resilient pathways."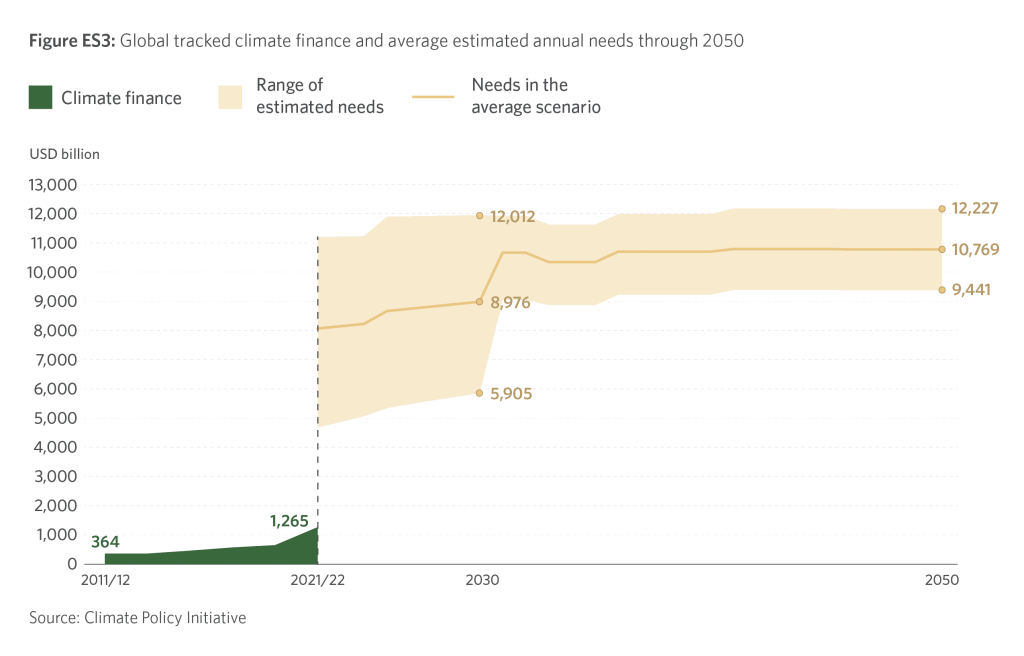 However, the more the world delays scaling up investment, the more expensive it becomes – both in regard to mitigating the global temperature rise and dealing with its impacts. The CPI's research shows that under current policy and investment commitments, the cumulative costs of climate change would be ten times higher than the estimated investment required to keep global warming to 1.5°C.
"Investing now really makes sense," said Baysa Naran, a manager in the CPI's London office and one of the report's lead authors, at the press briefing. "It will result in a considerable reduction in social and economic losses for future generations – $1,266trn lower compared to the business-as-usual scenario. This is also probably a dramatic underestimate because there are many things that are very hard to estimate in terms of costs, such as biodiversity loss, stranded assets or broader social issues like migration and conflict."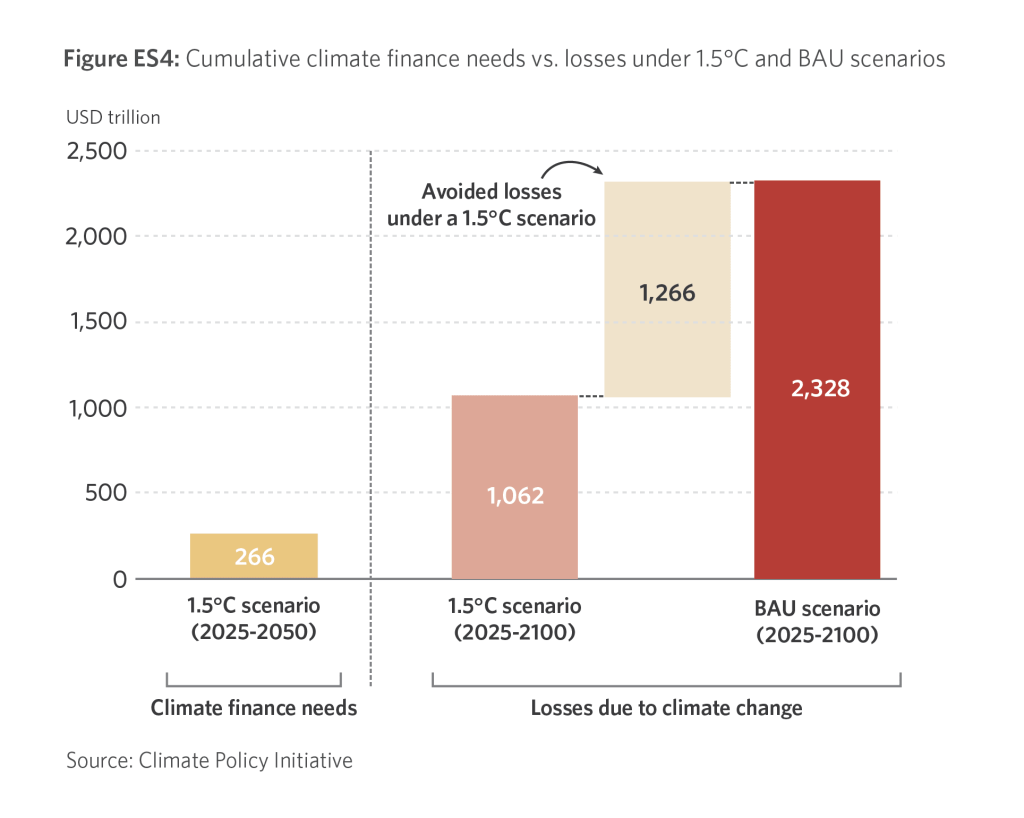 The vast majority (more than 90%) of global climate finance flows in 2021 and 2022 went toward climate change mitigation, increasing 60% from the previous biennial. A large proportion of this flowed into renewables and low-carbon transport, which are typically perceived as less risky by investors.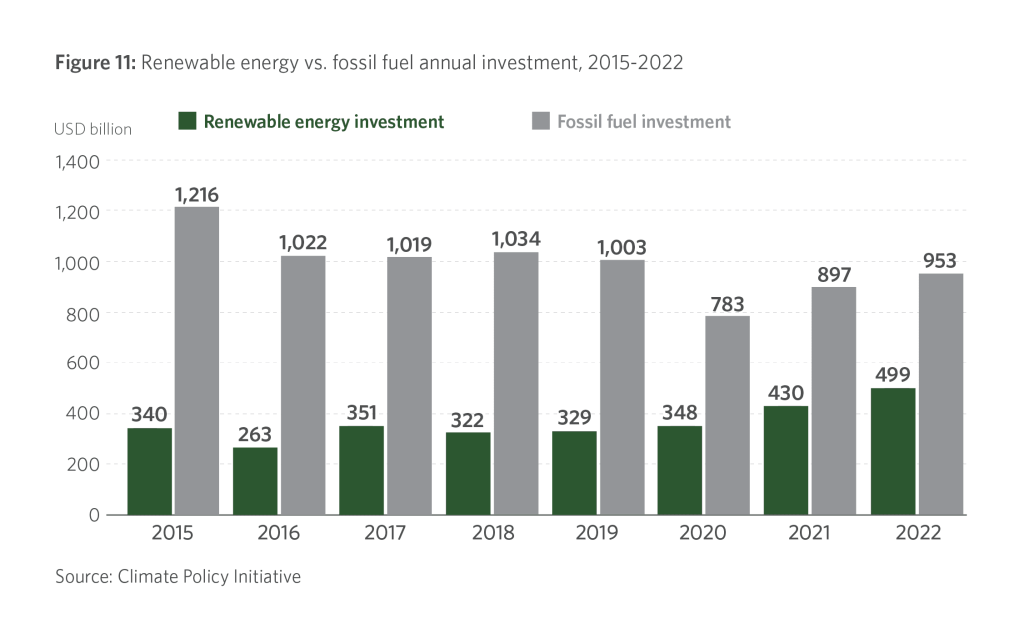 "This is an all-time high growth for mitigation finance, one that really does drive the major increase that we see in total climate finance flows," said Costanza Strinati, a senior analyst at CPI, at the briefing. "The increase was largely driven by higher investments in renewable energy and electric vehicles in East Asia, Europe and Latin America." However, Strinati pointed out that investment in renewable energy assets remained only half the investment made in new fossil fuel assets. "Much more needs to be done in the sector to really shift policy support and capital away from fossil fuels and towards renewables and other energy transition technologies," she said.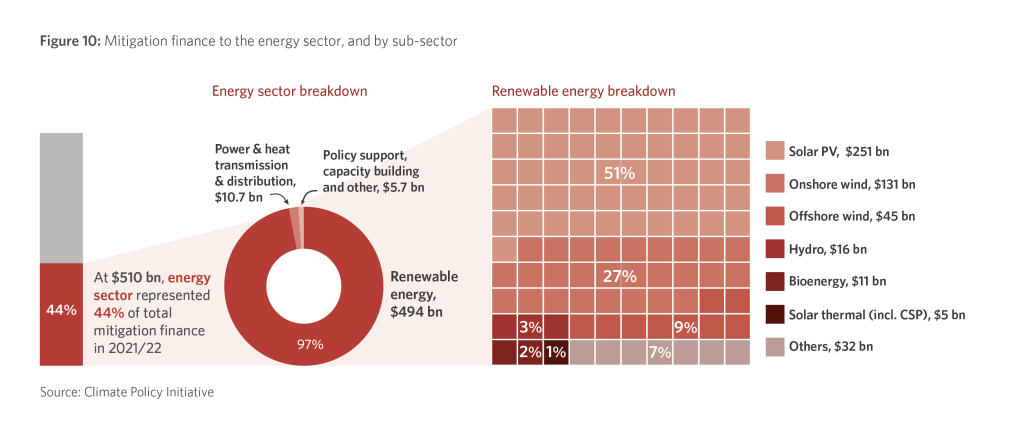 Underfunding in agriculture, forestry and land use is also a concern, given the sector is estimated to have the largest mitigation potential but still receives minimal mitigation finance. Sustainable crops, livestock production, afforestation and reforestation have a crucial role to play in putting the world on a 1.5°C degree trajectory, said Strinati.
While adaptation finance grew 28% to a record $63bn in 2021 and 2022, it still fell well short of the estimated needs: developing countries alone require $212bn a year by 2030 and $239bn annually between 2031 and 2050, according to the CPI.
"It is clear that the global adaptation funding gap is widening," said CPI analyst Sean Stout. "Adaptation finance needs for developing countries alone are approximately three-and-a-half times higher than the current global total."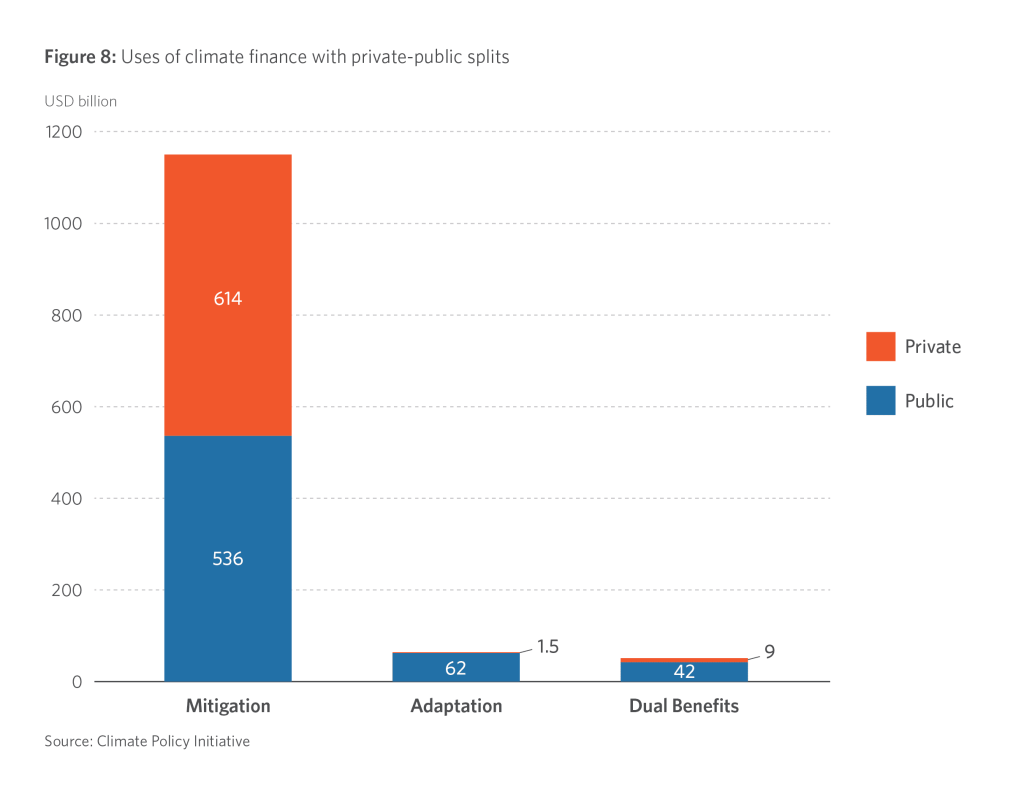 Overall, the US and Canada, Western Europe, and East Asia and the Pacific attracted 83% of all climate finance in 2021 and 2022, and significantly outperformed other regions in mobilising domestic finance. The world's least-developed countries, on the other hand, attracted a mere 3% of total climate finance flows, despite being most vulnerable to the pernicious effects of climate change.
One of the main reasons the Global South lags in these investments is the high cost of capital, said Buchner. This can be up to seven-times higher than in developed countries because of the perceived risk, spanning basic country risk to specific risks related to issues such as foreign exchange.
"We need to address these risks and come up with more innovative financial solutions, and also the right policies that can create the certainty and enabling environment for money to go into these countries," Buchner said. "There is a need for greater, more effective risk-sharing instruments, like guarantees and scaled, blended vehicles, and MDBs [multilateral development banks] have an important role here to really use their capital more effectively to unlock other pools of capital and address the risks that the private sector isn't able to take."
The private sector provided 49% of global climate finance in 2021 and 2022, averaging around $625bn a year. As with public climate finance, however, developing countries significantly lagged developed ones in raising climate finance from private sources.
"Mobilising private finance at scale is incredibly important in the years ahead, given the limited public budget we have," said Naran. "So, we really need to get private finance going for both climate mitigation and adaptation activities."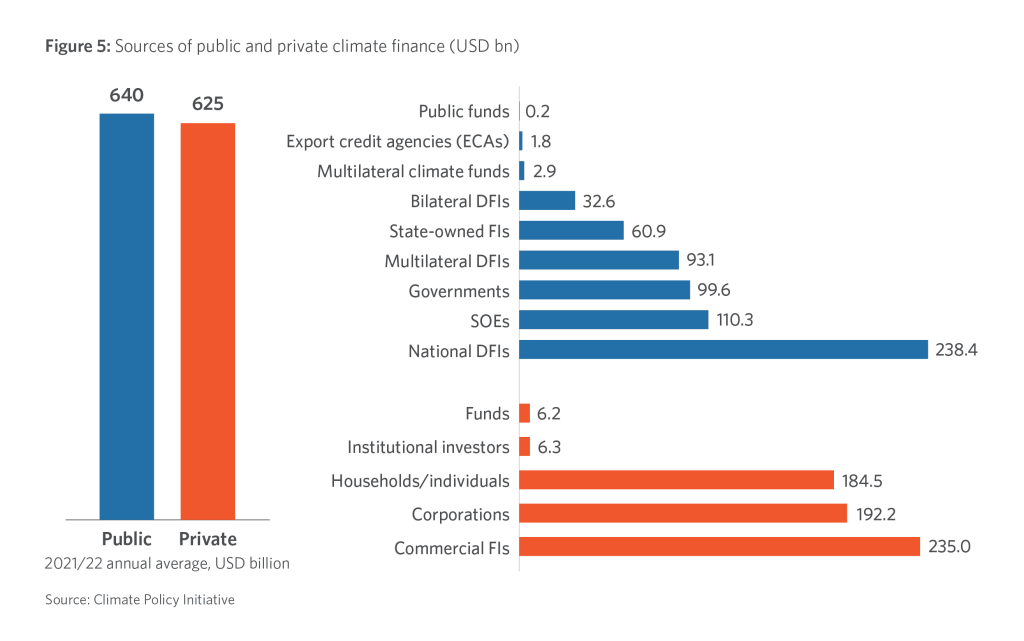 Going forward, the CPI proposes a list of priorities for global policymakers and financial leaders. First, the financial system needs to be transformed, including reforming international financial institutions, which are "uniquely positioned to take more risks, channel innovative finance and leverage concessional finance to expand private flows", said Naran.
Second, climate and development investment need to be better integrated, harnessing synergies between development and climate action in areas such as nature, public health, energy access, food systems and gender equality, as well as integrating adaptation activities across all financial systems and major infrastructures.
Third, domestic action needs to be strengthened, "such as aligning indices with 1.5°C-compatible scenarios, establishing clear and ambitious policy frameworks, as well as creating local ecosystems for climate investment so that domestic capital actors know how to issue green bonds and attract capital from international markets", Naran added.
Finally, more and better data needs to be collated, "because high-quality climate finance data is super important to understand investment gaps, building effective solutions and informing investors on where to prioritise next", she concluded.