Investors in US clean energy stocks seem to have made up their mind about next month's election: the sector has raced ahead with valuations that appear to have a Biden win baked in. As of mid-October, the leading US-focused clean energy exchange-traded funds (ETFs) had doubled in value this year. And, in a vivid illustration of changing fortunes in the energy patch, in October the market capitalisation of renewables bellwether NextEra Energy overtook that of oil major ExxonMobil – once the world's most valuable public company.
But while US clean energy investors could take a hit if Trump stages another stunning upset, or if federal policy is less supportive than they hope, they are also surfing secular trends that are firmly underpinning the sector's medium-term prospects.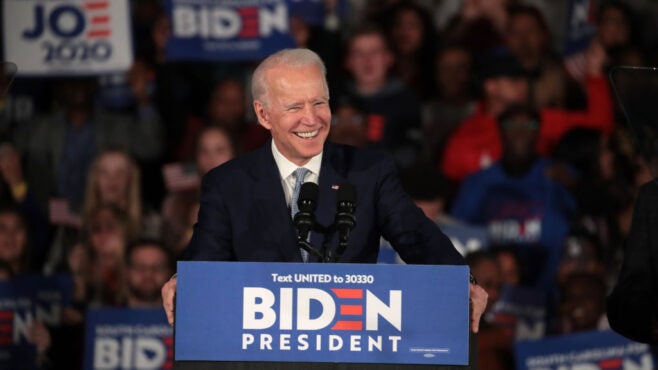 "The polls and the betting markets are telling us that it's Biden, and that it's [going to be] a blue sweep," says Dimitry Dayen, lead energy analyst at ClearBridge Investments, which manages $158bn in assets. "Some of that's reflected in the equity markets. Could there be a pull back if we don't see those things? Sure. But over the long run, the primary driver of those valuations are the secular decarbonisation theme and technology cost declines."
Clearly, there's a lot at stake for the clean energy sector on 3 November. Biden is touting a climate plan that would direct $2trn in climate-related and infrastructure investments over four years in pursuit of a carbon-free power sector by 2035 and a net-zero economy by 2050. The re-election of Donald Trump, in contrast, would prioritise the expansion of the US oil and gas sector and the continuing roll-back of environmental regulations.
Credits, subsidies and R&D
Exactly how a Biden administration would deliver on its climate and energy commitments is not explicitly set out. Much depends on the composition of the Senate and the legislation that might be forthcoming from the two houses of Congress. But analysts expect a combination of tax credits, subsidies to support electric vehicles (EVs), extensive investment in R&D, and an "enforcement mechanism" to deliver carbon emissions reductions from big polluters.
"The key thing will be exactly how tax credits play a role supporting wind and solar, other renewables technologies and battery storage," says Adam Wilson, a research analyst at S&P Global Market Intelligence covering renewable energy. The nature of the enforcement mechanism to deliver a low-carbon power sector – whether a clean energy standard for utilities, or some form of carbon pricing, perhaps – is also a critical unknown quantity, he adds.
While Biden has set out plans to boost the low-carbon economy, he has avoided targeting the fossil fuel sector – mindful of the importance of the fracking industry in swing states such as Pennsylvania. "Biden has been careful not to specifically punish oil and gas," says Dayen at ClearBridge. The campaign has explicitly rejected an outright ban on fracking, instead proposing no new drilling leases on federal lands, he adds.
But the sector would certainly face more rigorous environmental enforcement, says Mark Lewis, chief sustainability strategist at BNP Paribas Asset Management. "There will be a tightening up around methane leaks and a revisiting of a lot of the EPA regulations that have been abandoned by the current administration."
Fossil stocks in retreat
In contrast to the clean energy sector, US fossil fuel stocks have taken a hammering this year. The two largest ETFs focusing on oil and gas exploration and production in North America – the $8.4bn Energy Select Sector SPDR Fund and the $2.3bn Vanguard Energy ETF – are both down around 49% year-to-date. However, much of this performance can be explained by global supply and demand factors, says Dayen.
Given the strong performance of the clean energy sector, however, investors looking to profit from its continuing improved fortunes might have missed the bus, argue analysts at Barclays. In a 2 September research note, they describe two baskets of stocks they have put together that would be affected – one positively and one negatively – by a Biden win.
The "positive" basket includes upstream and residential renewable energy companies, EV makers, heating, ventilation and air conditioning manufacturers, and industrial suppliers of electric grid equipment and services. Another basket, including coal-based electric utilities, manufacturers of internal combustion-engined cars, and companies facing environmental pollution issues, is expected to be negatively affected.
To express a view on the election, investors expecting a Biden win might buy the first basket, while short-selling the second (betting that its stocks will fall in price). However, the dramatic outperformance to date of the first basket has led Barclays' analysts to instead suggest the opposite. Those betting on a Trump win could use it as a "contrarian play", they suggest, selling the clean energy stocks and buying the languishing fossil companies.
Climate plan boosts clean energy ETFs
Certainly, exchange-traded funds tracking the sector have had a stellar year. As of 21 October, the $740m Invesco Wilderhill Clean Energy ETF and the $531m First Trust NASDAQ Clean Edge Green Energy Index Fund were both up around 97% year-to-date. This compares with a rise of 6.4% in the S&P 500 for the year to 21 October.
And some of the companies within the sector are trading at pretty aggressive multiples – at the time of writing, SolarEdge Technologies and Enphase Energy were respectively trading at 80 and 76 times their 2019 earnings, for example (compared with around 23 times for the Nasdaq as a whole). This suggests investors are banking on their dramatic growth – growth that certainly would be spurred by a massive clean energy plan from a Democratic administration.
"Is there room for more upside in clean energy stocks if there's a Biden win and the Democrats take the Senate?" asks Lewis at BNPPAM. "I would say yes."
However, a failure to win the Senate poses a clear risk to aggressive climate action. While the ABC News' Fivethirtyeight website assigned Democrats a 74% probability of winning the upper house as of 20 October, that leaves an almost one in four chance of Republicans being in a position to block legislation. A narrow win for the Democrats would leave Senators from conservative states – such as Senator Joe Manchin of coal-friendly West Virginia – with the ability to stymie aggressive climate action.
Furthermore, climate legislation will not be the Democrats' first priority. In a speech to the Democratic National Convention in August, Senate minority leader Chuck Schumer listed climate change third after affordable healthcare and income inequality. An incoming Biden administration would have to prioritise tackling the pandemic and post-Covid economic recovery, although a stimulus package could come with all manner of green elements, say analysts.
Action from the White House
There are also levers a Biden administration would pull in favour of the clean energy sector before any legislative effort. The Biden platform promises executive action to, among other things, introduce tough vehicle fuel economy and building energy efficiency standards, mandate aggressive methane pollution limits, and direct federal procurement towards EVs. The replacement of Trump appointees across a range of federal agencies would also tilt the scales substantially in favour of the clean energy sector and away from fossil fuel interests.
There are also a number of elements of Biden's clean energy agenda that could move forward with bipartisan support, argues Wilson at S&P Global. He notes that electricity transmission and distribution in the US urgently needs significant investment, and with enormous wind resources in Republican-leaning states in the South and Midwest, investment to bring that power to distant demand centres could well win backing from a Republican-held Senate.
Carbon capture and sequestration (CCS), similarly, is a technology that commands some support across the aisle. Polling by the Pew Research Center found more than three-quarters of Republican voters support tax credits for CCS, the most popular climate policy on the right after large-scale tree-planting. "It's a good compromise technology in that it allows continuing fossil-fuel generation without the carbon emissions," says Wilson. "And it is likely to be a key piece of going 100% carbon-free."
Lewis at BNPPAM also notes that hydrogen will play an important role in a decarbonised energy system and will require enormous volumes of renewable energy capacity to be produced without emissions. The Biden climate plan calls for a proposed climate-focused Advanced Research Projects Agency to focus on "using renewables to produce carbon-free hydrogen at the same cost as that from shale gas".
While the Biden campaign has not set a target for green hydrogen production, Lewis estimates, as a point of comparison, that the 10 million tonnes a year of green hydrogen the EU is aiming for by 2030 would require 100GW of dedicated renewables – roughly the same as existing US wind energy capacity.
The direction of travel is set
Certainly, the US federal election injects considerable uncertainty into the detail of future policy support. However, that uncertainty only influences the speed of the clean energy sector's growth, not its direction. A number of secular trends independent of federal policy offer strong tailwinds for the clean energy sector.
These include continuing declines in the cost of renewable energy generation and of enabling technologies such as battery storage. US states have introduced or increased renewable energy mandates during the Trump presidency and will continue to do so. And a growing number of large, public-facing corporations are committing to climate change policies that involve clean power and EV purchases.
"The renewable energy industry has matured to a point where the importance of federal action – or the lack of it – is decreasing," says Wilson at S&P Global. "A Trump win would not put us on the aggressive path that a Biden win would, but renewables will still grow."
This article is part of an Energy Monitor series on the potential impact of a Biden win on the clean energy transition. Tomorrow we will look at a Biden win's impact on global climate policies and diplomacy. To read general coverage of the US presidential elections, check out our sister site New Statesman.