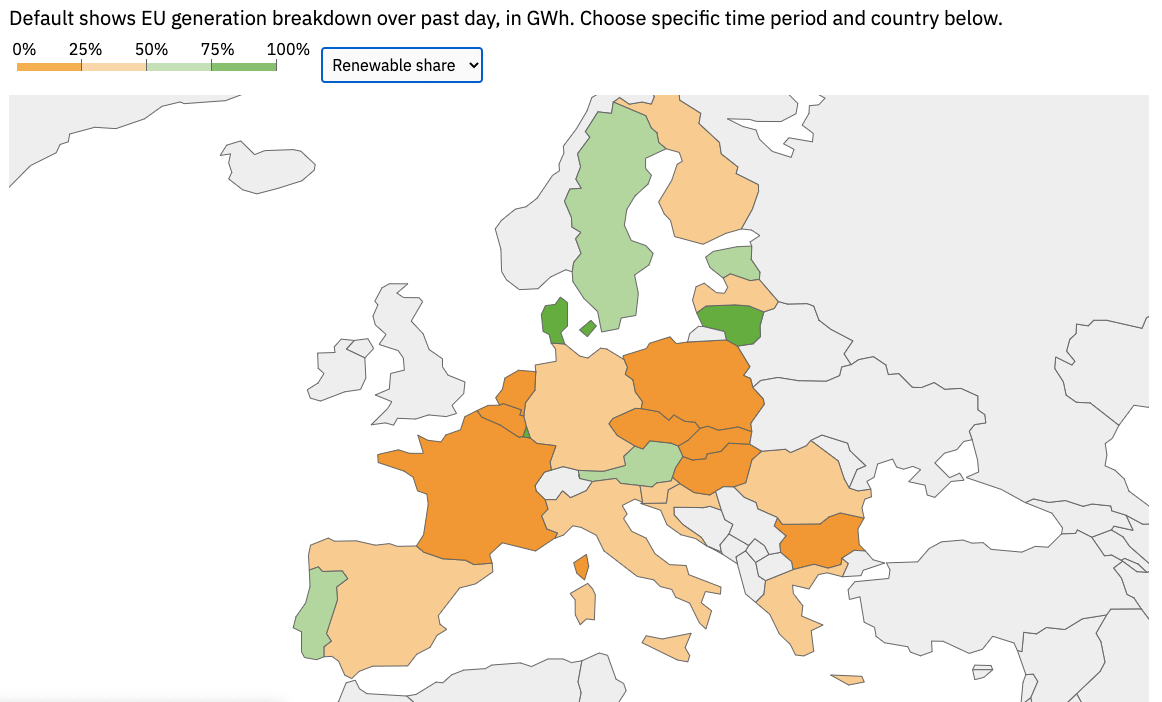 As European Commission President Ursula von der Leyen unveiled fresh proposals to combat the energy crisis on 14 September, around a third of the EU's electricity supply was still coming from natural gas.
To be precise, at 5pm on Wednesday 14 September, natural gas made up 35% of the European power mix, generating 146 gigawatt-hours (GWh) out of 415GWh.
The live EU electricity generation map that Energy Monitor data journalists and developers created nearly a year ago has proved to be our most popular read since then. It tracks power production in the EU 27 on an hourly basis and lets you see the share of power from specific generation technologies per country and over different timescales. This tops the list of Energy Monitor's most-read stories over the past year on our second birthday.
Beyond the map, other big hitters on the list – which is in full below – are stories on the Russia-Ukraine War, liquefied natural gas, pumped hydro, thermal storage, nuclear fusion and how many birds are really killed by wind turbines.
For me, this list is testament to our ability to cover the energy story in a way that matters. Our future plans include more energy transition trackers in the vein of the live EU electricity generation map and Power Transition Tracker series, with a focus on gas, hydrogen, critical minerals, and carbon capture, storage and use.
Our data journalism, fed by exclusive data from our parent company GlobalData, is at the heart of what we do. We look forward to continuing to engage with you as energy professionals, thinkers and contributors to navigate the energy crisis and lead the energy transition to a net-zero economy.
Your Energy Monitor Team
Energy Monitor's most-read stories (from 15 September 2021 to 15 September 2022)