WindEurope CEO Giles Dickson is a force to be reckoned with. On the surface, he may be your usual white, suited, middle-aged man frequently found at the head of lobby groups in Brussels, but he exudes a passion and an energy matched by few of his peers. At conferences he takes to the stage like a chat show host and keeps his audience glued to their seats. The Covid-19-induced social distancing has put a temporary halt to his in-person appearances, but he exudes as much enthusiasm over the medium of Zoom as he does in the flesh.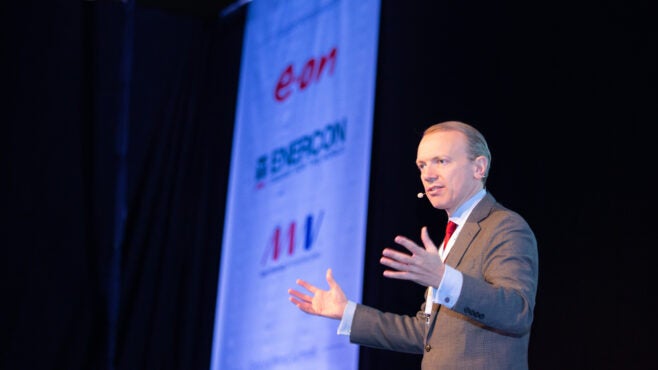 The lockdowns put in place to try to stop the spread of Covid-19 had a "significant impact" on the European wind industry, admits Dickson in conversation with Energy Monitor, with installations for 2020 expected to be 20% down on industry forecasts.
Parts for wind turbines are manufactured in 280 factories across Europe and some, in particular in Spain and Italy, had to close for a couple of weeks, as did certain construction sites. Likewise, imports from China and India slowed for a period.
"Most of the added value is made in Europe," says Dickson. "We mainly import steel and glass fibre from China, and about 50% of the gearboxes used in European turbines."
Despite the shutdowns and the slowdowns, the European wind industry is generally in good health, he affirms.
Its presence in EU electricity consumption continues to increase. Wind accounted for 15% of electricity consumption in 2019 and increased to 17% in the first six months of 2020 as electricity demand reduced and supply from nuclear and gas fell. February was a particularly bumper month with wind meeting 24% of electricity demand across Europe and producing 45% of electricity in Germany.
Nonetheless, despite such examples of positive news, "capital costs went up by 100 basis points for onshore and offshore wind", says Dickson.
Even with a challenging economic envi­ronment, the first half of 2020 saw a record €14.3bn raised for the financing of new wind farms – €11bn for offshore and €3bn for onshore projects. This includes a final investment decision on the 1.4GW Hollandse Kust Zuidproject in the Netherlands. When fully operational in 2023, it will be the world's largest offshore wind farm, with renewable electricity output equivalent to the annual consumption of over two million Dutch households.
Permitting problems
Given the ongoing presence and impact of the virus, Dickson acknowledges that "we are not out of the woods yet".
However, he is also clear that challenges facing the industry are not solely down to coronavirus.
"The capacity of national and local authorities to issue permits for new projects in many countries is too slow and complicated," says Dickson.
Getting new onshore wind farms built is becoming a particularly slow and painful business in Germany, not only because of the permitting process – the government has plans to simplify it – but also because of increasing opposition to turbines.
"In Germany it used to take six to nine months to get a permit for onshore," says Dickson. "Before Covid it was already taking two years or more just to get a permit from the authorities. With more legal appeals, the process now takes over two years. More often than not, demands for permits are challenged in court in Germany."
The wind industry supports higher emissions targets – last week European Commission president Ursula von der Leyen proposed increasing the EU's 2030 emissions reduction target from 40% to 55%.
"Higher emissions targets will mean higher targets for renewables and energy efficiency," says Dickson.
The wind industry can meet these commitments, but only if Germany and other countries, such as Italy and France, change their processes, he insists. "I say very clearly, we cannot deliver unless they simplify their permitting rules and procedures."
Dickson is also highly critical of Germany's auction system. The German government amended its offshore wind bill in June to allow for negative biding in the case of multiple zero bids in an auction.
"This would essentially mean asking future operators how much they want to pay for the right to build a wind farm," says Dickson. "They would be being asked to pay to deliver public policy goals since new offshore wind farms are key to Germany's climate targets. The mind boggles!"
Such an approach based on negative pricing, he believes, is likely to deter investors, push up financing costs and increase pressure on supply chains. Compared with a system based on contracts for difference (CfD), such as in the UK, negative bidding can add 25% to the cost of a wind farm, says Dickson. WindEurope would like all EU countries to copy the UK's auction system.
"CfDs are very clear, offer stable revenue and banks charge much less," he adds. "Under this system the UK Treasury has paid £500m for 20GW of offshore wind, which is very cheap."
The industry is likewise a firm backer of the industrial strategy published earlier this year by the European Commission. Dickson calls it "crucial", highlighting it is the first time that renewables infrastructures have been deemed of "strategic value and importance" in terms of Europe's industrial policy.
"We now need to express this into hard policies and a trade policy," he says.
Indeed, free trade is vital for the growth of the EU renewables industry, states Dickson.
"We do not want tariffs or quotas on materials from China," he says. "We need globalised supply chains and we need to be able to import at competitive prices."
And Europe needs to keep innovating.
"We need to not just invest in the next generation of turbines and technologies, but we must invest in the ongoing innovation of today's technologies, especially in onshore wind," says Dickson. "We have a tendency to think we have cracked it and then move on to something else."
By 2050, the European Commission wants to see 750GW of onshore wind and 450GW of offshore wind in the EU.
If Europe fails to support innovation, EU industry will stagnate, Dickson warns. "Can you imagine saying there is no R&D for the car industry?"