A sense of urgency hung heavy in the air at the 2022 edition of WindEurope's annual conference, which saw some 9,000 delegates gather in Bilbao, Spain, in the first week of April to discuss the European wind industry. 
The question on everyone's lips was how Europe scales up wind to meet its net-zero emissions target, given that models continue to show a big gap between the EU's renewables plans and what is required. Added to this is a renewed desire among European nations to get off Russian hydrocarbons as quickly as possible.
"This shocking war in Ukraine and the resulting energy crisis is pushing Europe to rethink our approach to energy," said Sven Utermöhlen, chair of WindEurope, at the opening session. "With the new focus on drastically cutting our reliance on fossil fuel imports, wind energy that is cheaper, more reliable and scalable must be at the heart of Europe's response [to the war in Ukraine]."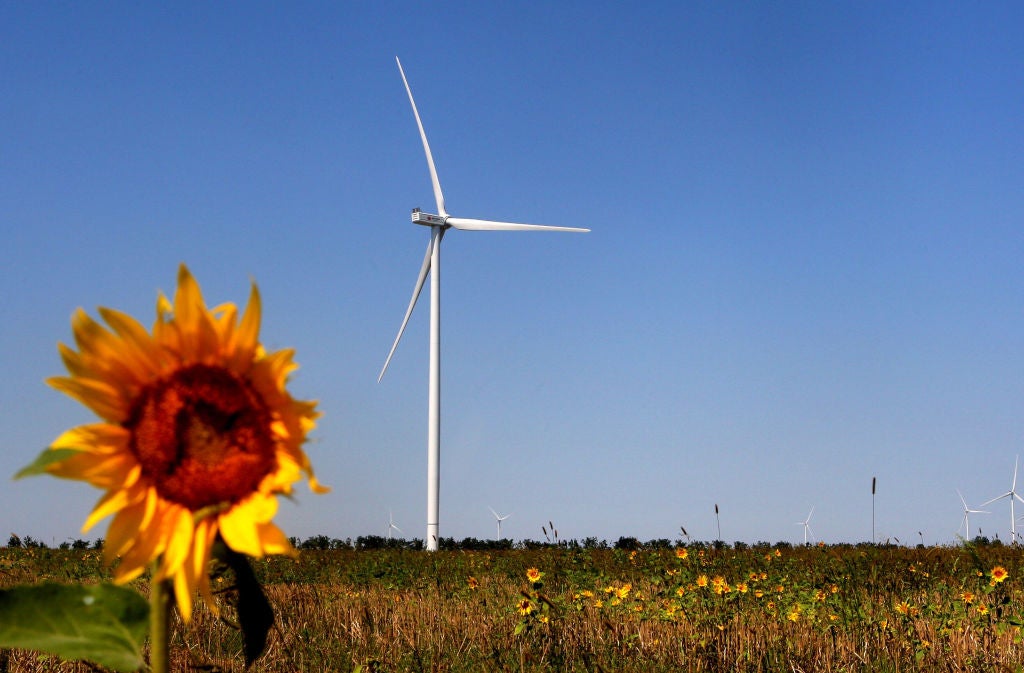 "We need to designate sufficient sites to meet renewables targets, and accelerate the permitting of all the projects that are out there and ready to go," he added.
Utermöhlen's comments came weeks after the European Commission outlined a plan to make Europe independent from Russian fossil fuels before 2030 . This new 'REPowerEU' agenda is pushing for EU wind capacity to grow from 190 gigawatts (GW) today to 480GW by 2030, even as WindEurope has highlighted that the EU is only on track to build half the wind farms needed to meet the existing 40% renewable energy target under the Commission's "Fit for 55" 2030 strategy. 
"Brutal aggression by Russia in Ukraine is both a human tragedy and a crime," said Ditte Juul-Jorgensen, director general for energy at the Commission, in her conference speech. "For a more resilient, sustainable and affordable energy sector in Europe, deployment of more renewable energy is absolutely key."
But while the EU ponders what needs to be done to realise its decarbonisation plans, there is another European energy transition taking place whose prospects currently appear even bleaker: that of Ukraine.
"Ukraine has made significant renewable energy progress in recent years, but the war has changed our plans," said Andriy Konechenkov, chairman of the Ukrainian Wind Energy Association (UWEA), who also attended the conference. He added that at the end of 2021, the country had some 1.7GW of wind power in operation, with another 1GW to be added in 2022. But this has all been put on hold by the "unjustified war unleashed against my country", said Konechenkov.
Ukraine's climate ambitions
Data from Energy Monitor's parent company, GlobalData, corroborates that Ukraine was beginning to make serious progress in its energy transition over the past few years. By the end of 2021, renewables represented a quarter of installed power generation capacity, up from 11% in 2017. Hydropower remained the largest source of renewable electricity, but solar power was growing exponentially, and looked set to become the largest renewable energy source in 2022.
At the COP26 climate conference in Glasgow, mere months before the Russian invasion, Ukraine announced it would join the Powering Past Coal Alliance (PPCA), and phase out coal by 2035. The move was described as "unprecedented", and would come five years ahead of the 2040 target by which non-OECD countries like Ukraine should phase out the fuel for the world to have a good chance of limiting global temperature rise to 1.5°C, according to the Intergovernmental Panel on Climate Change (IPCC).
Ukraine's coal exit plans came as a 2021 study from think tank Aurora Energy Research demonstrated how the country could use its vast renewable potential to phase out coal within a decade. A huge, windswept place of more than 600km2, the researchers saw wind power playing a leading role in Ukraine's energy transition, with generation growing from 3.3 terawatt hours (TWh) in 2020 to 42TWh by 2030, making up 25% of the total electricity mix. They add that this transformation represents a massive opportunity: while some 55,000 jobs would be lost in phasing out coal, up to 160,000 new renewable industry jobs could be created. 
One person who understands this potential is Peter Gish, an American wind power developer who in 2017 founded Ukraine Power Resources to develop the country's renewable resources. In Bilbao, he described his experience of developing the 40 megawatt (MW) Dnistrovskiy Phase 1 wind project near Odessa.  
[Keep up with Energy Monitor: Subscribe to our weekly newsletter]
"What I found in Ukraine was quite extraordinary: vast agricultural fields, windswept plains, and an incredible solar resource," he said. "We decided to focus on wind power. I'd been developing wind power for almost 25 years, starting in Italy, moving to North America, going to Asia, China and the Philippines, then to North Africa, and then ended up in Eastern Europe. But I've never seen such a beautiful country, ideally positioned for wind power development."
Writing in Energy Monitor, former Bulgarian minister for the environment, Julian Popov, has made the case that Ukraine could be key to EU clean energy ambitions. Its renewable resource is so great that it should play a significant role in European energy security, exporting cheap renewable electricity to the countries around. The 24 wind power projects that GlobalData reports are currently in the pipeline in Ukraine shows that the country was on the brink of trying to make good on this resource. But these plans were introduced before Russia's invasion; they now risk indefinite delays.
"It is hard to talk about the tragedies now unfolding in Ukraine," said Galyna Shmidt, a UWEA board member, at the conference. "From the very first hours, Russian troops have been deliberately targeting our cities and towns. Many areas are left without heating and in many cases without electricity".
Alexander Podprugin, operating director at Ukrainian power utility Elementum Energy, provided an insight into what it has been like keeping Ukraine's existing wind resource running amidst the carnage of war. He revealed that, of the 576MW of wind capacity operated by Elementum, some 35MW now lay in occupied territory, with a further 347MW in contested zones.
"Our engineer dispatchers as well as our office complex are all working under frequent air raid sirens," he said. "But we have endured longer than expected after more than 40 days of war." He added that some of his colleagues had gone to join the fight against Russia – a move that the company has "of course supported".
Elementum was in the process of building a 60MW wind farm in the Odessa region before the war began. "Now we have no idea when we will resume our work," Podprugin said.
Hope for the future
Across the 27 EU nations, it is now understood that the rapid development of renewables represents a route to security and peace. But UWEA's presence in Bilbao, and its undiminished commitment to wind power, demonstrated that the same urge to choose an independent future powered by clean energy exists in Ukraine, even if the short-term priority remains to defeat Russia at war.
"Thanks to this war and unfortunately for Russia, Ukraine has become even more open to foreign investments," pointed out Kateryna Knysh, an analyst at UWEA. "One of the promising areas for this is offshore wind energy, which will not only increase Ukraine's energy security, but also open the way for Europe to stable and significant imports of green hydrogen."
Indeed, the World Bank estimates Ukraine's offshore wind potential stands at 183GW of fixed turbines and 68GW of floating turbines, and that is in addition to hundreds of GW of onshore wind that could be installed. Ukraine's entire power capacity currently stands at 67GW, so there is huge scope for exporting energy to the rest of Europe via green hydrogen production. 
"Throughout my time working in Ukraine, I have been struck by the openness of Ukrainian society, [and] the willingness of locals to cooperate and help in the construction of 'green' projects," said Gish. "Today, Ukrainians assert their right to energy independence and the ability to move on with renewable energy. I'm pretty sure that we will resume our work in this beautiful country as soon as possible."