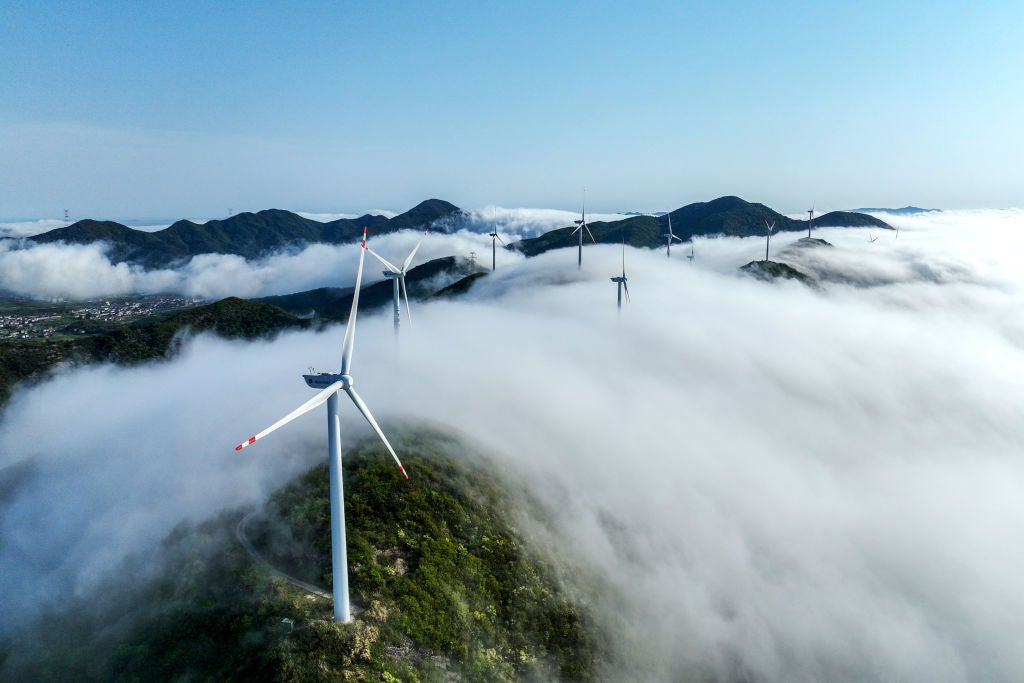 The 2022 energy market crisis sparked by Russia's invasion of Ukraine both proved a boon – and dealt a blow – to the cost-competitiveness of renewables. On the one hand, soaring fossil fuel prices caused by Russia's decision to cut supply to Europe boosted the cost-competitiveness of renewable power generation technologies. Simultaneously, rising commodity prices combined with supply chain disruptions caused by the Covid-19 pandemic caused the real-term prices of some renewable technologies to rise in many countries. 
Despite these hurdles, the period 2021–22 saw "one of the largest improvements in the competitiveness of renewable power in the last two decades", finds a new report from the International Renewable Energy Agency (IRENA), which reveals that the global weighted-average levelised cost of electricity (LCOE) fell by 5% for new onshore wind projects and 2% for solar PV across this period.
According to IRENA's report, the competitiveness of renewable power generation technologies in 20 countries (for which the intergovernmental organisation has detailed fossil fuel and renewable cost data) "improved significantly in 2022 in all cases for solar PV and onshore wind".
IRENA's analysis excludes any financial support for renewable technologies, meaning the economic case for the owner or project developer is "often more compelling".
The fall in electricity costs for renewable technologies in the 12-year period ending in 2022 is even starker: IRENA finds that between 2010 and 2022, the global weighted-average LCOE of onshore wind fell by 47%, from $0.107 per kilowatt-hour (/kWh) in 2010 to just $0.033/kWh for new onshore wind projects in 2022.
Keep up with Energy Monitor: Subscribe to our weekly newsletter
Notably, the LCOE for onshore wind in 2010 was 95% higher than the lowest fossil fuel cost at the time ($0.056/kWh), while in 2022, the reverse was true, with electricity from new onshore wind projects in 2022 costing 52% less than the cheapest fossil fuel-fired option ($0.069/kWh).
According to IRENA, solar PV saw the largest cost reductions in this 12-year period, with the global weighted average LCOE of newly commissioned utility-scale solar PV projects falling by 89%, from $0.445/kWh to $0.049/kWh.
A similar fall in the LCOE was evident for other renewable energy technologies, as is evident in the chart below.
As a result, IRENA's report calculates that in 2022, renewable power deployed globally since 2000 saved countries an estimated $521bn in avoided fossil fuel costs in the electricity sector. In non-OECD countries, the fuel savings from new renewable energy capacity added in 2022 alone could be as high as $580bn over the life of the projects.
In Europe, IRENA estimates the fuel savings in 2022 to be a staggering $176bn. "It is possible that the build-out of renewables since 2010 probably saved the continent from a full-blown economic crisis," finds the report, given the absence of "much higher" direct economic costs from fossil fuel price hikes.
IRENA's report credits various government policy responses to the 2022 global energy crisis for the rapid rollout of renewables and subsequent cost savings, where governments globally stepped in to "[shield] households and businesses from unsustainable price increases in fossil gas, thermal coal and electricity". 
In May 2022, for example, the European Commission launched its REPowerEU plan, which, among other measures, involved raising the 2030 target for renewables to 45% from the 2021 target of 40%.
Notably, US President Joe Biden pushed through the seminal 2022 Inflation Reduction Act, which provided numerous financial incentives for developing domestic supply chains and accelerating the deployment of technologies, including renewables, needed for the energy transition.