In January 2022, Indonesia broke ground on a $2.3bn coal gasification plant on the island of Sumatra, Indonesia, expected to be finished in 2025 or 2026. The plant is part of a $15bn planned investment by Air Products and Chemicals, a Pennsylvania-based company in the US, that is one of the largest ever overseas coal investments by a US company.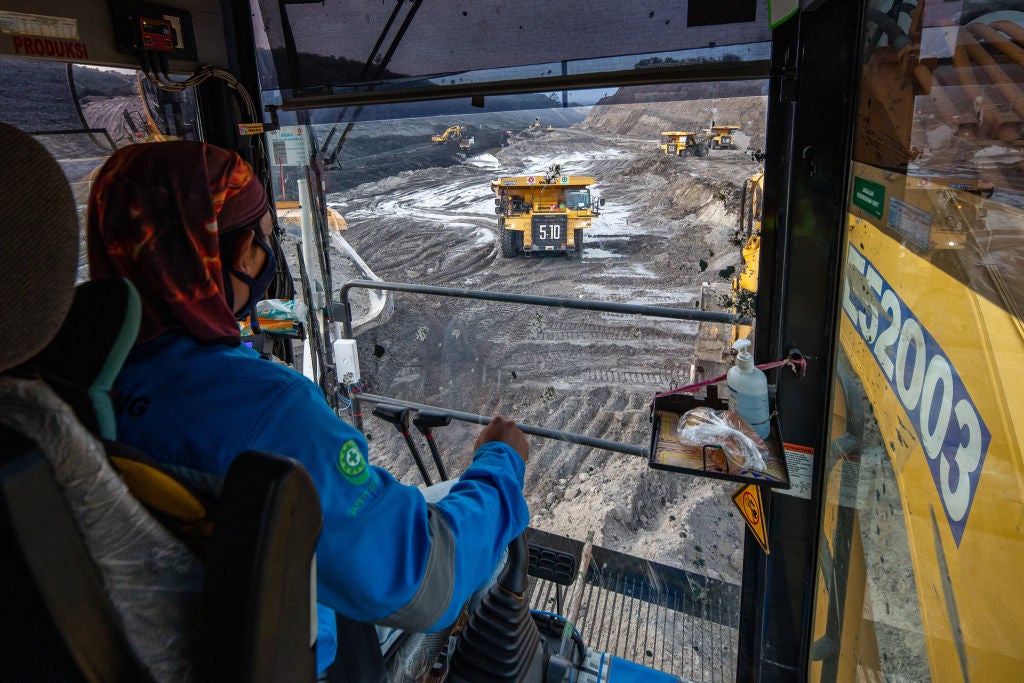 Air Products is also a partner in a second coal gasification facility already planned for East Kalimantan, on the Indonesian side of the island of Borneo. Together, the two plants would produce 3.2 million tonnes of coal-derived dimethyl ether (DME) every year, making them among the largest such facilities in the world. DME is a synthetic gas that can be used as an alternative fuel in industrial, chemical or transportation applications.
"It is undoubtedly a massive investment [that] will be helpful [to Indonesia economically]," says Surya Dharma, an energy expert with the Indonesian Renewable Energy Society, a domestic think tank. "But, in terms of reducing [greenhouse gas] emissions, this is a significant challenge." Indonesia is party to the Paris Agreement and the government has pledged net-zero emissions by 2060.
The problem is that, if built, these plants could entrench the long-term use of coal in a country with vast coal reserves that is already the world's fourth-largest greenhouse gas emitter.
For Indonesia, coal gasification aims to support domestic coal interests.
"The government wishes to supply [an alternative to] liquefied petroleum gas [LPG] for domestic use [in industry and heating], as a substitute for LPG imports," says Surya. "[But] coal itself will produce emissions, and I am unsure how Air Products will deal with this."
Why coal gasification in Indonesia?
Indonesia, the world's fourth most populous country, has long been a major player in global coal markets. According to the International Energy Agency (IEA), it has been one of the top exporters of thermal coal – the kind most often used for electricity generation – since the early 2010s, primarily to China, Japan, South Korea, Vietnam and India. Although prices are high today, the future of that market is uncertain as there are increasing signs that those countries are shifting away from coal for power generation. South Korea and Japan both announced net zero by 2050 pledges last year, while Vietnam and India are seeing surges in solar power uptake.
Protecting the future of coal has become a core concern for the Indonesian government because the country's coal interests have considerable political power. Several members of President Joko "Jokowi'' Widodo's cabinet have significant financial assets in coal, including the powerful Coordinating Minister for Maritime Affairs and Investment, Luhut Binsar Pandjaitan, and Defence Minister Prabowo Subianto. Many members of parliament, too, have investments or stakes in coal.
Their priority has been protecting their own interests, not ensuring a just transition towards cleaner energy sources. which Indonesia has in abundance, says Andri Prasetiyo, a programme manager with Trend Asia, a Jakarta-based foundation focused on accelerating the energy transition. "The government is promoting the coal industry and ensuring that they can survive, even though the rest of the world is leaving coal behind."
Coal gasification is a century-old technology, but in recent years the coal industry has revived it as an alternative to natural gas and petroleum as part of efforts to rebrand coal as a carbon-neutral energy source. While most efforts to build coal-to-gas plants in the US have failed, the technology is widely used in China and South Africa – two major coal-producing countries – and it is being revived in other developing markets too.
"As more countries pledge to shift away from coal power, interest is unfortunately emerging in less conventional coal technologies, like turning coal into liquid fuels, in countries including Indonesia, Pakistan and India," says Flora Champenois, a research analyst at Global Energy Monitor, a California based non-profit.
Indonesia, under President Jokowi, has pushed to increase downstream use of key exports including nickel and bauxite as part of efforts to grow these as revenue streams. For DME however, beyond protecting domestic coal, another aim is to reduce dependence on foreign imports of LPG, which the government argues would both create jobs and reduce trade imbalances. To make investments more attractive, the Indonesian government has eliminated royalties on coal destined for gasification and designated such plants as "National Strategic Projects" which reduces, among other things, environmental impact assessment requirements.
Indonesia's coal gasification push could negate any impacts from Indonesia's commitment (with loopholes) to phase out the use of coal in electricity generation by 2040, suggests Trend Asia. It calculates that the government's gasification plans could require as much coal as Indonesia's entire coal-power fleet uses currently.
The government is also setting a fixed price for DME, guaranteeing a return for investors. This has raised concerns that taxpayers could foot the bill for a prohibitively expensive project. Analysis from the Institute for Energy Economics and Financial Analysis, a US-based non-profit, has highlighted these cost concerns, and "whether the government should be in the business of guaranteeing profits for the operator of this strategic project".
The coal industry and its advocates in the Indonesian government say gasification plans are worth the cost, as they will benefit the economy by enabling the use of more domestic energy and preserving hundreds of thousands of jobs.
Air Products: The role of foreign investment
To expand domestic coal consumption, Indonesia needs foreign investment and technology. While domestic companies like the state-owned enterprise PT Bukit Asam have significant experience and capacity in mining, they lack the technological know-how to develop downstream coal gasification. That is where Air Products comes in.
Air Products is a leading provider of gasification technologies and a major player in hydrogen, syngas and even alternative aviation fuels. While it only operates small-scale coal gasification facilities in the US, it is a major player in the world's leading gasification market, China, where it provides technology for some of the largest gasification plants in the world, including the multi-billion-dollar Lu'An, Jiutai and Yankuang Group projects.
Air Products's Indonesia investment is by far the largest coal gasification investment in Indonesia, but it is not the only one – there is also a Chinese-led joint venture looking to invest $560m in a coal gasification project in Aceh, in the north of Sumatra. Nevertheless, it is clear that without Air Products it is unlikely that Indonesia could realise its massive gasification plans and save its coal industry from the energy transition towards net zero across Asia.
"If Air Products succeeds in helping Indonesia create a domestic market for coal beyond its expanding coal power plant fleet, the new infrastructure will lock in emissions and other negative environmental impacts for decades to come," says Champenois.
Air Products did not respond to several requests for interview, nor did other groups supporting coal gasification such as the IEA Clean Coal Centre. In public statements, they have said that the use of carbon capture and storage (CCS) technology would mitigate any emissions from these projects, and they highlight the project's economic benefits.
Can CCS make coal clean?
Many in Indonesia are asking questions about the key role being played by a US company in Indonesia's coal gasification plans. The involvement of Air Products was first announced days after the COP26 Climate Conference, where US President Joe Biden joined more than 40 countries in pledging to end coal financing. Of course, that statement only applied to coal power financing – a loophole that, according to Trend Asia's Prasetiyo, does not make any sense.
"A coal phase-out should be for any form of coal, including DME, coal gasification or coal liquefaction," Andri says.
The climate impact of Indonesia's coal gasification plans could be significant. The Indonesian Renewable Energy Society is concerned that coal-derived DME could have higher emissions than the LPG it would replace.
"There are no compelling plans or strategies in place to ensure projects will be in line with net-zero emission goals," says Global Energy Monitor's Champenois.
It remains unclear how much expensive, untested and mostly unproven CCS technology will impact the project, and its feasibility.
"Converting coal to DME produces significant emissions and would require carbon capture and storage technologies to be in line with net-zero emission targets, which would make the processes uneconomic," notes Champenois.
One concern is that, even if Indonesia's coal gasification plants are built using the latest CCS technology – something that has not yet been clearly stated in any of the plans – that will only account for a portion of their climate impact.
"Coal's climate impact goes far beyond burning the coal itself," explains Champenois. "Coal chemical industries consume large amounts of coal which have to be mined, processed and transported. Methane emissions from coal mines worldwide exceed those from the global oil or gas sectors."
Gasification missing from coal discussion
Thus far, media coverage of this US investment in Indonesia has been lacking outside of the host country, which campaigners like Champenois and Andri say is testament to the lack of awareness around coal gasification.
"It hasn't gotten much attention from global environmentalists [either]," says Andri. Even when it comes to coal coverage in Indonesia, there is a gap between attention given by NGOs to planned coal-fired power plants, primarily funded by Chinese, Korean and Japanese institutions, and these US-led gasification projects, he says.
[Keep up with Energy Monitor: Subscribe to our weekly newsletter]
Of the major US climate advocacy organisations, only the Sierra Club, a US NGO that has been fighting domestic and international coal power projects as part of its Beyond Coal Campaign for more than a decade, responded to requests for an interview and clearly stated its position.
"The Sierra Club opposes any US-based company investing in overseas coal projects," said Cherelle Blazer, senior director for the organisation's international climate and policy campaign. "There is no indication that a new domestic market for coal will materialise in Indonesia... and as we have seen in the United States, coal gasification is prohibitively expensive."
For Andri, Indonesia's goal gasification plans are another attempt by the coal industry to survive the transition to clean energy. "We need to give better attention to this issue, because if the government successfully builds the project in Sumatra, they will build more than ten in total," he says.
"It would have serious consequences, because coal corporations would slow down their plan to move to renewables," he adds. And lock in decades of emissions.
Author's note: Most Indonesians do not have surnames/family names, just given names, so it is standard to just use the first given name from their second quotes.