The UK has been hit with an extended cold snap in December. The Met Office has issued a severe weather alert since 7 December, advising social and healthcare services to focus help on high-risk groups.
The cold weather has sparked fears of exacerbating a winter energy crisis; many UK households are already struggling to heat their homes amid rising costs. Charities such as National Energy Action warn that more government support is needed for the most vulnerable.
"Impossibly high [energy] prices and now cold weather will leave millions struggling to stay warm and safe at home," Adam Scorer, National Energy Action's chief executive, told the Guardian. "We hear daily from people who are forced to turn their heating off when they need it the most."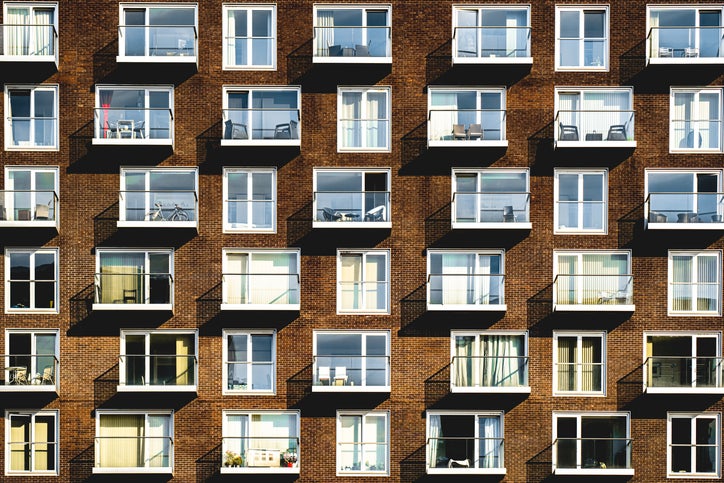 The government's climate advisers have repeatedly advised it to improve the energy-saving advice for households. Lord Deben, chairman of the UK's Climate Change Committee, sent an open letter to chancellor Jeremy Hunt back in November urging the government to enhance its energy-saving advice to include simple energy-saving measures and for the Help for Households campaign to cover more options than those currently listed, which do not apply to all households.
UK private renters live in the least energy-efficient homes
Currently, the Help for Households campaign lists three options for energy savings: reduce the boiler flow temperature, turn down radiators when rooms are not in use, and stop heat escaping through doors and windows. It also links to an energy-saving calculator. However, as the Climate Change Committee points out, these three options do not apply to every household, and the calculator is only for homeowners. Additionally, there is Help to Heat funding, which includes schemes for property owners, low-income households living in the worst-performing homes and social housing.
No schemes target private UK renters, despite their properties needing energy efficiency improvements the most. Data from the English Housing Survey, released on 15 December, revealed that, in 2021, privately rented homes scored an average of 65 points in the Government's Standard Assessment Procedure (SAP), which is used to monitor home energy efficiency. The average SAP scores for social housing and owner-occupied dwellings were 70 and 66, respectively. In addition, despite landlords not being allowed to let properties with an Energy Performance Certificate (EPC) rating below E, 5% of private lettings have the lowest energy efficiency ratings of F or G.
One in four private rentals also fails to meet the decent homes standard – a minimum standard for housing set by the government – compared with just 13% of owner-occupied homes and 10% of social housing.
In England, private renters make up just over 19% of households, which means that nearly 1 in 5 households do not have access to the UK government's energy efficiency schemes. With most rental contracts not permitting any permanent changes to the home, private renters must either depend on their landlords to make improvements or on smaller energy-saving tips. According to the Energy Saving Trust, a typical three-bedroom, gas-heated home in Britain could save more than £500 ($605) a year on bills by implementing measures such as turning down the thermostat, draught-proofing gaps, avoiding the use of the tumble dryer, taking four-minute showers and not overfilling the kettle.
These energy-saving calculations are based on a household with typical energy use, so it is unclear how much impact these tips would have on households that are already limiting their consumption. In comparison, bigger efficiency improvements such as insulating cavity walls could save £180–690 annually depending on the type of home.
A study by the University of York estimates that in April 2023, when the one-off £400 mitigation that every household gets to help with energy bills runs out, two-thirds of UK households could be in fuel poverty. Fuel poverty is defined as spending more than 10% of net income on fuel. At the same time, the Open Data Institute says private renters are among those most likely to live in fuel poverty.
UK private renters fear rent increase or eviction
If a landlord is in breach of the Minimum Energy Efficiency Standard, meaning a minimum of EPC band E, tenants have the option of informing their local authority, who may serve a compliance notice or fine the landlord. However, a report from 2016 found that most tenants are afraid to ask landlords for energy efficiency improvements, let alone involve authorities, for fear of rent increases or eviction.
"I am trying to switch back to the normal meter [instead of a pre-payment meter], pay monthly or [on a] quarterly basis," said one tenant from the study. "Unfortunately, my house is [owned by] a private landlord so they have installed their own system so I can't force them to change, so if I did that I don't know if they'd charge me more for the rent."
The energy crisis, paired with rising inflation and the cost of living crisis, makes for more insecure living situations for UK private renters. Rent has already increased this year. According to real estate company Zoopla, the average rent for new lets has increased by £117 per month since last year to £1,078. Nearly 1 in 3 private tenants have had their rent hiked between August and October 2022, says charity Shelter.
Tenants' unions in London and Manchester protested outside estate agents' offices at the beginning of December, demanding that the government freeze rent as an emergency measure. In September, the Scottish government introduced a temporary cap on rent increases until at least the end of March 2023. The Mayor of London, Sadiq Khan, called for a similar measure to freeze rents in London during an emergency private renting summit in November. In Brussels, rent increases are limited based on the energy efficiency of a property, with landlords allowed to increase rents to match inflation for homes with high energy efficiency but not for houses with low energy efficiency.
However, so far there is no limit on how much landlords can increase prices for private renters in England and Wales. In his autumn statement, Jeremy Hunt announced that the application process for Universal Credit claimants would be sped up to help with mortgage interest payments, and there would be a cap of 7% on the amount social rents can rise. Yet no measures targeted UK private renters.
No-fault evictions on the rise
In addition to the rent increases, section 21 of the Housing Act 1988 means landlords can evict tenants for any reason. In the first half of 2022, almost 12,500 English households were assessed as homeless due to being served a valid section 21 notice. According to research from Shelter, almost a million UK private renters are under threat of eviction this winter. Of those people, 482,000 are behind on their rent – partly due to record-high rents and soaring living costs – and the other 504,000 had received or been threatened with an eviction notice in the last month, up 80% from a year before.
[Keep up with Energy Monitor: Subscribe to our weekly newsletter]
The UK government has already announced plans to abolish section 21 evictions in a Renters' Reform Bill, partly because it makes tenants reluctant to exercise their rights due to the ease with which landlords can evict them. However, the reform was promised four years ago, and so far there has been little progress. If the government is serious about tackling the energy crisis for everyone, it must drive improvements for UK private renters, say campaigners.
"The government promised to ban no-fault evictions," said Polly Neate, chief executive of Shelter, in a press release at the end of November. "It must get on with the job and make the Renters' Reform Bill law. [In addition] to protect people from the threat of homelessness this winter, it must unfreeze housing benefits so families can pay their rent.
"Not a day goes by without our emergency helpline taking yet more calls from families who are being turfed out of their homes because of no-fault evictions. Many of these families won't be able to find another rental – and instead may spend a bleak winter trapped in emergency accommodation with nowhere to cook or eat a meal, let alone put up a Christmas tree."