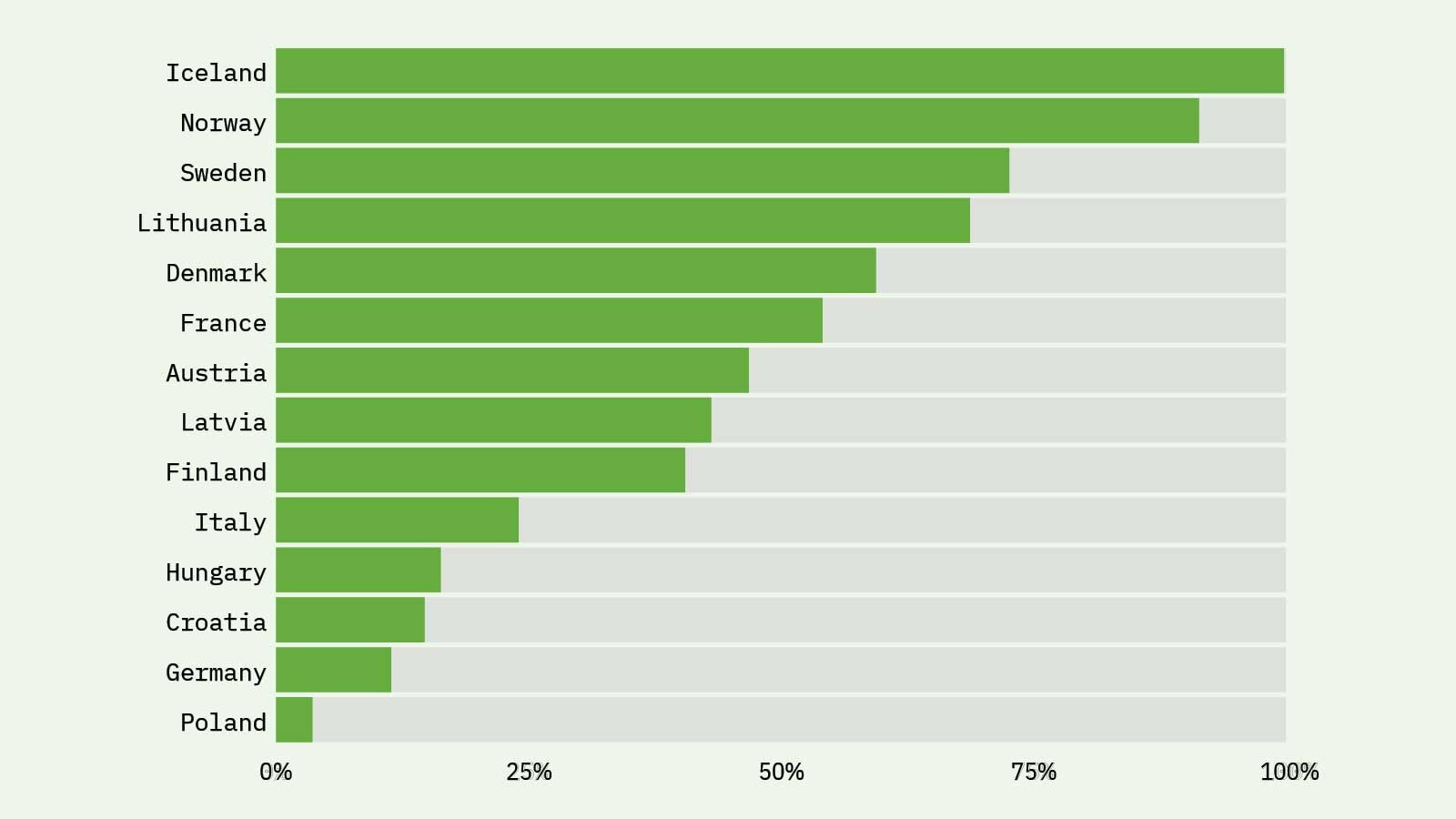 Nearly half of energy used in the EU goes towards heating water and buildings. As well as requiring huge sums of energy, heating also relies heavily on fossil fuels.
Interseasonal mismatches – the sun for solar power shines less in the winter when more energy is required for heating – have been used to suggest the transition to renewable energy may be more difficult for heating than other sectors. 
This issue potentially presents a problem for Europe's long-term strategy of becoming climate neutral by 2050. But solutions exist, not least an increase in district heating systems, which already serve 60 million people in the EU. 
European energy systems could be decarbonised by 2050 by expanding district heating in urban areas to meet around 50% of heat demand and by supplying the rest, particularly in rural areas, with heat pumps, suggests a study by Heat Roadmap Europe. The organisation has drawn up low-carbon heating and cooling strategies for 14 EU countries. 
"In cities, where you have density and demand in one place, there is an obvious benefit to working within a network," says Paul Voss, managing director of Euroheat and Power, a Brussels-based lobby organisation.
Germany, Poland and Sweden lead Europe when it comes to district heating, show figures collected by Euroheat. Some 79,191 gigawatt hours-worth of energy were sold to final customers in Germany in 2017.
In Germany, as in most European countries, the total amount of district heating sold increased from 2015–17, after a slight decrease in the previous two years.
Traditionally, colder countries in northern and eastern Europe have made the most of district heating with Finland, Denmark and Sweden all supplying far more district heating energy per person than the likes of Spain or Italy.
Iceland, in particular, has taken advantage of the geothermal capacity of its volcanic island and around 90% of its citizens are supplied by district heating.
But countries with more moderate climates can also benefit from district heating.
In the Netherlands, district heating supplies 5% of the heating demand. That number is expected to multiply over the coming years as the country plans to gradually phase out natural gas.
In the hottest climates, climate change will likely drive up demand for district cooling.
Besides having the most developed district heating networks, Nordic countries are also more likely to use renewable energy sources, rather than fossil fuels, in those networks. Nearly all of Iceland's district heating needs are supplied through renewable energy sources. Norway also sources the majority of its heat from renewable sources (91.4%), as does Sweden (72.6%), Lithuania (68.7%) and Denmark (59.4%).
Biomass represents the bulk of renewables in these countries – barring special cases such as Iceland. For a lot of Nordic countries, biomass is a stepping stone towards other types of renewable energy, such as geothermal, wind and solar.
On the other end of the scale, Poland's renewable energy use in district heating stands at just 3.6% – and that number has been decreasing since 2013. Germany, which also heavily relies on fossil fuels, increased the share of renewable energy in district heating from 4.8% in 2013 to 11.4% in 2017.
"What the Danes, the Finns and the Swedes are beginning to do is use a combination of different renewable energies," says Voss.
"One other interesting thing that has been widely discussed in Brussels in the last year is sector integration – using district heating as a kind of thermal battery," he adds. "If you have excess wind at a given time, you can use that wind to power big heat pumps, which then supply the district heating network and help absorb renewable energy."
District heating comes with its own issues. It requires significant upfront investments and can cause a fair amount of disruption while work is ongoing. However, the technology has the potential to be a key way for Europe to reduce the carbon footprint of its heating and cooling infrastructure, especially if based on renewable energy sources and not reliant on fossil fuels.