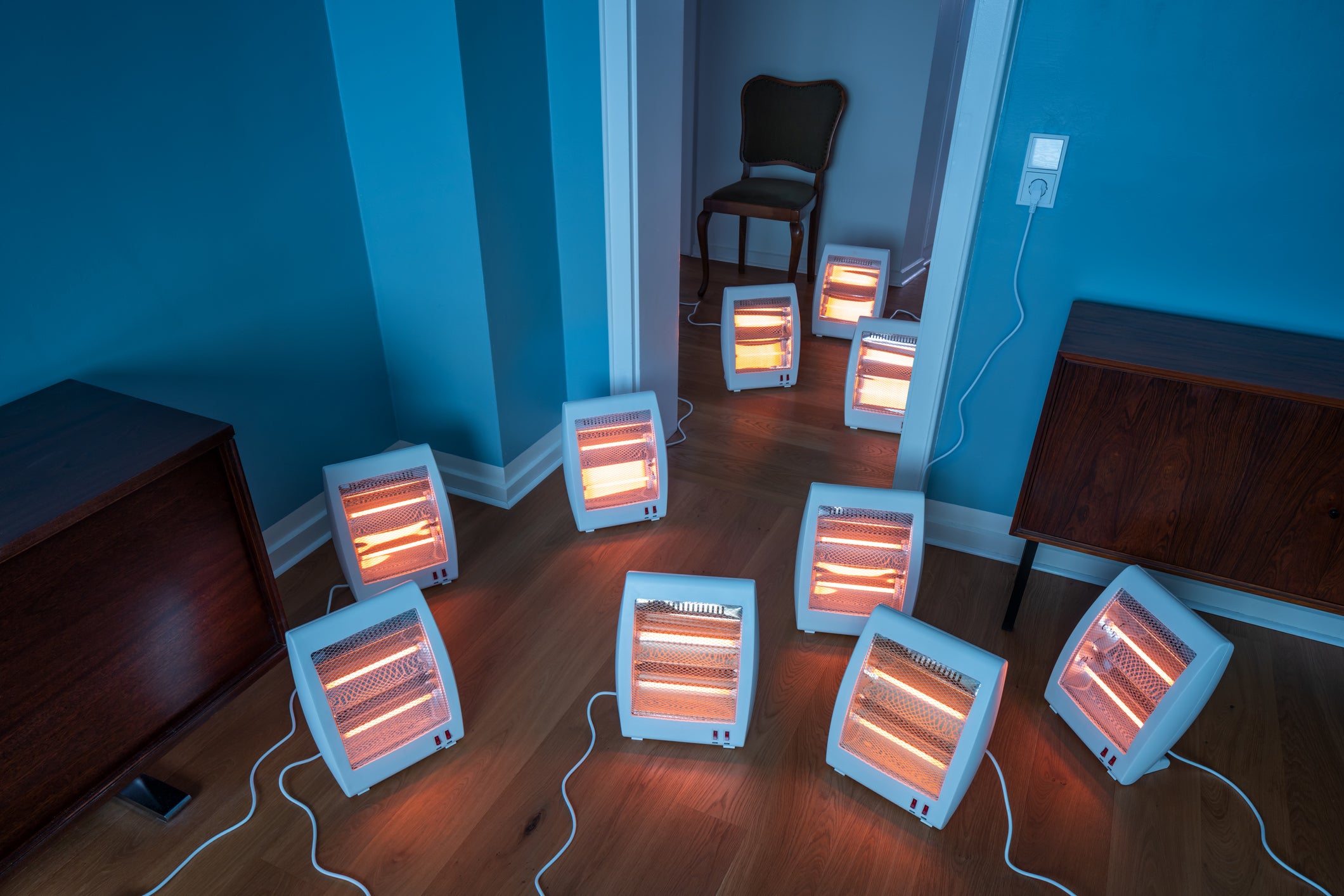 Earlier this month, when Germany announced its new levy on natural gas of 2.4 euro cents per kilowatt-hour, stores braced for a further rush of customers desperate to buy portable electric heaters. With gas prices already soaring and the government previewing its intention to impose a levy, retailers had already been telling German media they saw sales of space heaters increase by up to 500% in July.
About half of German households rely on natural gas to heat their homes and water. The government says the levy is necessary to protect importers from bankruptcy and prevent large-scale distortions to the market, covering the large extra costs they've encountered since Russia's invasion of Ukraine. They say that households will be protected from the price increase, with Chancellor Olaf Scholz insisting, "we will leave nobody alone with these higher costs".
But citizens are understandably sceptical, despite announcements from the government that it will temporarily lower the VAT on natural gas from 19% to 7%, along with other targeted relief measures. Those announcements do not seem to have calmed fears, and space heaters are still selling out in stores during Europe's heat wave.
Experts say this trend is a disaster for everyone involved. It will not save consumers money, because these plug-in heaters are hugely energy intensive and electricity prices are also rising, hitting a new all-time high on the European Energy Exchange earlier this month. It also risks rolling blackouts if everyone switches their heaters on at the same time.
One might think the electric utilities are excited about the prospect of selling more electricity for heating, but they most definitely are not. "Electrification is almost never bad – but this is a big exception," says Oliver Franz, vice president of European associations at German utility E.ON and chair of the Distribution and Market Facilitation Committee at the Brussels-based industry association Eurelectric. "This is not the kind of electrification we're aiming for when we use our slogan 'electrify now'."
"We have a bit of a problem. Citizens are very aware that gas prices are rising; it's highly covered in the press along with the additional surcharge on gas. They are comparing what they sense to be the price of gas to what they see on their electricity bills right now. But what this part of the public hasn't realised yet is that power is also very expensive. So, it's not a good idea to heat your home with electricity in a direct [plug-in] manner because those prices are rising as well."
Such plug-in heaters, which come as convectors, fans or radiators, emit an intense amount of heat that can quickly turn a room from cold to warm. But they are extremely inefficient and not designed to run for long periods, and grid operators have no possibility for demand-side control that can adjust their output.
Grid overload
"Portable heaters are not a solution that's environmentally friendly, it's not benefitting the consumer and it's also not benefitting the system – both on the grid and the overall system side," Franz says. "If the winter is very cold, then you can imagine there are streets or agglomerations that will have an overheating event on a transformer if everyone turns on their heaters at the same time." This situation would result in local blackouts rather than national or statewide blackouts, he says.
Andreas Jahn, a senior associate at the Regulatory Assistance Project who specialises in Germany's electricity grid, explains that citizens are getting an incomplete picture. On one hand, the news is telling them gas prices are going way up. On the other, they don't know what their monthly electricity bill is at the moment because meters are usually read yearly. "Electricity is so expensive that a kilowatt from a direct electric heater is far more expensive than gas even with the prices we're seeing these days," he says. "The public usually don't know this type of detail because it's a regulated system that's been there for a long while."
Whether all these portable heaters will result in blackouts this winter is difficult to predict, he says, because it will depend on weather and consumer patterns. "If the outside temperature goes down and all these heaters are switched on in a certain area at once, it's like a flash mob. It's not monitored, it's difficult to predict, and you could have a certain area all linked to one substation have a blackout. The problem is network operators can't switch that back on automatically because they have to ensure that their customers have all turned off their heaters first and then you can add more demand step by step."
Whether this will be an issue in Europe also depends on geography, Jahn says. In France, where built-in electric heating is more common, the distribution network is built for much more simultaneous demand than in Germany, where electric heating is not common and distribution networks have been built for single households to have a coincident use of 1.5 kilowatt (kW), even though the individual fuses have capacities of almost 30kW, he says. One household could use much more than 1.5kW and it would be fine. But if they all did, the grid would be overloaded. "We built an efficient system [in Germany] and saved money by building this system that fluctuates with our demand. But if people get crazy with these heaters, we will drive this system over the edge."
Solution: heat pumps
Given the misinformation out there about the relative costs of gas and electricity, communication from the government and the media is needed urgently. Franz says the government should be telling people that direct electric heating is not a good solution, and policymakers should be offering incentives for people to install the type of electric heating they do want: heat pumps. They work by using electricity to move heat rather than generating heat, allowing them to produce more than four times as much heat as they consume in electricity according to the think tank RMI.
"In Germany with a low proportion of people who own their own homes, it's hard," he notes. Renters are not incentivised to make the large up-front investments in changing their heating technology. "The German government was proposing a de facto ban on gas heating systems from 2025, where you would need to have at least 65% renewable energy when installing any new heating system. But they've decided against that for now [after Russia's invasion]. I guess the government thought you could build yourself too many hurdles to jump over, and 2024 is too close to the upcoming winter."
"We need government communication, but it's not a winning topic for politicians right now to be telling people electricity prices will be going up as well," he adds.
[Keep up with Energy Monitor: Subscribe to our weekly newsletter]
The ideal would be for governments to aim a bazooka of financing toward the urgent installation of heat pumps over the next two months. But there is already quite a bit of financing available that isn't being used, because what is missing is people trained to do the installations and the material to do it. Even if all the money in the world was thrown at the problem, two months is just not long enough to avoid heating problems this winter. But in the long term, Franz expects market forces to move consumers in this direction.
"I expect that in the longer term this crisis will create a move of people away from oil and gas and towards electricity to heat their homes. This push will again increase production numbers, and will help increase the efficiency of heat pumps. That's an investment need [for the grid] that we will need to cover. A Eurelectric study [in 2020] predicted 40 to 50 million heat pumps in Europe by 2030 [even though the German government predicts only six million]. The question is how close they are to each other, and how they're spread out in the system. If everyone on one street has one, you might need a second cable on that street."
Getting there will take a combination of financing and communication, says Jahn. And government messaging isn't only needed for space heaters, he adds. "We can expect that customers might say, 'I'll burn wood to keep warm, or maybe even waste.' That will result in pollution in certain [low-income] neighbourhoods. Governments at every level, and utilities, have a responsibility to get these messages out – that it's not a good idea to have electric heat or to burn other materials."
If nothing else, causing a blackout in your area or burning garbage isn't going to make you a very popular neighbour. Governments may need to remind people of that.