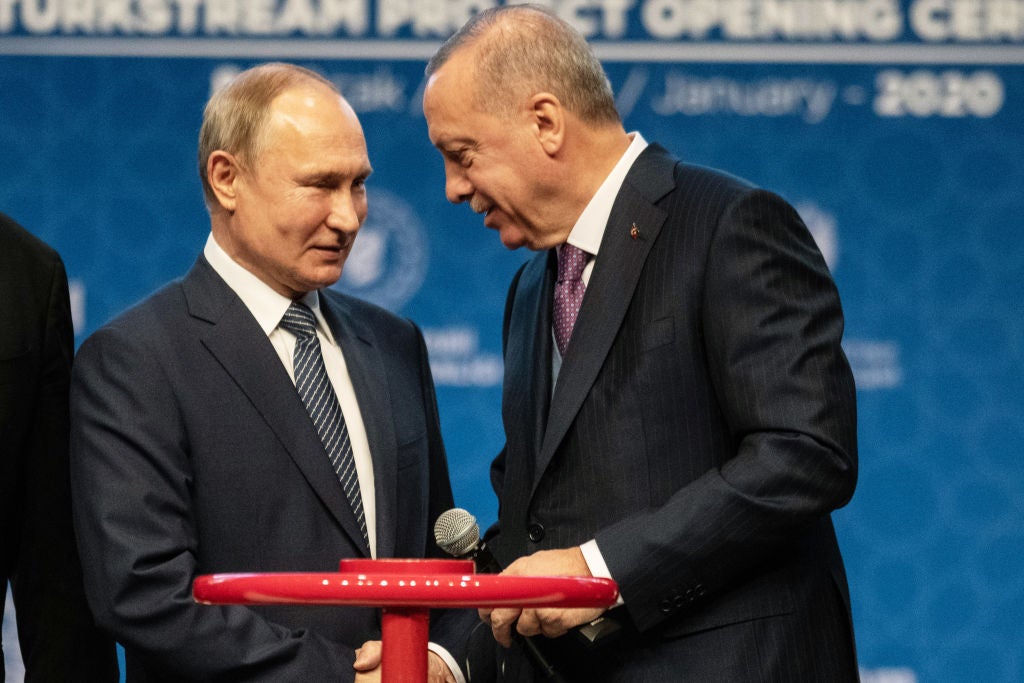 Could a country that imports 98% of its gas become a gas hub? Turkey thinks so. From Norway to Azerbaijan, gas production on the EU's periphery has boomed as countries have raced to fill the gap left by Russia following its war in Ukraine. What makes Turkey an outlier is that countries like the US, Norway and Azerbaijan are major net gas exporters, not importers. Turkey is also grappling with the fallout of earthquakes that have claimed more than 50,000 lives, 85% annual inflation and presidential and parliamentary elections on 14 May.
Russian gas, Turkish hub?
Despite desperate EU efforts to wean itself off Russian gas, 25% of all EU gas imports in 2022 still came from Russia. Following the disruption to Nord Stream – and past failures to construct alternatives such as South Stream – the TurkStream pipeline from Russia to Turkey has emerged as a key channel for Russian gas to flow to Europe, alongside liquefied natural gas (LNG) and some Ukrainian routes.
Russian President Vladimir Putin has directly supported Turkey's role as a new gas hub, or base for gas supplies, since the Ukraine War. Turkish President Recep Tayyip Erdogan has likewise embraced the establishment of a gas hub in Turkey to facilitate EU purchases of Russian gas.
Not everyone is convinced, however. "Turkey lacks the necessary infrastructure, both pipeline network and gas storage capacity, and political stability to sustain the role of a gas hub," argues Bengisu Özenç, director of the Sustainable Economics and Finance Association, an NGO based in Ankara, Turkey.
Turkey itself is very reliant on Russian gas and on fossil fuel imports as a whole. It imported 45% of its gas consumption from Russia in 2021 and 40% in 2022. "This creates another layer of complication for Turkey's ability to act as a gas hub," suggests Özenç.
While Russian gas is not under an embargo similar to oil, the EU's determination to cut its reliance on Russian gas and the fact that Turkey produces no natural gas domestically makes it difficult to see how the country's gas hub ambitions will materialise, she says – and yet, Turkey is striking gas-related deals with its neighbours, including giving them access to its LNG terminals.
How well do you
really

know your competitors?

Access the most comprehensive Company Profiles on the market, powered by GlobalData. Save hours of research. Gain competitive edge.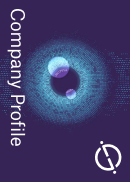 Company Profile – free sample
Thank you!
Your download email will arrive shortly
Not ready to buy yet? Download a free sample
We are confident about the unique quality of our Company Profiles. However, we want you to make the most beneficial decision for your business, so we offer a free sample that you can download by submitting the below form
By GlobalData
In January 2023, Turkey signed a 13-year gas deal with Bulgaria. The agreement will give Bulgarian national gas distributor Bulgargaz access to five Turkish LNG terminals plus the country's gas pipeline network, run by state-owned company BOTAS. This means Sofia will be able to get more than half of its annual gas consumption, or 1.5 billion cubic metres (bcm), via Turkey.
The deal signals Turkey's ambition to secure gas supplies for the Balkans. While the EU's LNG import capacity as a whole is significant, it is limited in south-east Europe. There are only three LNG import terminals in the whole peninsula – two in Greece and one in Croatia. Turkish LNG terminals could therefore bolster energy security in the region.
Turkish officials are also looking to the east to further expand their gas offering – Turkish Energy Minister Fatih Dönmez has said there are plans for the Turkish hub to include not only Russian but also Azeri and Iranian gas. Both of those are carried by pipeline, as is the majority of Russian gas to the country. In late 2022, Ankara and Baku agreed to double the capacity of the Trans-Anatolian Natural Gas Pipeline (TANAP), which enables the export of Azeri gas to Europe, from its current 16bcm.
Domestic gas woes
Concomitantly, natural gas has become more important in Turkey's own energy mix: gas's share of total energy consumption grew from 16% in 2000 to more than 30% in 2022. This made the 85 million-strong nation the seventh-biggest gas consumer in the world in 2020. Household consumption accounted for more than 32% of gas use in 2021, followed by industry.
"A big part of the fossil gas in Turkey is consumed in households for heating [because of] its wrong promotion as a clean, non-polluting heating source as compared to coal," says Özlem Katısöz, climate and energy policy coordinator for Turkey at the NGO Climate Action Network (CAN) Europe. In the minds of the public, gas heating has been synonymous with clean heating since the switch away from coal back in the 1990s, which improved air quality, concurs Özenç.
"Rather than curbing its reliance on gas, Turkey tried to curb its reliance on Russian gas in the last ten years – from 65% to 40% – as a risk management strategy," she adds.
However, overall, Turkey remains heavily reliant on both imports and fossil fuels. The country still imports 74% of its energy, and 83% of its primary energy comes from fossil fuels, similar to in the late 1990s.
Following Russia's invasion of Ukraine, Turkey has become one of the biggest consumers of Russian fossil fuels. It is the second-biggest importer of Russian coal (after China), the second-biggest Russian gas importer (after the EU) and the fourth-biggest Russian oil importer. Analysis from think tank Ember published in March shows that Turkey faced a record-high coal import bill of $5.3bn (Tl101.29bn) last year, twice that of a year earlier. In 2022, coal power generation experienced a 10% rise year-on-year. Overall, Turkey has spent €25.9bn ($28.03bn) on Russian fossil fuels since the start of the war. Russia also owns Turkey's first and only nuclear power plant project, Akkuyu.
Diversifying away from Russian gas to other gas suppliers has had its own difficulties. In early 2023, due to a fault in the Iranian network, gas deliveries through the Tabriz–Ankara pipeline were cut by 70%. This mirrored a similar cut in early 2022. Iran remains Turkey's second-biggest gas supplier after Russia, supplying more than 9bcm in 2021.
For Özenç, Turkey's embrace of a gas hub is unconvincing. "Turkey's strategic moves on the gas front can be viewed with a domestic politics lens, where the government is trying to build trust among its constituencies for the approaching general elections, during a time of deep economic crisis," she says.
Erdogan is facing perhaps his most challenging election yet in May as the opposition seems to have consolidated around Kemal Kılıçdaroğlu, the leader of the main opposition party. As Turkey has faced a number of foreign crises simultaneously, its balancing act between Russia and the West has been one of its main successes. This has paid off economically, too – 1,363 companies with Russian participation were established in the country in 2022 alone.
A look into the renewable future
Turkey has been hailed as a hydropower powerhouse – it installed more than 500MW of hydropower in 2021 alone. (For comparison, Norway installed 396MW, Austria 150MW and Spain 16MW.) Most of this was private investment in projects of at least 100MW.
Nevertheless, despite the new additions and hype around them, hydropower's role in Turkey's energy mix is decreasing – it accounted for just 7.68% of energy consumption in 2021, down from 12% in the late 1990s.
There are plans for other renewables. Turkey's 2022 National Energy Plan envisages a total of 82.5GW of wind and solar installations by 2035, although there is no road map to achieve this, says Katısöz. "One of the most important problems of the renewable sector in Turkey is unpredictability and lack of guidance from a policy perspective."
In 2022, solar power made up just 5% of Turkey's electricity generation, wind 11%, hydro 21% and other renewables (such as geothermal) 6%, for a combined 43%. Turkey's wind share is well ahead of that of other countries like France or Italy, with 8.2% and 7.1%, respectively. There have been several moves over the past decade to incentivise a greener power grid, notably via feed-in tariffs for renewables.
Renewables are relevant to more than just the energy transition. If Turkey had doubled its solar and wind capacity from 19GW to 36GW in 2022, this could have reduced the country's inflation by 7%, suggests research by the Sustainable Economics and Finance Association from December 2022. The government's statistics office currently puts inflation at 85%, the highest in 24 years. Özenç says such figures are not perceived as credible by the general public and alternative calculations put the annual inflation rate at 180%.
Yael Taranto, a senior energy analyst at the SHURA Energy Transition Center, a think tank funded by the European Climate Foundation, among others, observes a huge increase in applications from industrial enterprises to install solar PV plants for self-consumption as electricity costs skyrocketed in 2022. However, smaller businesses have faced challenges. "First, the procedure is not necessarily simpler for smaller installations, and smaller businesses generally find it more difficult to access the finance and know-how," she explains. "Second, for smaller businesses, issues of economic sustainability generally take precedence over environmental sustainability or even cost reduction."
The self-consumption possibilities for public buildings such as schools and hospitals have picked up since 2021, according to Taranto, following the implementation of a $200m Energy Efficiency in Public Buildings project, supported by the World Bank and implemented by Turkey's Ministry of Environment and Urbanisation.
"For households, development has been very slow due not only to cost and financing issues, but also to the quality of the current housing stock," she adds. "New buildings and single-family homes are in a better position to install PV plants."
In the aftermath of the massive earthquakes that hit Turkey in February 2023, there are ten out of 81 provinces where infrastructure is either partially or totally destroyed. In light of the devastation and dire need for a total or near-total rebuild, Taranto argues that new buildings must also be constructed in line with sustainability objectives such as energy efficiency and insulation.
Turkey's renewable energy future remains uncertain. It aims to peak emissions by 2038 and be climate neutral by 2053, but modelling suggests this is hugely ambitious.
Ankara is not on track to limit its greenhouse gas emissions in line with 1.5°C warming and its efforts to phase out fossil fuels are far from sufficient. The country has no coal phase-out date nor a commitment not to build new coal power plants. On the contrary, Turkey's 2022 National Energy Plan announces an increase in coal-fired power generation capacity of at least 2.5GW until 2035.
"Betting on false solutions including fossil gas will only slow down addressing Turkey's challenges like energy poverty and securing a just [low-carbon] transition," argues Katısöz. Many would argue the same could be said for the EU.