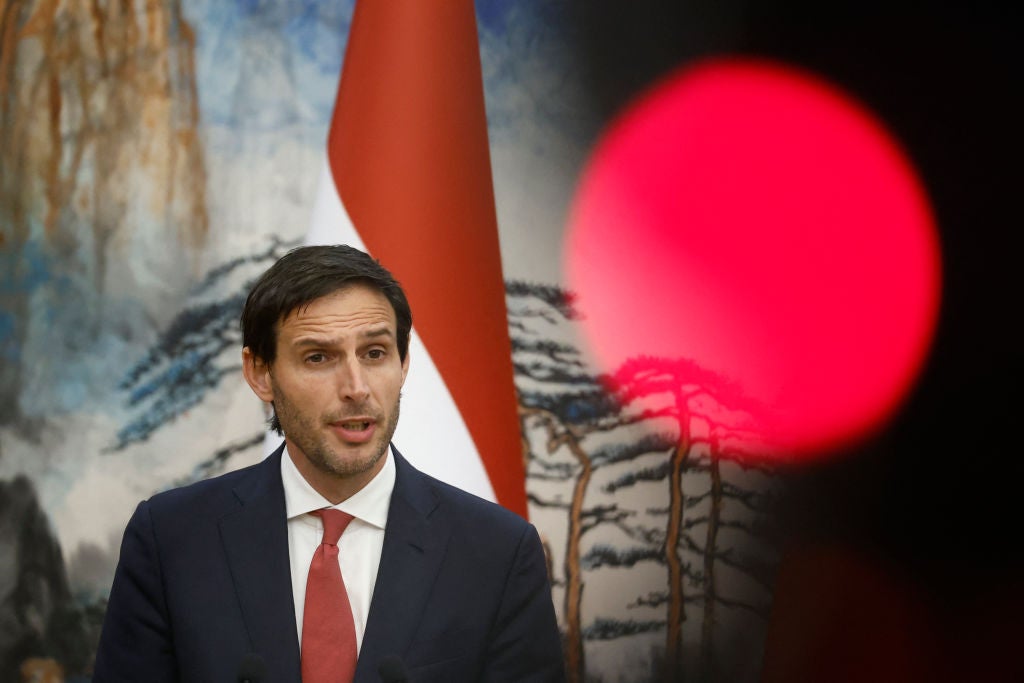 This summer, when the EU's Executive Vice-President for the Green Deal, Frans Timmermans, announced he was leaving the European Commission to run for prime minister in the upcoming Dutch election, there were concerns that the EU executive's climate work might stall with the loss of its most high-profile green champion. Those concerns were somewhat allayed when Vice-President Maroš Šefčovič, a Slovak who is from the same centre-left political family as Timmermans, announced he would be taking over as green deal vice-president.
Then Commission President Ursula von der Leyen dropped the bombshell: Šefčovič would not in fact be the person running the climate portfolio. Instead, that would be done by a new EU climate commissioner, a position that has until now not existed in von der Leyen's commission though the role was, in effect, performed by Timmermans. She nominated Wopke Hoekstra, a conservative Dutch politician from her own centre-right European Peoples Party (EPP), to hold the position. Šefčovič will only hold on to his previous duties concerning relations with the other EU institutions, while also coordinating Green Deal priorities across the Commission's various activities.
Green NGOs are not happy about it. In August, ten of the largest in Brussels, including Climate Action Network, Greenpeace, Transport & Environment and the European Environmental Bureau, wrote to President von der Leyen expressing serious concern over Hoekstra's "lack of expertise on EU climate policy" and the fact that he formerly worked for Dutch oil and gas giant Shell. "We rely on you for personal ambitious leadership and to continue promoting a transformative European Green Deal that you committed to," they wrote. Separately, an online petition opposed to Hoekstra's appointment as EU climate commissioner has already attracted more than 10,000 signatures. "The EU stands ready to hand over the keys to our climate policy to a former Shell employee with a track record of putting profit ahead of the planet," the petition states.
Members of the European Parliament have also reacted with alarm. "The nomination of Hoekstra as climate commissioner was a big surprise for us as he does not have a great climate record," Green Dutch MEP Bas Eickhout told Energy Monitor. "He will definitely face a tough hearing in parliament, where he really needs to show some proper climate ambitions."
Mr No
Hoekstra will soon be grilled by MEPs in the European Parliament's environment committee at his confirmation hearing to become the EU's climate commissioner, most likely during the week of 9 October. Some on the left are sharpening their knives, but others are privately questioning whether the battle is worth it, given that Hoekstra's term will only last until the end of von der Leyen's mandate after the EU election next June.
Keep up with Energy Monitor: Subscribe to our weekly newsletter
Part of the objections to Hoekstra stem from the reputation he acquired during the Covid-19 pandemic, during which time he was Dutch finance minister. As the EU's 27 finance ministers gathered at the EU Council in Brussels to discuss whether to establish a pandemic relief fund to keep the European economy afloat, Hoekstra emerged as the chief opponent. Southern European countries were furious at this lack of solidarity and he started being dubbed "Mr No". The news website Politico even called him "Europe's bond villain" during this time. Spanish MEP Iratxe García, who leads the parliament's second-largest group, the centre-left S&D, accused him of "offensive, ignorant and arrogant" behaviour and said he was putting the future of the EU "at risk". Hoekstra eventually relented and the EU established the largest fund of its kind – fed by unprecedented jointly borrowed "Eurobonds" that had been so bitterly resisted by Germany during the debt crisis a decade ago.
However, Germany's centre-left prime minister Olaf Scholz ended his country's long-standing objection to joint EU debt, and the Netherlands was not in a strong enough position to resist the financial solidarity measures on its own. Even though he lost the battle, Hoekstra's often strident behaviour left a bitter taste in the mouths of many in Brussels. Others came away impressed by his hard-nosed pragmatism. In the end, how someone in Brussels feels about Hoekstra seems to have a lot to do with what part of Europe they come from.
EPP populism
However, the objections to Hoekstra are less about his personality, or his lack of climate expertise, than they are about the political party he is from – the Christian Democrats. That is the same political family as von der Leyen herself, the EPP, and right now it seems to be heaping pressure on her to water down the Commission's climate ambitions. Under the leadership of German MEP Manfred Weber, the EPP, the Parliament's largest political group, appears to be pursuing a strategy of bashing overly-burdensome climate legislation as a potential vote winner ahead of next year's EU election.
That has made MEPs nervous about Hoekstra. When this commission started, Timmermans was supposed to be a 'left watchdog' to nudge the centre-right von der Leyen towards more ambitious climate action and provide a counterbalance to EU Energy Commissioner Kadri Simson, who is a more market-oriented liberal. While Hoekstra may not be directly replacing Timmermans, it is clear that work on climate will be done by him rather than the centre-left Šefčovič.
Von der Leyen had originally chosen not to have any climate commissioner sitting below Timmermans, so he was effectively the EU's climate commissioner under a different title. There has not been a "Climate Commissioner" since the commission of President José Manuel Barroso, which ended in 2014, when President Jean-Claude Juncker decided to merge the climate and energy commissioners into a single position. Simson, however, only has energy in her title and mostly left climate to Timmermans.
Read more from this author: Dave Keating
Pascal Canfin, the Chair of the Environment Committee, who will be running Hoekstra's confirmation hearing, has suggested to Energy Monitor there may be trouble ahead. "Why should we support an EPP climate commissioner if the EPP is not anymore on board with the green deal?" asked the French MEP from Emmanuel Macron's Liberal Renew Europe group. "He will have to prove that he is the right man to keep on delivering this [commission's] high level of ambition. Mr Hoekstra's confirmation is therefore not a done deal as he needs to be confirmed by a two-thirds majority of the coordinators of the environment committee."
That opinion has also been expressed by the centre-left S&D group of MEPs, who put out a statement in late August saying the nomination needed to be seen "against the backdrop of the conservative EPP's recent cynical and populist maneuvers to water down the Green Deal" and that "it is crucial for our group that the climate portfolio remains in the hands of the Socialists and Democrats family". MEP Mohammed Chahim, Vice-President of the S&D and a member of Timmermans' Dutch Labour party, said Hoekstra's appointment would "unbalance" the Commission and could halt work on climate change from the EU executive.
EU climate commissioner: worth the fight?
Others within the Left, Liberals and Greens (who together would easily have the votes to reject Hoekstra) have quietly questioned the wisdom of picking such a high-profile fight with von der Leyen over a man who probably won't have that much to do over his nine-month term. "If anything, we should be propping von der Leyen up as she is facing this effort from her own party to undo her green deal," said one centre-left S&D official in the European Parliament who asked not to be named because a position on Hoekstra's confirmation has not yet been taken by the group. "I have heard some people say this is a good line in the sand to draw, but it is a huge amount of political capital to spend on something that may not be so important."
While it is true that the von der Leyen commission is not due to come out with any more major climate proposals before the end of her term, there is still implementing legislation from the 'Fit for 55' package that needs to be adopted. For instance, the Energy Performance of Buildings Directive, the Methane Regulation, the Gas and Hydrogen Networks Regulation, the Net-Zero Industry Act and the electricity markets design reform are still being negotiated. The Energy Taxation Directive remains stalled waiting for unanimous approval in the Council. The Nature Restoration Law still needs to be approved after a failed EPP effort this year to kill it. The Green Deal Industrial Plan, meant to be the EU's answer to the US Inflation Reduction Act, was only announced in February, so its initiatives are still being developed.
As EU Climate Commissioner, Hoekstra would also be in charge of delivering the EU's message at the COP28 climate summit in Dubai and participating in negotiations in the lead up to it. Ahead of that summit, the Commission needs to take a decision on whether to propose a 2040 climate target between the existing targets for 2030 and 2050. Whether or not that proposal comes forward could make a big difference to the global ambition at COP28. In the end, it will be von der Leyen's decision to make, not Hoekstra's, but without Timmermans pushing her to do it, the odds of the target seeing the light of day could be fading.
As is usually the case, MEPs are not saying ahead of the confirmation hearing whether they will support Hoekstra as EU climate commissioner or not. These processes have a history of taking on a life of their own, and a poor performance by a nominee can suddenly change expectations. If Hoekstra were to be rejected, it is unlikely his nomination would be rescinded by the Dutch Government. Instead, he would likely be nominated by von der Leyen for a different post within the Commission – and she may decide that not having a climate commissioner at all for the past four years is the best way to go for her final year as well.