At first glance, competition law might seem unlikely to excite environmentalists. However, in the EU, it is becoming an important subject in the climate debate.
The European Commission has been acting illegally by approving national state aid that works against the goals of the European Green Deal, concluded the environmental NGO ClientEarth in legal analysis published this week. Subsidies, or state aid, that member countries want to grant to companies or projects must be approved by the EU executive.
"According to fundamental law, the EU can only approve state aid that is compliant with EU environmental laws and climate commitments," says ClientEarth state aid lawyer and report co-author Juliette Delarue. "Granting funds to companies and industries fuelling climate change is not only irrational, it is now legally indefensible."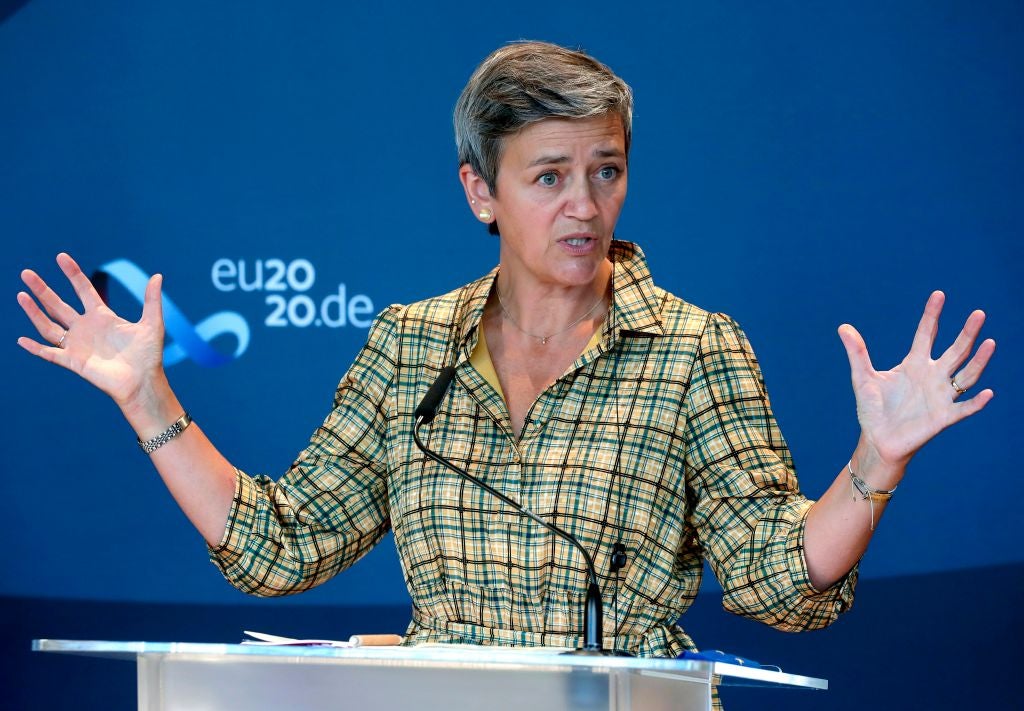 Anger about the role of state aid in the EU's bid to become a clean energy economy reared its head this summer, when the Commission decided not to require countries to impose green conditions on Covid-19 airline bailouts. As with mergers and acquisitions, the EU executive, which acts as the EU's competition authority, must clear such financial support. Normally state aid approvals take many months, but the airline bailout decisions had to be taken quickly. Uncertainty over the legality of imposing green conditions on airlines, and the practicality of pushing back against national governments when time was of the essence, helped inform the decision by Margrethe Vestager, vice-president for competition at the Commission, to allow state aid to be handed out without strings attached, say Commission sources.
Climate campaigners were bitterly disappointed, and the decision prompted a wider debate about the relationship between the Green Deal and EU competition law.
In response, the Commission is opening a public consultation on how competition policy could be better aligned with EU climate objectives, Vestager told the European Parliament in late September.
"The time has come to launch a European debate on how EU competition policy can best support the Green Deal," she said.
However, in the same breath she tried to dampen expectations that change in EU competition law and state aid policy could be key to the clean energy transition.
"Competition policy is not going to take the place of environmental laws or green investment," she said. "We are open to all ideas, no matter where they come from, but we have to be realistic. Competition policy is not, and it cannot be, in the lead when it comes to making Europe green."
Delarue says she welcomes the initiative, and the Commission's public commitment to ensuring the Covid-19 recovery is green.
"But many of the necessary rules are already there," she insists. "Commissioner Vestager must not forget the EU institutions are first and foremost bound by the EU Treaties, and multiple clauses within these treaties mean the EU already has a legal obligation to impose 'carbon screening' [checking compatibility with the green deal] on state aid."
Anti-environment antitrust
There are two ways the Commission is undermining the green deal with its competition policy, say critics. The first is by approving national state aid for fossil fuels and other emissions-intensive industries. The second is by not factoring in environmental benefits when taking decisions about whether to approve mergers or inter-company collaboration that might be considered a cartel.
"Under EU competition rules, competitors cannot coordinate between themselves," explains Gianni De Stefano, a competition lawyer with global paint company AkzoNobel. "Often with sustainability, you cannot do it on your own, you need to cooperate because you may be put at a first mover disadvantage – but such coordination could be ruled illegal by the Commission."
He adds: "Competition policy has historically been limited to consumer welfare rather than societal benefits. It has been focused short-term, on economics and price-related effects, and this has sometimes made it an obstacle for sustainability action."
But De Stefano, like Delarue, believes the Commission already has the power to cite environmental benefit as justifying sustainability-targeted cooperation. He says Article 11 of the Treaty on the Functioning of the EU, which states that environmental protection must be integrated into EU decision-making, and the current green deal rules, would provide a basis for rulings.
In addition, exceptional situations can be taken into account for rulings.
"Why not see climate change as an exceptional situation?" he says. "If we are at a moment in time when we think this is an urgency, and that is why we have the EU Green Deal, competition policy should follow. I think the commission's competition department is on the right path."
In July 2020, the Dutch competition authority proposed new draft guidelines that aim to make it easier for companies to agree to produce greener products without breaking competition rules. They have since been joined in this push by the Greek competition authority. However, other authorities, such as Lithuania's, are sceptical because they think it could open to door to 'greenwashing' cartels. There is also nervousness within the Commission about going down this road.
Some of those concerns are legitimate, says De Stefano.
"Sometimes sustainability could be used as a cartel in disguise," he says. "The theoretical case is that you say 'go away Commission, I am going to close up in this room and talk about sustainability', but you are actually talking about prices."
Vestager said she wants to discuss how such sustainability cooperation could be made easier, and that may just involve clarifying certain rules.
"We welcome it when companies decide to work together, to help them move even faster to go green," she said. "And our rules make sure those sustainability agreements are done in a way that doesn't undermine competition, and harm Europe's consumers."
She continues: "But we know that in practice, it is not always easy for companies to be sure their agreements fall on the right side of the line. So we are looking at how we could give more clarity in our guidance on horizontal agreements between competitors."
Unhelpful state aid
The other complaint is that the Commission is not taking environmental considerations into account when deciding whether to approve national state aid, instead looking narrowly at whether the aid distorts competition in the market.
The EU executive is not only authorised, but is actually required, under the EU treaties to apply environmental considerations, even in its assessment of non-environmental aid, say lawyers from Redeker Sellner Dahs, which carried out the analysis for ClientEarth.
"However, to date the EU Commission has been very reluctant to exercise its wide discretion in state aid matters to push for an alignment of national aid measures with European climate and energy objectives," the report concludes.
It recommends adding a new compatibility assessment criterion to the Commission's state aid decision-making practice that addresses the consistency of aid measures with EU climate protection and energy transition objectives.
Vestager has signalled she may be open to this.
"We could look at the possibility of firm rules, requiring that aid mustn't undermine the Green Deal," she said. "We might refuse to approve aid that would harm the environment, or would keep polluting factories or power plants operating. Obviously, that would have to happen within the limits of the Treaty, and in line with the rights of member states".
Another change, she said, could be allowing governments to give more public money than normal if they are giving it to projects that meet Green Deal goals.
Case in point: gas heating
Gas heating offers a concrete example of how a lack of environmental considerations in state aid can work directly against the Green Deal, say campaigners. The European Geothermal Energy Council (EGEC) sent a letter to Vestager at the end of September complaining that EU policy is giving gas a dominant market position at the expense of readily available competition from renewable heating and cooling solutions.
"You can't have a conversation about state aid without looking at the biggest elephant in the room, which is the massive fossil fuel subsidies we have for gas," says EGEC head of policy Sanjeev Kumar. "The whole green deal doesn't work if you don't introduce competition for heating rather than competition for gas."
The existing framework was developed in the 1990s when it was assumed that all heating would be delivered by fossil fuels, normally gas, says Kumar. So when decisions are made about whether to approve state aid for gas infrastructure, it is assumed to be an essential service to heat homes. However, it doesn't take into account other undeveloped sources of heat, such as geothermal energy reserves under the ground, district heating, or heat pumps.
"We have heat reservoirs across Europe, but all the countries are locked into a gas infrastructure," he says. "If we had a green competition policy, the first question they would ask is whether there is a green alternative to the fossil fuels. If there is, how can you best extract it?"
In such a scenario, the Commission would be duty-bound to refuse state aid to gas infrastructure intended to deliver heat when the same money could be invested in developing other solutions, if they are viable.
Such a system is a long way off. The review will be open for several months as part of a larger look at competition policy being carried out at the behest of Germany and France. The countries were unhappy with Vestager's decision to block a merger between German engineering firm Siemens and Alstom, a French multinational producing rolling stock, last year. Paris and Berlin are envisioning a new competition policy that would be more proactive, putting normal antitrust considerations aside to serve larger goals such as creating 'European champions' that can compete with global giants from elsewhere in the world.
The idea to allow companies to merge or collaborate in a way that puts Europe in a powerful position to reduce emissions, even if it might disadvantage consumers or create internal market distortions in the short term, is a controversial one. Similarly, the idea to factor environmental goals into state aid decisions also has many detractors. However, with coronavirus having thrown open the door to a new world of flexibility in EU state aid, now may be the time to fundamentally reshape EU competition policy into a greener model.