An estimated 74 potential onshore wind projects in the Netherlands have been affected by a lack of local support, Energy Monitor can reveal. An investigation into protests against wind turbines found that 18% of Dutch municipalities have either cancelled, delayed or put wind projects on hold over the past few years.
The cancelled projects add up to more than 1.3 terawatt-hours (TWh) of lost annual wind power, or around 5% of the country's onshore wind target.
The actual amount of lost generation is likely even higher: the 1.3TWh figure only includes projects whose estimated generation was known before they were called off, or around a third of the total.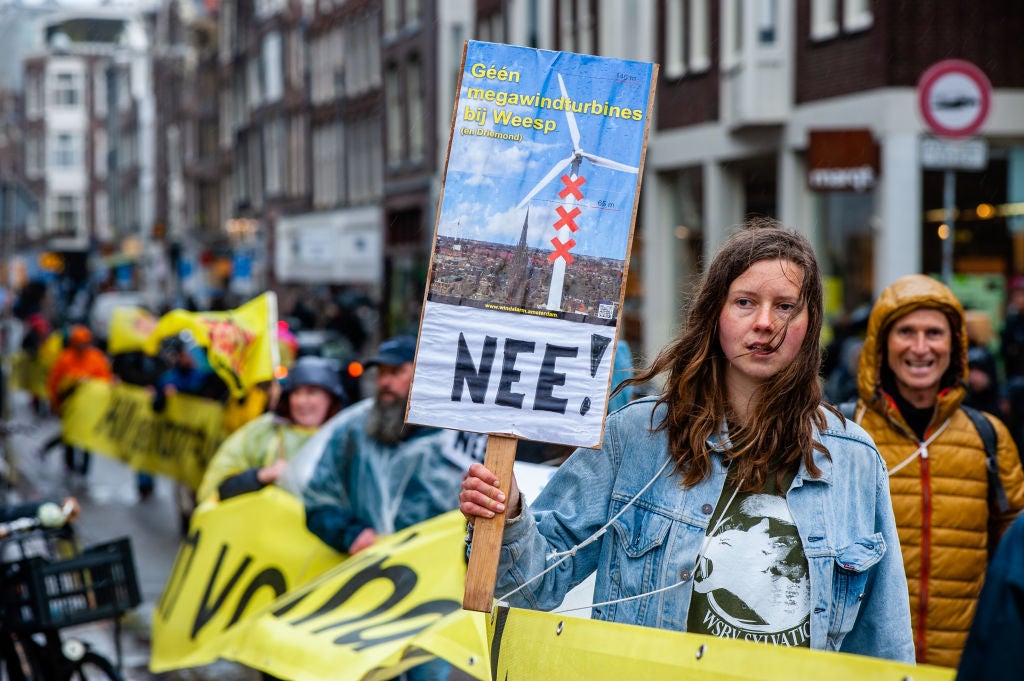 As part of its climate goals, the Netherlands has a target for 2030 to generate 35TWh from onshore renewables. The government has divided the country's municipalities into 30 'energy regions' and tasked each region to contribute to this target. How much they contribute and with what is up to them and written down in a Regional Energy Strategy.
These strategies designate prospective sites for onshore energy generation. Some regions have more detailed plans than others, with specific onshore renewable targets for each municipality, while others have set more general targets. However, even early-stage plans still generate resistance and worry among residents.
The city of Weesp made national news when one of the councillors of the Green party resigned after the local council voted to call off the only prospective site left in the municipality. Neighbourhood residents had campaigned successfully for most of the local politicians to change their minds on wind generation in the area.
According to Statistics Netherlands, a Dutch governmental institution that gathers statistical information, three-quarters of Dutch people are worried about climate change and 73% want more wind energy generation. In that context, the resistance of the Dutch to wind projects seems odd. However, when that wind energy is generated locally, the Dutch are a lot less enthusiastic, with only 21% in favour of close-to-home projects. Location is key; people want more wind generation, but not if it is next door. This is a clear example of the 'not in my back yard' effect in action.
The energy region North-Holland North, which includes Amsterdam, has the greatest number of affected projects. Several potential wind sites in nature areas were scrapped due to fears over how they could affect the environment. Other projects were called off after protests from residents worried about health, property values and horizon pollution.
Emotions can run high. In April 2021, two activists were jailed after wind park developers started receiving threats, Nazi pamphlets were distributed and asbestos was dumped at a wind construction site.
As a result of public resistance, some local governments have decided to forsake all wind generation in their municipality, while others have cancelled specific projects. After the Dutch Council of State ruled in June 2021 that the government had failed to analyse the environmental effects of wind turbines, several municipalities put their projects on hold to await a national environmental impact assessment.
While it would still be possible for local governments to continue with wind projects, many do not want to take any legal risks and are choosing to focus on (rooftop) solar power instead.
A study looking at cases of earlier protests in the Netherlands concluded that local governments should be guaranteed a certain level of agency to help build public acceptance for local projects. In the Regional Energy Strategy, more local agency has been put forward, but it does not seem to have had the desired effect.
However, not all is doom and gloom for wind. Local engagement, including the opportunity to invest in renewable energy, can also win support for local projects. In Arnhem, a wind park with four windmills providing energy for 11,000 households has largely been financed by 566 residents. Similar projects and local cooperatives are popping up all over the country, especially in Groningen, where earthquakes caused by gas drilling have jolted residents.
"This cannot be done without local support," said Joris de Winter, project manager at the Groninger Energiekoepel, an organisation that represents the interests of energy cooperatives and energy initiatives in the province of Groningen, in an interview with the television programme Pointer. "That will only result in increasingly fierce resistance. The [energy] transition cannot succeed without the immediate environment benefitting as well."

A note on the data collection for this article:
The data is based on ambitions expressed in the Regional Energy Strategy 1.0 plans and reporting by local and regional newspapers on protests. Because the data was gathered manually, it is an estimation of wind projects affected by protests.
The projects range from early to late stage. The fact that some are being cancelled, delayed or put on hold, does not mean they could not be relocated. Some municipalities are swapping one location for another. Projects dropped for other reasons than protests and a lack of local support were not included in the analysis.