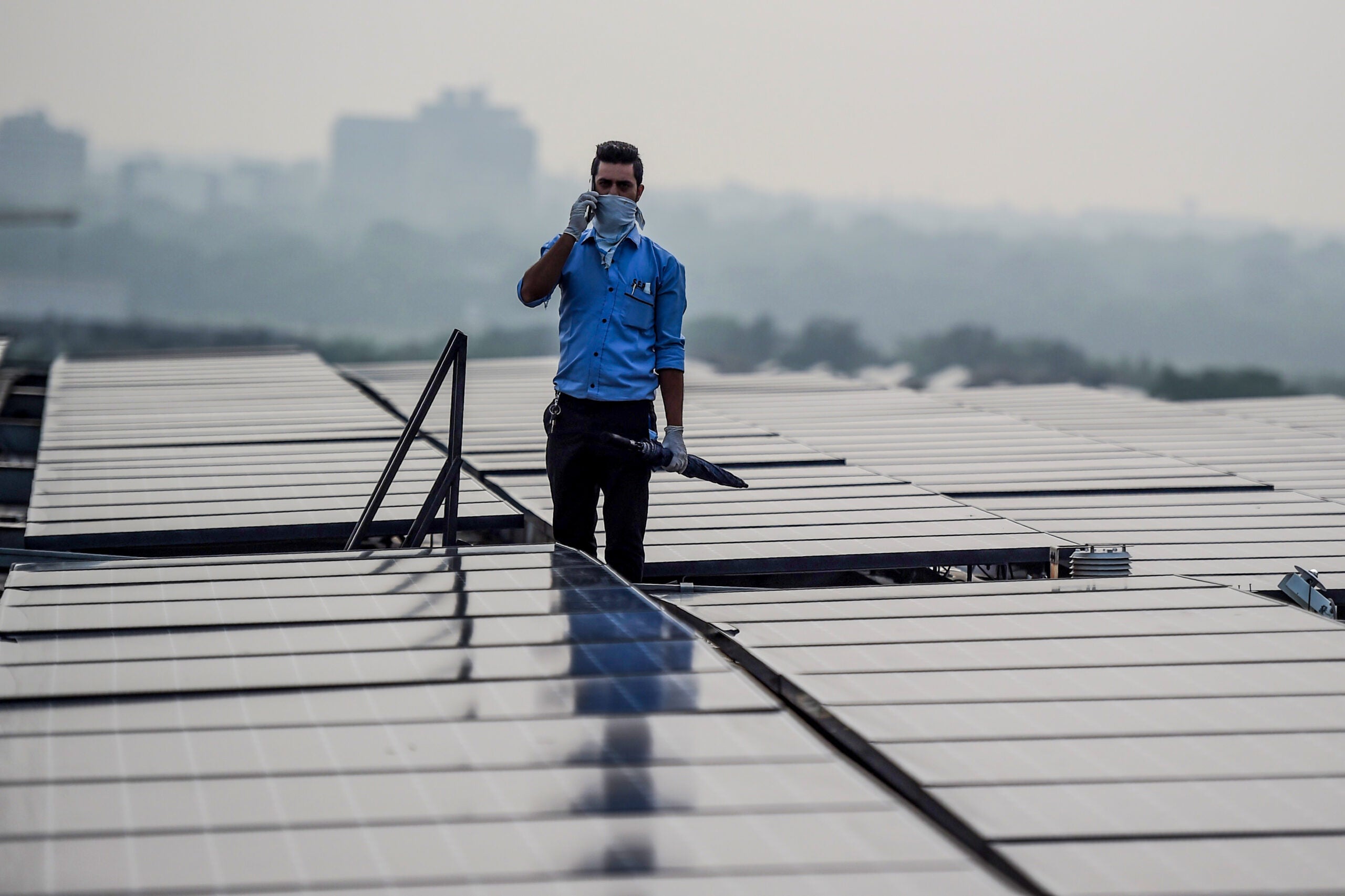 Home to the world's biggest solar parks and soon the biggest single renewable plant, which will combine 30GW of wind and solar, India is considered a champion of solar energy. By 2022, the plan is to connect 100GW of solar to the grid, and the country's most recent pledge is a hugely ambitious 450GW of renewable energy installed by 2030. This includes 60GW of hydropower and a yet unspecified mix of solar and wind energy, but whether these targets will be met on time is another matter.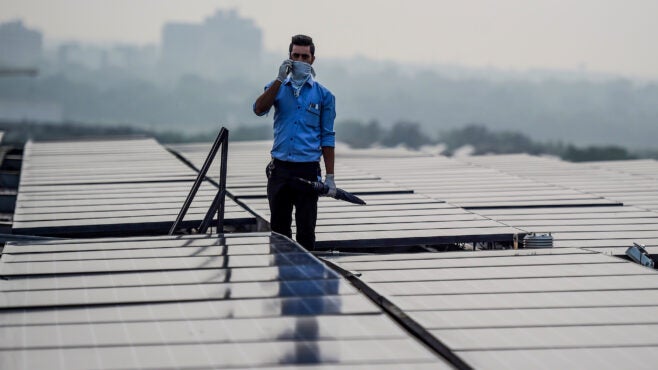 As of March 2020, India had installed just 34.6GW of solar power, and the Covid crisis has hit the sector hard. In the first nine months of 2020, only 1.73GW of new solar projects were added to India's pipeline, a drop of 68% compared with 2019, says the consultancy Mercom India.
"The solar industry in India is glad to see the back of 2020, which will end up as one of its worst years," Raj Prabhu, CEO of Mercom Capital Group, said in a statement. "However, the market is almost back on its feet, and the mood is upbeat as the industry heads to 2021 – one of the best years forecasted for the sector."
Subrahmanyam Pulipaka, CEO of the National Solar Energy Federation of India, is also relatively upbeat. "Over the past 18 months, almost 40GW have entered different stages of commissioning, tendering and installation," he says, with installed capacity reaching about 37GW. This brings total installed solar capacity in India to 77GW.
When assessing India's solar target, attention tends to be on utility scale, adds Pulipaka, "but the government has already meticulously planned 23.5GW of additional solar through the so-called Kusum scheme", which provides solar pumps and grid-connected solar to farmers, with support equivalent to $4.65bn. Even if half of it is installed, that would bring total solar capacity to 89GW, Pulipaka says. "And then you can add about 10GW of rooftop solar and that would get you through the fence."
Chinese tensions
This all sounds good on paper, but a range of financial and policy issues could derail progress, not least the industry's dependency on imports from China.
In 2018, the government imposed a set of aggressive anti-dumping measures, starting with a 25% safeguard duty on solar cells and modules, to be phased down until the end of the scheme in July 2020. Far from boosting local manufacturing as hoped, lead solar makers in India deemed the measure "a policy misadventure" that was not effective in beating China's competition, but costly enough to spook developers.
Even with less attractive Chinese components to compete against, Indian makers weren't ready to plug the gap, and many solar investors simply paused their plans until this year. Imported Chinese modules remain 20–30% cheaper than Indian manufactured ones with the manufacturing cost per watt at around $0.20 for Chinese solar and about $0.24 for Indian modules.
Relations between India and China have always been tense, but a military clash in the north-eastern region of Ladakh in June 2020, which killed tens of soldiers, has led to a full-blown trade war. As a result, the Indian Power and Renewable Energy Ministry has doubled down its efforts to weaken trade links with China, announcing in June 2020 it would impose new basic custom duties, starting from up to 25% duties on solar modules and a 15% tariff on cells during the first year, increasing them to 40% and 30%, respectively, in the second year.
While the enforcement of these new tariffs keeps being postponed, "there is a pretty heightened awareness of India's very heavy reliance on imports", says Vinay Rustagi, managing director of the consultancy Bridge to India. India's manufacturing capacity is still only about 3GW a year for cells and modules, he says. "If you compare that with total demand of about 10GW or 12GW," he adds, "more than 70% of our requirement is being met from imports and this trend will continue for at least for another two years."
The government recently launched a set of production-linked incentives, which included the equivalent of $608m for the production of high-efficiency modules and $2.45bn for batteries. While this is encouraging and moves away from simply penalising imports, Rustagi says "so far we have seen very little results on the ground".
Druv Sharma, CEO of Jupiter Solar, the second-largest manufacturer in India, insists "it is still early days", but believes the plan will yield the expected results, creating integrated manufacturing facilities for solar modules, cells and wafers and give "a leg-up in creating an efficient industry ecosystem". The Indian government is finally stepping up to the plate and becoming "more resolute about creating an independent market for domestic manufacturing", says Sharma. "That has given a lot of confidence to investors and existing manufacturing lines are much healthier."
Lack of harmonisation
However, he acknowledges that "numerous bottlenecks" remain, particularly the need to coordinate interstate policies and infrastructure installations.
The interaction between states and central government could make or break India's solar ambitions, says Rajagopal Saravanan, a professor with the mechanical engineering department at Anna University in Chennai, India.
Each state has different energy policies, he explains, some are very active and favour the penetration of solar energy; for example, through low transmission charges and extensive net metering infrastructure. Others put a cap on how much energy produced can be exported to other states, and charge heavily for that.
Harmonising net metering and transmission policies across all states would make it much easier to reach India's renewable targets, he says.

Issues with transmission infrastructure are not just political, Rustagi adds. Renewable projects need a huge amount of land – 100GW of solar photovoltaic requires about 1,620km2. The bulk of India's solar capacity is therefore situated in far flung areas of the country that tend to be arid and sparsely populated.
"Since there are no economic activities, there is normally no transmission network to release the power into," he says. "To make things worse, transmission infrastructure typically needs three to five years to build, while many renewable plants only need one to two years." Unless there is advanced planning for transmission infrastructure, he says, it is possible developers may start working on the ground, only to find transmission lines are incomplete and the power produced cannot be distributed.
After a years-long push to expand its solar capacity, India is waking up to the need to improve its entire power system so the energy produced reaches people's homes. This means improving transmission lines and making the power system more flexible, Without such change, "India will simply not be able to achieve its 2030 objective of raising the generation capacity of renewables to 450GW", is the stark warning from the Delhi-based Energy and Resources Institute.
New tenders reflect this outlook, says Rustagi. "Instead of plain vanilla solar and wind tenders, many recent tenders have been more complex, combining two or three or more technologies" such as solar-wind hybrid or solar-wind storage, or even a solar-wind-thermal storage hybrid. The goal is to offer consumers and utilities "24-7 reliable power".
And even if fossil fuels, and coal in particular, are unlikely to be phased out before the second half of the century in India, reducing their prominence in the energy mix by replacing old and inefficient plants with renewable energy will curb emissions and makes financial sense: the cost of solar power reached new lows this month at $0.027 per kilowatt-hour, well below the cost of new fossil-fuel power.