When it comes to clean energy, the US red/blue divide is not as stark as a map of the 2020 presidential election results would suggest. An unbroken string of red states in the country's heartland stretching from Texas in the south to North Dakota on the Canadian border all voted to re-elect Donald Trump, a president who relentlessly favoured fossil fuel interests over the growing clean energy sector. However, blessed with some of the best renewable energy resources anywhere, the same states are also among the nation's wind and solar power leaders.
In backing Trump, the states opted for the candidate who opposed the very clean energy industries that are among their most promising sources of jobs going forward. What future will the states' voters choose in elections to follow? The fossil fuel paradigm of the past or the clean energy economy of the future?
In the public imagination, red states like Texas and Oklahoma, Wyoming and West Virginia are inextricably tethered to oil, gas and coal. The reality is more complex.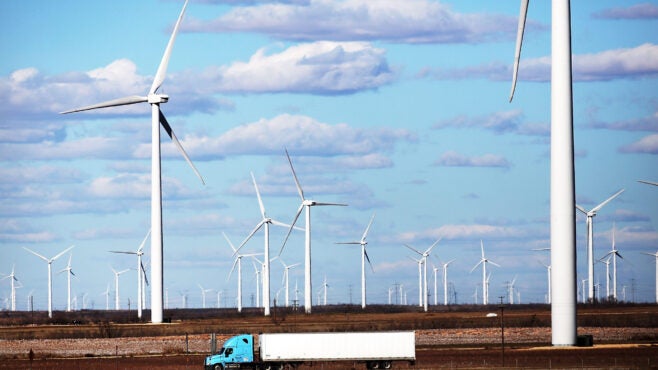 Wind farms generated 20% of Texas's electricity last year. A 2019 top ten ranking of US states' share of wind and solar power generation as a percentage of overall electricity consumption is dominated by red states, shows US government data compiled by the Environment America Research & Policy Center. Red states held the top four slots, led by Kansas (53.7%), and followed by Iowa (53.4%), North Dakota (51.1%) and Oklahoma (45.4%).
The story is similar for states with the largest increases in solar and wind power generation over the past decade. The red states of Texas, Florida and Utah and the battleground state of North Carolina ranked among the leaders in the growth of solar power from 2010 to 2019. Six of the top ten states with the largest increase in wind electricity generation over the same period were the red states of Texas, Oklahoma, Kansas, Iowa, Nebraska and North Dakota.
In many of these conservative red states, state policy is not driving the growth in renewables. Instead, federal tax credits, now being phased out, and the abundant wind energy resources found across the Great Plains have produced some of the most favourable conditions in the US for the development of cheap, utility-scale renewable energy projects.
Surging clean energy: jobs and economic development
The rapid growth in solar, wind and other clean energy technologies has triggered a nationwide surge in new jobs flowing to the sector. By the end of 2019, 3.3 million Americans worked in clean energy jobs, three times more than work in fossil fuel jobs, reveals the Clean Jobs America 2020 report from Environmental Entrepreneurs, a business group. Last year, nearly five times more jobs were added in clean energy (70,819) than in fossil fuels (15,440).
Unlike jobs in oil, gas and coal, which are clustered in a handful of US states, jobs in renewables, energy efficiency and other clean energy industries are found in all 50 states. Forty-two states and the District of Columbia employed more workers in clean energy than fossil fuels last year. The number one and number three fastest-growing occupations in the US are wind turbine service technician and solar PV installer, respectively, shows the US Bureau of Labor Statistics.
Clean energy jobs are by their nature diffuse. After all, wherever there are buildings, contractors will be needed at some point to seal windows, add insulation or replace ageing appliances. Rural areas in red states are particularly well represented in the number of clean energy jobs. In 2019, six of the top ten US states for rural clean energy jobs were red states, led by the swing state of North Carolina at nearly 29,000 jobs.
Renewable energy is also proving to be a vital source of tax revenue for local governments and supplemental income for landowners, especially in rural areas.
In Texas, a county can expect to receive between $9.4m and $13.1m in taxes over the life of a 100MW solar project sited in its jurisdiction and between $16.8m and $20.3m for a 100MW wind farm, states an August 2020 report published by the consultancy IdeaSmiths LLC for the non-profit organisations Conservative Texans for Energy Innovation and Powering Texas.
A Texas landowner can expect to receive between $5.2m and $27.7m in lifetime payments to host a 100MW solar farm on his or her property. If all utility-scale wind and solar projects with interconnection agreements in Texas are built, the projects will pay governments between $8.1bn and $10bn in lifetime taxes.
More than 70% of the taxes and landowner payments are paid to rural counties, says the report. The stable, predictable revenue streams are helping to win over residents and government officials.
"Renewable energy development has had a positive economic impact in Texas, particularly in rural counties," writes Joshua Rhodes, research associate at the University of Texas at Austin and author of the report.
"Elected county leaders look favourably on renewable energy projects for the planning stability that comes with having confidence in consistent long-term revenue streams," he adds. "Residents and community leaders in rural areas indicated that counties with renewable energy projects tend to see them as good neighbours."
"Wind has been a godsend – it allows flexibility in budgeting by providing a constant source of revenues that you know will be there when you need them," Don Allred, Oldham County judge, told Rhodes.
Red states – and counties – would be wise to do everything they can to reap the economic rewards from clean energy. Results from the 2020 US election affirmed that an ever-larger share of the nation's economic activity is aggregating in blue counties.
The 477 counties that voted for President-elect Joe Biden account for 70% of US economic activity, say researchers at the Brookings Institution's Metropolitan Policy Program. That is an increase from the 64% of US economic output generated by the 472 counties won by Democratic presidential candidate Hillary Clinton in 2016. The 2,584 counties won by Donald Trump in 2016, and the 2,497 counties he won in 2020, meanwhile, accounted for 36% and 29% of US economic output, respectively.
Red America is in danger of falling further behind blue America. Clean energy represents one of the best opportunities for red states to create good-paying jobs that are less prone to boom-and-bust cycles than the fossil fuel jobs they replace. Residents of red America are fortunate that solar, wind and other clean energy industries have taken root and even flourished in their states despite opposition from many of the states' elected leaders and voters' preferred candidates in national elections. Voters can accelerate the energy transition already under way in red states by voting for clean energy up and down the ballot in the future.