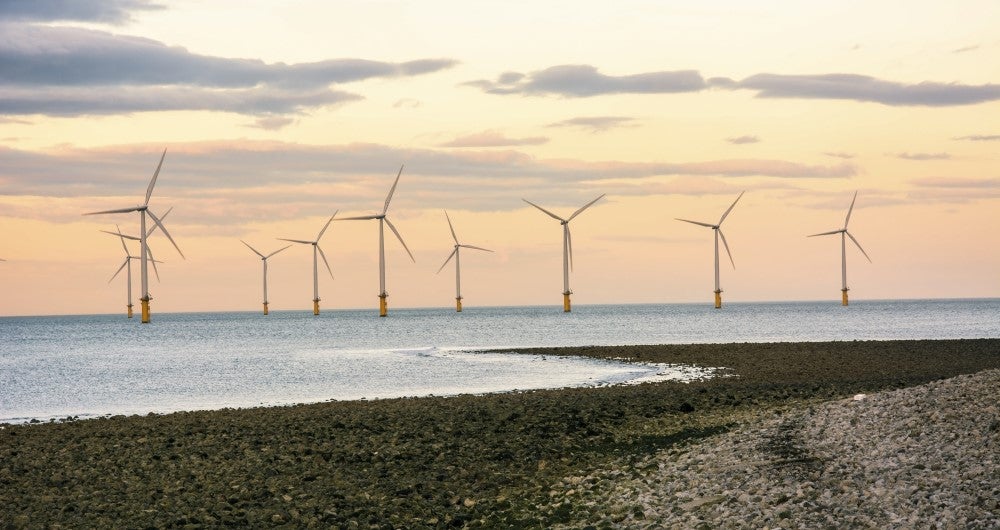 Sector specialist recruitment consultancy, Taylor Hopkinson, operates exclusively in renewable energy and is a trusted advisory partner in the onshore wind, offshore wind, solar, energy storage and green hydrogen industries.
Headquartered in the UK, the company has offices across the world, and "follows the markets" where they lead. "We're really driven by supporting our clients as they enter into emerging markets," says Hopkinson.
Attracting talented, qualified people has always been a challenge for the energy sector, but, says Hopkinson, renewables is actually "well positioned" to capitalise. He identifies typical career motivation for professionals as being based on 'people, purpose and profit', and suggests that, unlike many industrial or engineering sectors, renewables cover all bases.
"Our projects are built by talented people – and you need the best people to be successful; in terms of 'purpose' there is none greater than the fact that we're fighting climate change in driving the transition to renewable energy; while profit is certainly available in this resilient market," he says.
On that resilience, the renewable energy market keeps growing, says Hopkinson and has "hardly missed a step" through the recession of 2008, through the Covid pandemic. "There's a real momentum. There are just more projects and more money being invested. We're promoting and recruiting people at an astonishing rate in order to keep pace with the opportunity."
Keeping pace with a rapidly growing sector
For many of the more complex, large-scale renewable projects in various parts of the world though, there are certain roles that are critical to the success of a project that require a certain level of competence, which can only really be gained over time – from the experience of already delivering such projects. And Hopkinson and his team are seeing the pace of new, complex projects in renewables in multiple locations globally increase rapidly. All of which means the supply of suitably competent people cannot keep pace.
"If we take the example of a project director of an offshore wind farm: the general consensus in the industry is to become truly competent in that role, you really need 10-15 years of direct experience in that space. But offshore wind projects are proliferating at such a pace you'll never catch up. Plotted on a chart showing the number of people reaching competence versus the number of projects, the latter curve would be far in excess of the competence curve. And that is the same of various jobs within that project," he says.
So, how to address that gap? The Taylor Hopkinson team is looking at aligned market sectors and appealing to talented engineers and professionals to transfer to renewables. "We always say to our clients, 'We would like your permission to add one or two non-industry specific options for your shortlist. We introduce optionality at the middle management level. If you've been in quality engineering in an automotive setting, you've already got 90% of the skill and experience you need to be effective in the offshore wind space. If you build roads in remote locations, you will probably have 90% of the experience you need to build a wind farm in a remote location. The gaps in certain areas are really not that big."
Training and transferable skills
To prepare applicants, the company created an online e-learning training programme. Offshore Wind Essentials, which launched in November 2022 and is aimed at honing the transferable skills of individuals already experienced and competent in other markets, such as oil and gas, automotive, mining or traditional power generation, but lacking specific knowledge of the offshore wind sector, for example.
"This course aims to give candidates a fundamental understanding of the space, language and challenge for renewables – the history, where we're at today and where we're going tomorrow," says Hopkinson. "We don't need someone to have an MSc in offshore wind. What we need is for them to understand the industry fundamentals. We're trying to plug that gap."
As Brunel International N.V., a global provider of flexible workforce solutions and expertise, acquired Taylor Hopkinson in December 2021, it means the renewable sector specialist can provide its training free of charge to contracted workers already in the Brunel organisation. Brunel employs 12,000 engineers globally on infrastructure projects – but not renewables. Taylor Hopkinson has segmented the market to identify roles that are readily transferable.
For example, document controllers, quality assurance managers, HSE managers are encouraged to take the Offshore Wind Essentials programme, which consists of 20 modules, taking 20-30 minutes each. Upon completion, candidates are automatically introduced to a specialist consultant in the discipline they are currently engaged in, who will work with that person to get them to the interview stage with the client.
"Beyond that, the decisions rest with the clients, but the e-learning programme gives those candidates the best possible chance of getting to that stage," says Hopkinson.
Brunel has also produced a 12-month Master's course in green hydrogen engineering, which already has 25 graduates who either work within the Brunel network or for Brunel's clients. Students take part in site visits and both classroom and online learning to educate them in how to develop engineer, finance and operate green hydrogen projects.
Taylor Hopkinson also takes an even longer-term view on the recruitment challenge. It is a significant supporter of a non-profit called OffshoreWind4Kids, a global initiative that engages children in engineering, technology, and renewables through fun educational events. "We've given them funding for three years to run programmes where we get families down to the shore, and the kids get to build model turbines and see how fixed foundations, floating foundations and gravity foundations work. The kids sort of get to play with the kit. Hopefully, we can influence some of their academic and career choices and spark an interest that leads to offshore wind engineers and workers of the future," says Hopkinson.
Sustainable careers for a sustainable industry
For Hopkinson, attracting people, now and in the future, to join the energy transition is essential. It's why the Sustainable Careers campaign was launched in October 2022, "to attract and facilitate as many people to join the energy transition as humanly possible," says Hopkinson.
For him and the team, it's also important to attract a diverse workforce that reflects the communities and society in which projects are located. "We think it's really important. Success for us is to reach a situation where we're introducing a large percentage of people into the industry, who've never worked in it before. We haven't set ourselves hard and fast goals yet, other than to be better than we were a year before. In the future, we will set some specific targets and become more sophisticated about really pinpointing where support is needed."
The energy security crisis and its impact on the cost of living has, says Hopkinson, "really opened people's eyes about how not doing something is going to impact them personally. This is no longer about doing something that's good for our grandkids 50-60 years from now. They can actually see how transferring their skills to this industry can actually improve their standard cost of living right now. It's become more immediate and tangible. But we are seeing more people making a decision not just purely on money, but on ethics and on morals."
The moral imperative is something Hopkinson himself feels deeply. "We truly believe we're making a difference. Climate change is the biggest challenge facing humanity now and for the foreseeable future. To play a role in offsetting that and changing the course of society and human history, from a fossil fuel-burning society to a clean energy society is really going to be the defining challenge of the human race in the next 20-30 years. If we do it, we will prosper for a long time to come. If we fail, the consequences are disastrous for everybody. If you need a purpose, to get out of bed and go to your job in the morning, I don't think there's a bigger one," he says.
For Hopkinson, to dedicate an education and career to something this important is "one of the most noble, beneficial, and rewarding ways to spend your time. That's why it's so exciting for me. I'm 20 years into this business and it's never been as exciting because finally, everyone's woken up and smelt the coffee. The industry was growing nicely before but it is accelerating rapidly right now and creating opportunities for entrepreneurs, engineers, commercial people, lawyers, you name it. This industry is creating huge opportunities on a global scale for anybody that cares to join," he says.
A key to the future of all this is getting the hydrogen economy off the ground, says Hopkinson. "I think the partnership of Taylor Hopkinson's deep, renewable energy sector experience and client list paired with Brunel's capabilities in chemical and process engineering, oil and gas and mining industries, is just a beautiful marrying of capability that can really drive the transition and propel the hydrogen sector."
Headquartered in the UK, the company has offices across the world, and "follows the markets" where they lead. "We're really driven by supporting our clients as they enter into emerging markets," says Hopkinson.