"Which will come first, the cars or the infrastructure?"
This chicken or egg conundrum has been at the heart of the electric vehicle (EV) debate for years. In order for e-mobility to take hold, do enough cars have to be on the road to justify building charging infrastructure, or does enough infrastructure have to be built to reassure consumers enough to buy an electric car?
"I think we have delivered our part," says Petr Dolejsi from the European automotive industry association Acea. "For us, there is no more chicken or egg issue. We have the cars now."
EV sales have risen enormously in Europe in 2020, climbing by 57% in the first half of the year. They look set to make up around 8% of vehicle sales this year, compared with around 2% for most of last year. Something has changed – and it wasn't a big increase in the availability of infrastructure. In most of Europe, few recharging points exist. Just four countries account for around 75% of all Europe's EV charging infrastructure – the Netherlands (25.4%), Germany (20.3%), France (15.2%) and the UK (14.3%) – shows analysis by ACEA. The US has similar disparities – most states have barely any recharging infrastructure.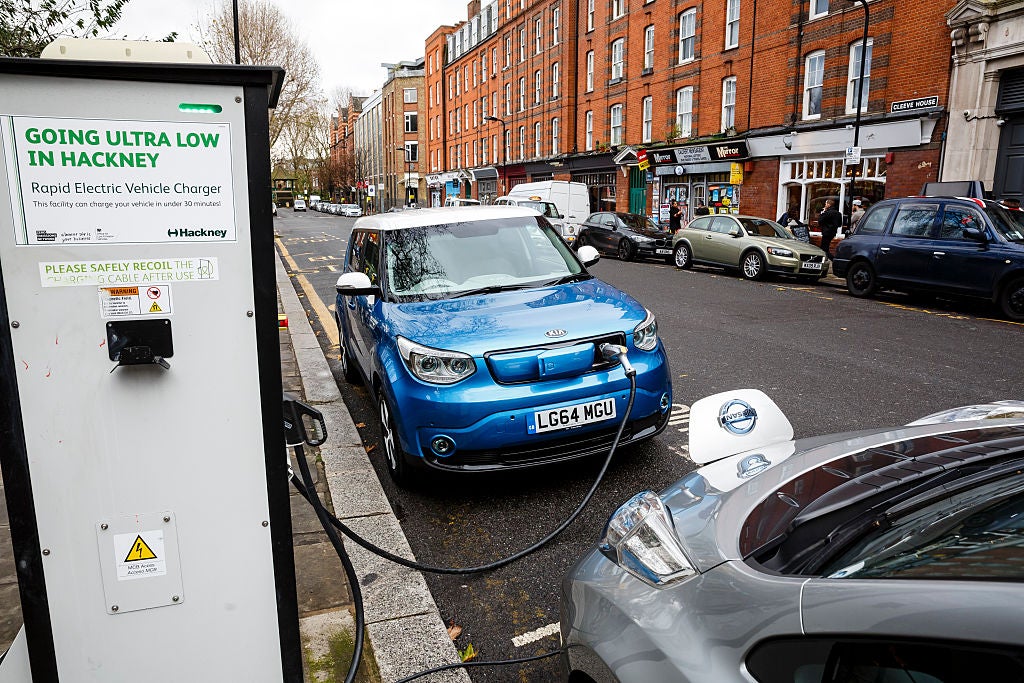 Germany, as holder of the EU's rotating presidency for the second half of 2020, agrees there is an EV infrastructure problem. A virtual event hosted on 3 September 2020 by the government to look at the issue suggested the conversation had shifted from the usual blaming of automakers for not offering electric cars to blaming the utilities for not providing ways to charge them. Surveys show one in ten Germans plans to buy an e-car, but government data suggests the roll-out will be hampered by a severe lack of charging infrastructure.
The main priority must now be developing a cross-border network of charging stations in Europe "which guarantees uncomplicated and fast recharging", said German transport minister Andreas Scheuer at the event.
If the cars are the egg, the egg has to come first. But they still need an infrastructure chicken to sit on them and help them hatch.
Policy push
European automakers haven't finally started offering electric models because of some new-found environmental calling, insist E-mobility advocates. Their hand was forced by stringent new EU CO2 legislation that limits fleet average emissions to 95g of CO2/km. That meant new e-vehicle models had to be produced to lower the whole fleet's emissions.
"With the advent of car CO2 limits, carmakers really started to invest, that is why we saw a rapid increase in the offer of the models," says Julia Poliscanova, senior director for vehicles and e-mobility at the campaign group Transport & Environment. "[A total of] €60bn were invested in EV manufacturing in Europe in 2019 – that is more than in China. This year we have almost 200 battery plug-in and hybrids on the market. It is a great climate story, but also a great industrial story."
But the automakers wouldn't take the leap forward until they were forced, she adds. Utilities, on the other hand, have been left off the hook after the EU made a fateful decision in 2013 not to require them to build charging infrastructure as part of its directive on the development of infrastructure for alternative fuels (AFID). Although the original European Commission proposal would have set mandatory national targets, national governments pushed instead for non-binding national strategic programmes.
Changing the AFID legislation is one of the few areas on which automakers and climate campaigners agree.
"We should go back to the original proposal where there were clearly mandatory targets," says the ACEA's Dolejsi. "The way it is being done today through national programmes has not helped after seven years of implementation. Some countries have been very active and some have done nothing".
That revision is planned for the first half of 2021, but the contents are being crafted in autumn 2020 and the German presidency is reportedly pushing for a deep revision that would standardise obligations.
Business case
But if the cars are already on the road, why should heavy-handed EU legislation be necessary to build the infrastructure? If there is a customer base, isn't there an attractive business case to build these charging points and make money? After all, the electricity network already exists, all that is lacking are the plugs.
Julia Hildermeier from the Regulatory Assistance Project, an independent group of energy policy advisors, says it's not quite that simple.
"We have been working hard to solve this chicken and egg riddle once and for all," she says. "We have been looking at successful countries like the Netherlands and Norway, and some US states, which are putting in place an essential minimum charging network along highways and big transport hubs." Cities and regions need to roll out this "essential minimum to reassure consumers that they will be able to charge their vehicles".
The end point is a "competitive market for charging services", as set out under EU legislation, but for this to happen, providers need "stable and reliable conditions" in terms of connections and costs, says Hildermeier. In short, without regulation, charging infrastructure is unlikely to come online fast enough.
That is a problem considering the significant need. According to a report commissioned by T&E, 1.3 million charge points will be needed in the EU by 2025 to satisfy demand, rising to three million by 2030. Currently there are only 185,000 public charge points in the EU, one per every seven electric cars on the road.
But legislation is not a silver bullet to deliver these charging points, warns Hildermeier. Blanket mandates could be ineffective if the charging isn't being done in a smart way.
"It is not enough just to put spots where you think people will need to charge; we also need to choose the best locations that are best in terms of the electricity grid," she explains. "And that means paying attention to grid capacity – we need to map mobility needs with the needs of the grid. For that we need data, and that data isn't as public yet as it needs to be."
In Europe it has been hard to get this data from utilities, which sometimes want to protect it on competitiveness grounds.
Market forces could therefore lead to a more efficient use of the grid than public mandates – as long as there is a regulatory framework that has established interoperability between charging types. With the number of EVs growing, there are increasing reasons for petrol stations to start offering fast-charging infrastructure – even if such charges only refill a car's battery a small amount.
"If I were a gas station owner, I would install fast chargers," says Hildermeier. "Customers can do a quick charge in 15–20 minutes and buy something in the store in the mean time."
She explains: "Often next to the highway you find transmission lines with mid voltage level use. You can tap into the cables already there. The customer can buy something in the store in the meantime. The biggest issue is there are many different competing service networks. The hardware issue is solved now, but if I am a customer with company X, I can't charge with company Y. We need an ad hoc charge, so I can charge wherever I choose at a price I can see in advance."
Infrastructure interest
With electric cars at just 2% market share, it was hard for utilities see a business case, but Kristian Ruby, head of the European electric utility association Eurelectric, says this is quickly changing.
"A lack of attractive cars for different types of consumers was a major problem and stopped companies investing in infrastructure," says Ruby. "Now we expect 30–40 million electric cars on the roads by 2030. It is going to be a very steep rise. We are very keen to see the infrastructure follow along with that. We can see the investments are coming."
However, he warns that despite some fast-charging possibilities, the requirements for a full charge means that infrastructure is going to look different than it did before.
"When planning these investments we need to remember that we are looking at a different paradigm," says Ruby. "You are not going to refill at a fuelling station in the same way you would with a traditional car. You are going to charge at home. You are going to roll into a hotel, plug in your car and then next morning it is going to be full. "
And with the impact of Covid-19 on the transport and hospitality sector, he would like to see the European Commission "chip in" to ensure this change takes place. Some of the recovery funds should be available to projects like this.
"For example, let's make sure that on the other side of this crisis every European airport has electrified its logistical operations so all buses at airports are electric, and there is adequate charging infrastructure for everyone else at the airport," adds Ruby.
Next year's revision of the AFID legislation in Europe could send a global signal about whether it will be the market or regulators that are responsible for delivering the infrastructure needed to power the world's growing EV fleet. In the meantime, industry insiders warn that at any moment the EV growth trend could abruptly reverse if customers find they can't charge their new cars anywhere.
"The infrastructure side will be critical," says the ACEA's Dolejsi. "The offer will be there, and I am pretty sure manufacturers will somehow subsidise the sales of EVs. But if people are not confident, they will buy the cheapest and easiest solution, which for the moment remains a combustion engine car."