As the EU looks for ways to reduce its dependence on Russian gas and oil in response to Russia's invasion of Ukraine, the future of nuclear energy is also becoming uncertain. This may seem surprising at first. Nuclear power generated almost a quarter of the total electricity produced in the bloc in 2020 and the European Commission recently allowed for the classification of some nuclear power plants as green investments under the EU Taxonomy for green investment.
Energy Monitor's weekly data shows Russia is the second-biggest source of uranium, the raw material for nuclear fuel, for EU member states. The supply chain is diversified, as countries such as Niger, Kazakhstan and Canada also contribute significant amounts.
Domestic production remains low, with uranium originating outside the EU 27 accounting for 95% of total consumption, according to the European Atomic Energy Community. However, getting the uranium is not the only element of fuelling nuclear plants – it also must be enriched. Russia provides about 35% of enriched uranium globally and according to the World Nuclear Association (WNA) has the biggest enrichment capacity in the world, with China ranked second. Among EU members, countries with enrichment capacities include Germany, the Netherlands and France.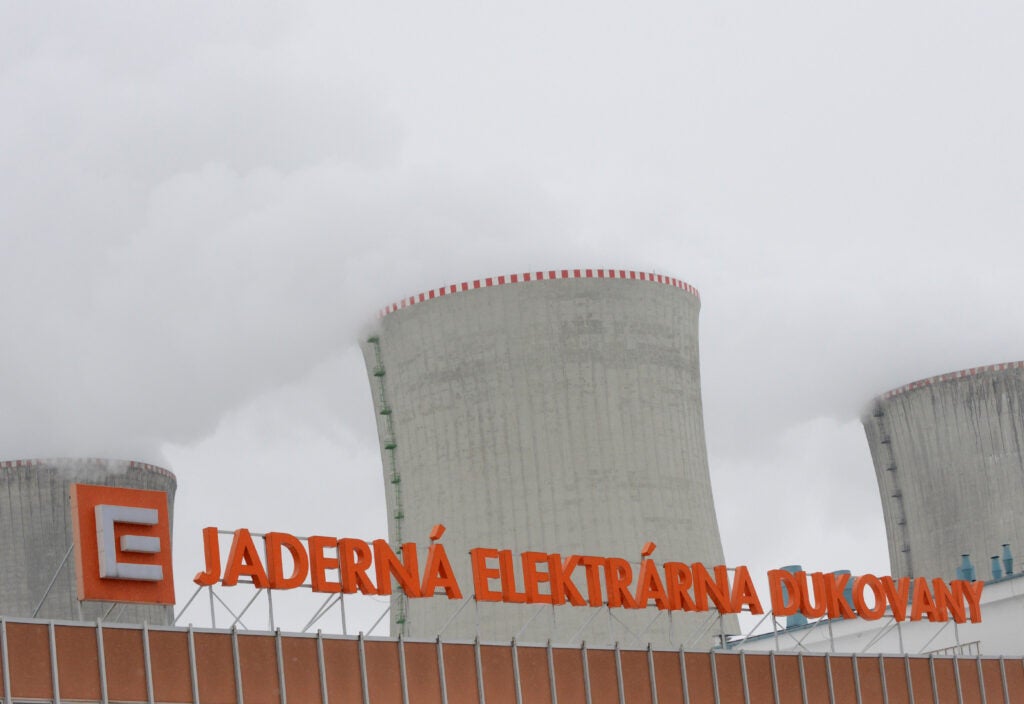 Furthermore, a significant number of nuclear reactors in Europe are Russian-designed – 18 out of 103, in five of the 13 nuclear EU member states. According to the WNA, there are Russian-designed reactors in Bulgaria and Finland (two each), Hungary and Slovakia (four each), and the Czech Republic (six).
Those reactors contribute significantly to some of the countries' electricity supplies. In the case of the Czech Republic, nuclear power makes up one-third of electricity production, and Hungary's four reactors account for almost half its electricity needs. Europe's Russian-designed nuclear plants depend largely or wholly on Russian companies for fuel fabrication.
The supply chain situation is different, but just as difficult, across the Atlantic. Despite US President Joe Biden's executive order in early March 2022 to stop imports of Russian oil and gas, uranium for nuclear power plants has not been targeted. The reliance on Russia is slightly smaller than the EU's – according to the US Energy Information Administration (EIA), in 2020, Russia accounted for 16% of US uranium imports, with Uzbekistan and Kazakhstan accounting for 8% and 22%, respectively.

US domestic uranium production has declined steeply in recent years, with the EIA being unable to publish quarterly production figures in the last two years due to a low reporting threshold. As Republican Senator John Barrasso from Wyoming proposes legislation to ban imports of Russian uranium, the US could find itself cut off from Russian imports.
Back in Europe, while the war in Ukraine has made clear the EU must work to diversify its energy supplies, the bloc's dependence on Russian uranium fuel and enrichment has, so far, flown under the radar. Either way, looking ahead, Russia's reserves of uranium pale in comparison with countries such as Australia, Kazakhstan and Canada.
Understand the impact of the Ukraine conflict from a cross-sector perspective with the Global Data Executive Briefing: Ukraine Conflict