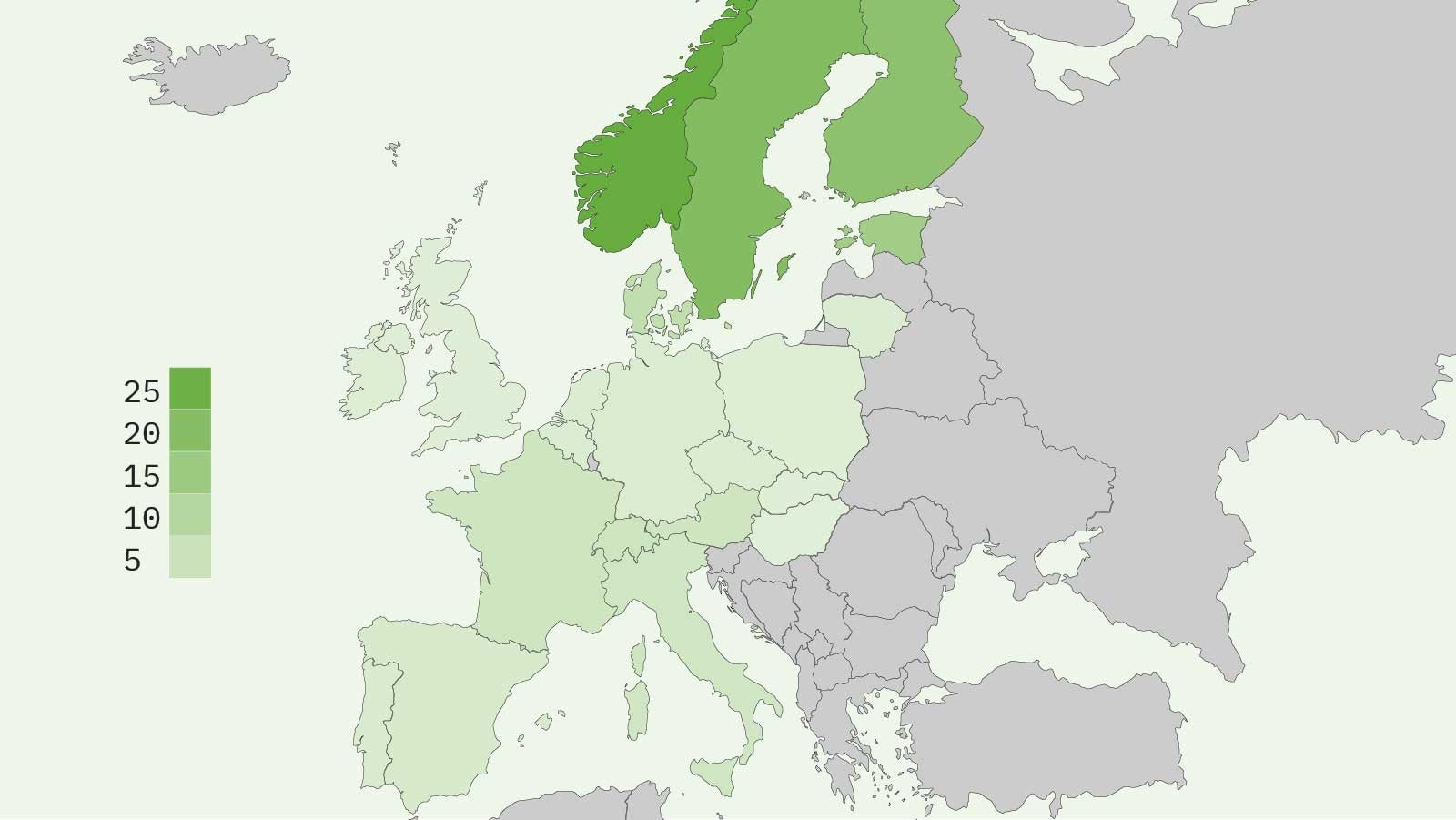 Few people in Norway had even heard of heat pumps at the beginning of the millennium. By 2019, some 1.4 million units had been sold in the country, figures from the European Heat Pump Association (EHPA) show.
Norway's rapid adoption of heat pumps was spurred by a series of cold winters, an increase in electricity prices, grants and bans on old boilers.
While heat pumps are yet to become widespread around the world, they offer a series of advantages compared with traditional heating solutions. They are cheap to run and don't require extensive maintenance. They can also work as a heating and cooling solution at the same time.
Most importantly of all, heat pumps have a very efficient conversion rate of energy to heat – and very low carbon emissions.
"Heat pump technologies are ready to decarbonise residential and commercial buildings as well as industrial processes," says Thomas Nowak, secretary general of the European Heat Pump Association. "They complement the advantages of district heating and help stabilise the grid – all with European-based technologies".
Government policies encouraging the adoption of heat pumps in Norway seem to have worked. The country has the highest number of heat pumps per capita in Europe, according to EHPA figures.
Heat pumps have proven popular in other Northern European countries, too. Sweden has 1.9 million, Finland 968,000, Denmark 390,000 and Estonia 179,000, EHPA figures show.
"The lack of gas sources in Nordic countries and policymakers' lack of options to keep gas artificially cheap brings heat pumps into a direct comparison with electric heating, biomass and district heating," says Nowak. "And here, heat pumps offer a direct cost advantage. There is also a higher acceptance level [in Nordic countries] for using electricity as an energy carrier for heating. In Germany, for example, that was not accepted for a long time".
At the other end of the scale, Hungary only had 7,300 heat pumps in 2019, or 7.4 per 10,000 people. That is the lowest number per capita among countries monitored by the EHPA. Next in line are Slovakia (35.8 heat pumps per 10,000) and the UK (38.9 per 10,000).
Heat pumps can use energy from a variety of sources. Most of that energy traditionally came from geothermal and hydrothermal sources, but technological developments mean air is now a key energy source, with air-to-air and air-to water heat pumps now dominant in most European countries. 
"This will not change much in the future," says Nowak. "It is very unlikely that geothermal systems will see a huge return due to the easiness, practicability and cost of air pumps."
If trends continue, the EHPA estimates there will be some 2.3 million heat pumps by 2027, up from an estimated 1.4 million now.
The easiest way to make heat pumps competitive would be to stop subsidising traditional gas, oil and coal heating, says Nowak.
"If you knew a gas boiler would cost €500–1,000 more a year, and then you run that for 20 years, the discussion would be over because heat pumps would be not only the most environmentally friendly solution, but also the cheapest one".
That is not the case now, though. A heat pump is still costly when compared with a traditional gas boiler. 
"The Swiss have a CO2 tax and they are one of the leading countries when it comes to heat pumps," says Nowak. "The cost situation needs to be addressed and not necessarily through subsidies. I would prefer if it was an internalisation of the external effects [of traditional fuels] because I find that more robust in the long term."