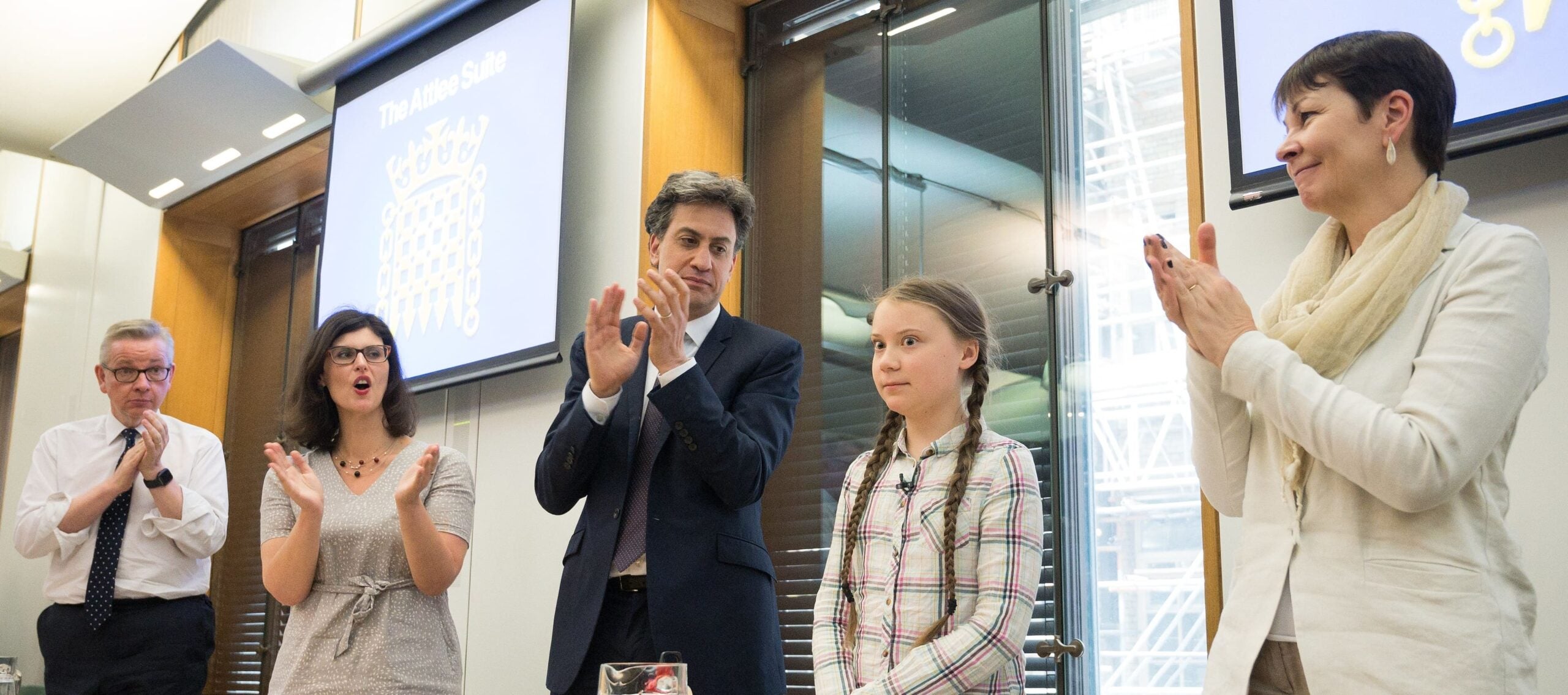 Tony Blair described New Labour's priorities as an incoming government in 1997 as "education, education, education". For climate change to become an issue that matters across the political spectrum, a similarly single-minded mantra may be necessary: "Jobs, jobs, jobs".
Action to slow climate change has traditionally been the domain of green parties and those on the left. While many on the right accept that man-made climate change exists and that solutions are required to stop global heating spiralling out of control, centre-right parties have generally failed to take adequate climate action at a political level.
The traditional idea that climate change policy is a speciality of the Greens and the left must change, and the most effective way to achieve this may be to talk about how new energy sources can create jobs across the social spectrum.
Adam Corner, research director at Climate Outreach, a UK NGO, says: "People on the centre-right are not sceptical about climate change, but about environmentalists." They reject, he says, the "moralising and hubris" that they perceive in the climate conversation.
The answer, says Corner, is to give climate action a "broad social mandate", and to make green jobs real and achievable, rather than "a good-news narrative for the liberal elite".
The transition to clean energy will only have widespread appeal if its local benefits and potential to create jobs are the focus, he says, and not what some see as a "self-satisfied take on environmentalism".
Other parties appear to be well aware of this distinction. During the 2019 European elections, the German far-right party Alternative für Deutschland (AfD) spent much of its digital communications budget on promoting diesel and attacking Greta Thunberg. This is not just a culture war: AfD supporters live, by and large, in the former DDR Länder, where coal and car production have long been mainstays of increasingly fragile local economies.
The truth about Germany's plan to reduce carbon emissions to 45 per cent of 1990 levels within a decade – which analysts predict will cut 44,000 jobs and create 70,000 – could have been a more powerful political message, if it had been directed at communities that fear they will lose out from the transition. The promise of new jobs can have more impact than the offer of business as usual, or a return to an imagined past.
The job-creation narrative also speaks to the young. Tom Brookes, executive director of strategic communications at the European Climate Foundation, says this should be recognised by centre-right parties, which tend to attract older votes and "know they need the young vote to survive".
Caroline Lucas, the Green Party's only MP in the UK, agrees politicians "need to talk the language of economic transformation". At the same time, however, she says the language of incremental change used by centrist politicians "will not get us to where we need to be".
For climate action to become a cross-party aim is particularly important in countries with a two-party system, where it can spend decades on the shelf. Lucas says the "bankrupt" first-past-the-post system in the UK is one reason why the country is not ditching fossil fuels as fast as is needed to meet emissions goals. The situation is even worse in the US, where discussion of climate change is heavily politicised along party lines.
"Partisanship in the US comes prior to any factual considerations," says Elaine Kamarck, director of the Center for Effective Public Management at the Brookings Institution. "While some Republicans back climate action, they don't think that public policy should be made around it."
This means choosing to believe in the "potential of the old rather than the new economy", even when research shows otherwise.
While Germany's environmental track record is far from perfect, its post-Covid-19 stimulus package is being heralded as "green" and a significant step in the right direction to reducing emissions in line with the Paris climate agreement. The "strong role of the public media and the political system" helps keep climate action at the forefront of policymakers' minds, says Arne Jungjohann, political scientist at the Heinrich Böll Foundation.
Jungjohann describes the German political system as "a federation set up to find compromises" between different parties. The system has helped the Greens become a "driving force" and to make climate change a concern across all constituencies – apart from the far right and "a problem for other parties who can't deliver on it".
The economic case for a cleaner future will be made evident by markets, as well as parties. "With the cost of renewables dropping, and other advances" says Kamarck, "economics will force the transition".
Anthony Leiserowitz, director of the Yale Program on Climate Change Communication, says different audiences will support climate action for different reasons. "US Democrats might support cleaner renewables as a solution to climate change, while Republicans might focus on them because of economics and greater energy independence."
But the case that clean energy transition is a "win-win-win" on social, economic and health grounds"has not been fully made", he says.
Leiserowitz suggests "simple, clear messages" repeated by a variety of trusted messengers. "Jobs, jobs, jobs" might be a good start.