Amid the maelstrom of the US election results and confirmation that the country had indeed left the Paris Agreement, Russia quietly published a decree setting out its emissions reduction plans. To what exactly it was committing was unclear from the original text, Russian media reports and the English language translation. However, after immediate reporting caused much excitement and confusion, it seems Vladimir Putin has decided not to follow his EU, Chinese and Japanese counterparts, but merely reinstate previous intentions to take minimal steps to rein in emissions.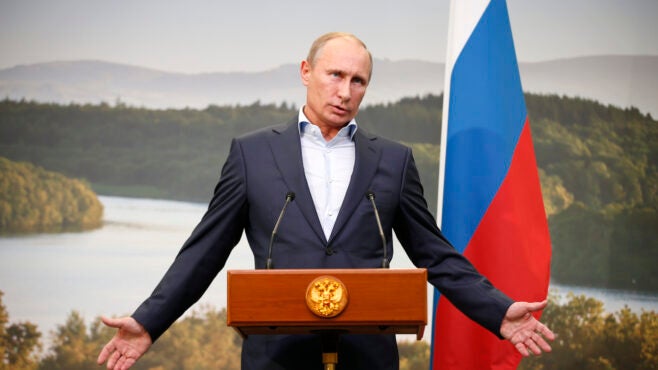 Initial reactions to the low-key, one-page decree from Putin's office suggested Russia had committed to cut emissions by 70% by 2030 compared with 1990 levels. On closer inspection, however, he was simply repeating previous pledges to ensure the country's emissions by 2030 are no more than 70% of 1990 levels. Since emissions plummeted in 1990 as the Russian economy collapsed with the fall of Communism, this target means the country's emissions can actually continue to rise modestly for the next ten years and still remain around 30% lower than they were 40 years previously.
On a day when climate campaigners were looking for some good news, Russia's Order 666 was simply another dose of cold reality. That 666 is the devil's number was not lost on some commentators.
"Decree 666 is written in the interests of the fossil fuel industry and confirms that there have been no changes in Russia's energy policy," says co-chair of the environmental group Eko-Zashchita Vladimir Slivyak. "While the world community is making efforts to reduce emissions and develop alternative energy, Russia plans to increase emissions. It looks like Russia has joined the Paris Agreement in order to break it up."
Fellow of the non-profit European Climate Foundation Julian Popov agrees the order "looks like a gesture to the carbon-intensive and fossil fuel industries and climate sceptics in Russia". Yet, the fact the order references the Paris Agreement at all offers some modicum of encouragement that Russia is still on board with at least the idea of climate action, he believes. Until a more concrete framework for action is proposed by the government, "Russian companies will continue to pursue their patchy ambition on hydrogen, lithium, batteries and renewable energy," adds Popov.
Rather than embracing the clean energy transition, Moscow would seem to be counting on using its significant forest coverage as a carbon sink to achieve emissions reductions. Its climate target should be achieved by "Taking into account the maximum potential absorbing capacity of the forests and other ecosystems," says the decree.
"It is interesting and important that Russia is engaged in the Paris process at a time when the US has withdrawn from it," says Antony Froggatt, senior research fellow and deputy director of the Energy, Environment and Resources Programme at Chatham House, a UK think tank. However, he is clear this is far from enough if the world is to meet the commitments of the agreement.
In the run up to next year's UN climate change summit (COP) in Glasgow, Scotland, countries' Nationally Determined Contributions, which set out their future plans for emissions reductions, "need to be revised upwards", he adds. With other countries reacting to this call, "Russia needs to raise its ambition," says Froggatt.
Joe Biden, if ultimately elected as US president, has pledged to return the US to the Paris Agreement. It remains to be seen whether this move, in addition to net-zero pledges from the EU, China and Japan, will force Moscow to wake up to the geopolitics of climate action, decide to join the other major economies and benefit from the massive economic opportunities of the clean energy transition.