Following Sinn Fein's win over the Democratic Unionist Party (DUP) on 6 May 2022 – which gives the Nationalist party the right to elect its leader Michelle O'Neill as the first minister (head of government) of Northern Ireland – and a surge in support for the Alliance Party, which has the most ambitious climate agenda out of all Northern Irish parties, the DUP has responded by shutting the devolved administration down.
The Unionist party has refused to nominate a deputy first minister, blocking any executive decisions at Stormont, the home of the devolved administration. It has further refused to nominate a speaker, meaning the Assembly – where members of the legislature meet to discuss laws – cannot function, until its terms are met.
Northern Ireland passed its first climate change legislation just a month before the elections, promising to set legally binding targets to decarbonise the country in accordance with the latest recommendations from the Intergovernmental Panel on Climate Change. The collapse of the Northern Irish executive and assembly threatens to delay the bill.
"We were hoping that while all these [climate] commitments were fresh in the minds of the Northern Ireland Assembly and executive, we would construct the architecture to decarbonise Northern Ireland in the next 30–40 years, but without [a functional government], we are going to see more stagnation," says James Orr, director of Friends of the Earth Northern Ireland.
"We have been a climate laggard for decades. We are the last part of these islands to have climate legislation, and […] it is just so disappointing that we are going to lose momentum on this."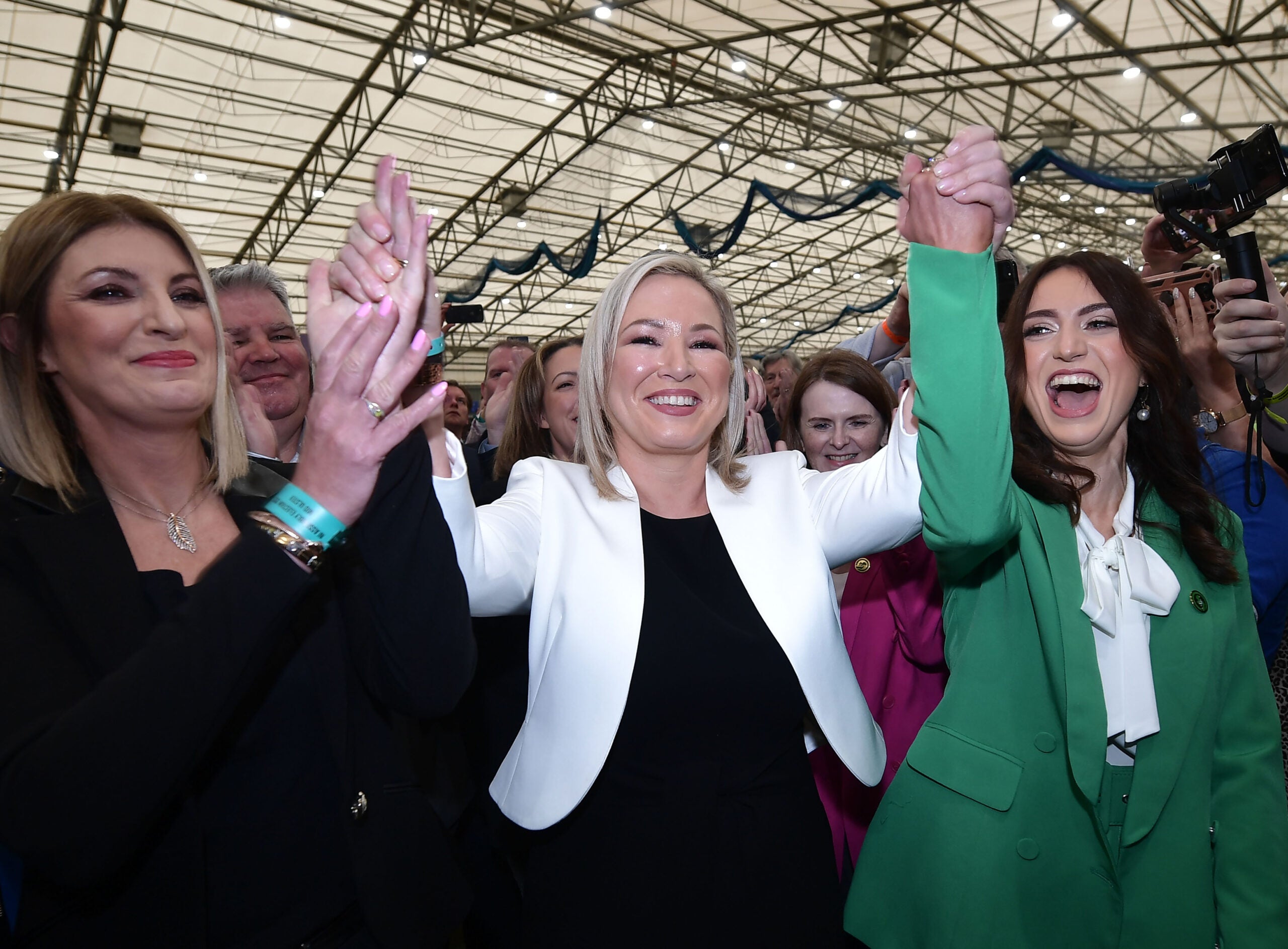 Brexit terms and conditions
The 1998 Good Friday agreement established Northern Ireland's current administration, whose devolution hinges on both Unionist and Nationalist parties partaking in equal measure. After a century of Unionist-dominated government, Sinn Fein's first-time win in elections on 6 May has raised suspicion among Nationalists that if unionism cannot dominate, it will not participate.
The DUP says it will resume regular government activities on condition that the Northern Irish Protocol is scrapped. The Protocol, which was agreed after Brexit in 2019 and came into force in 2021, allows for goods to be transported between Northern Ireland and the Republic of Ireland without the checks and paperwork that a hard border would warrant.
Rather than checking UK goods at the Irish border, the protocol agreed for inspections and document checks to be carried out at Northern Ireland's ports. It is also agreed that Northern Ireland continues to adhere to EU rules on product standards, which are stricter than the UK's.
Sinn Fein and the remaining Northern Irish parties disagree with the DUP's demands and stress the importance of creating a devolved government, which cannot happen without the DUP's cooperation.
Yet the Unionist party seemingly has the support of UK Prime Minister Boris Johnson, who has hinted that his government may reform the Protocol. The EU has responded with warnings that any action to change or scrap the Protocol will be met with trade sanctions.
Johnson met with Northern Irish parties on 16 May to discuss the matter, after which Sinn Fein leader Mary Lou McDonald told reporters: "It is very clear to us that despite all of the rhetoric from the British Government about re-establishing the Executive here in the north, that in fact, their priority is placating the DUP."
"From an environmental justice point of view, […] to still have a political regime that is eclipsed by constitutional issues, be it [Nationalist or Unionist views] is very disappointing," says Orr.
Agricultural interests
If the country's rocky political past is any indicator of things to come, then there is little hope for imminent – or effective – climate action. The Northern Irish executive collapsed not long ago, in 2017, only to be reinstated three years later in 2020 as part of the 'New Decade, New Approach' agreement.
In 2017, the then Sinn Fein leader Martin McGuinness resigned his post as deputy first minister in protest at DUP First Minister Arlene Foster's refusal to do likewise, following the Renewable Heat Incentive scandal, which involved a failed 'renewable energy' wood pellet incentive scheme that cost the public purse nearly £500m.
The scheme was initiated in 2012 by Foster to offer Northern Irish businesses a financial incentive to switch from fossil fuels to renewables. Uncapped tariffs were set by Stormont's Department of Enterprise, Trade and Investment. In 2013, a whistle-blower contacted Foster, alleging abuse of the scheme. In 2014, she nevertheless extended it to the domestic sector. Stories emerged of wealthy farmers profiting heavily, with one whistle-blower telling the BBC that a farmer hoped to cash in on £1m over 20 years for heating an empty shed.
[Keep up with Energy Monitor: Subscribe to our weekly newsletter]
The DUP has been condemned in the past for fostering close relationships with the agriculture industry and for denying the climate crisis. Edwin Poots, the current Minister for Agriculture and the Environment, is no exception.
The biggest polluter in Northern Ireland is the agricultural sector. Particularly problematic is the massive expansion of pig and poultry factory farming. The Northern Ireland Environment Agency, part of the Department of Agriculture and the Environment (DAE), has signed a memorandum of understanding with the Ulster Farmers Union that agrees to protect farm profitability when considering matters of the environment, which critics worry risks limiting agricultural emissions reductions.
"We have a structural problem with corporate agricultural interests," says Orr. He argues that the DAE's Going for Growth strategy, aimed at further expanding Northern Irish agriculture, has been "dressed up as a green growth strategy" to appear more environmentally conscious.
"We need an independent environmental protection agency to take the politics out of it," he says.
Ministers must be scrutinised over the coming months, Orr adds, because without an Assembly to ask questions and interrogate policies, "ministers might use the political confusion to slip in climate-wrecking projects".
A European climate policy
Northern Ireland's turbulent past has left little room to work on climate policy, so the passing of climate legislation in March 2022, setting a target for net-zero greenhouse gas emissions by 2050, was a major achievement. The collapse of the executive so soon afterwards is reminiscent of 2017, when the renewable heat scandal crumbled Stormont. It is an example of how political bickering within the devolved government stunts climate progress.
Orr believes that Northern Ireland is an easy target for corporate exploitation. "We are in a vulnerable post-conflict society, with divisions […] which can be exploited by multinational corporations," he says.
The UK's Climate Change Committee, an independent statutory body advising the national and devolved governments on emissions targets, has criticised Northern Ireland's new legislation for including a bill limiting methane reduction to 46% against 1990 levels, a move that removes the nation's chances of reaching net-zero emissions, capping the possibility at 86%.
On the day the bill was passed, environment minister Poots described the methane limit as essential to "ensure that the net-zero ambition will not disadvantage local food production and require [Northern Ireland's] agriculture sector to shut down".
He continued: "Thankfully, common sense has prevailed and the value of our agriculture sector has been acknowledged, not only in terms of its economic contribution but also for its contribution to the climate change agenda."
Northern Ireland has become an epicentre for European factory farming and mining corporations. It still has no independent environment agency and its agriculture industry has higher CO2 emissions today than in 1990, unlike its UK counterparts (England, Scotland and Wales).
Sinn Fein argues that a united Ireland could set an all-island or European-led climate policy that would mean a simpler predetermined path to climate change mitigation.
The collapse of Stormont is unlikely to be terminal. For both Nationalists and Unionists, the alternative – direct rule from Westminster – is surely less desirable than having some authority, and that is beside the fact that the climate clock is ticking.