"We won't be able to confront climate change if the US and China don't work together," Pakistan's Foreign Minister Bilawal Bhutto Zardari complained to Foreign Policy at the end of September, following the cataclysmic flooding that recently inundated the South Asian nation.
Although climate change has been a rare source of cooperation between the two superpowers in recent years, even that has now succumbed to their growing rivalry. In August, China suspended talks with the US on climate change in reprisal for US House Speaker Nancy Pelosi's recent visit to Taiwan. That visit fuelled hostilities between the two superpowers and raised the spectre of a possible Chinese invasion.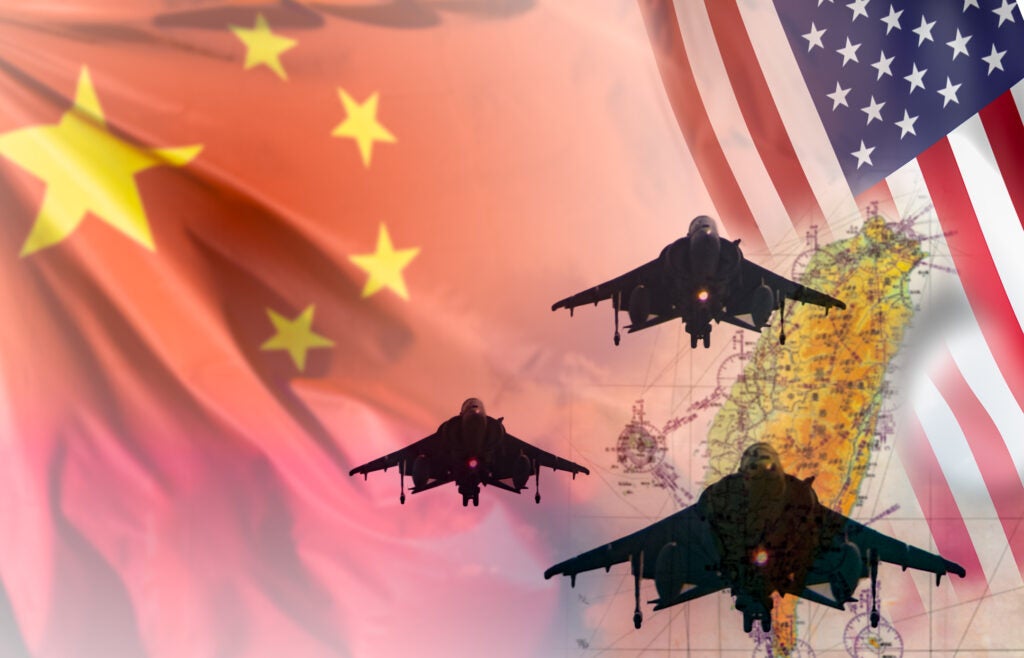 The breakout of the Ukraine War earlier this year set global energy markets aflame and threatened the energy transition, as energy security took precedence over sustainability. However, with China, the US and Taiwan all representing integral cogs in the world's low-carbon transition, there are fears that a Chinese invasion of Taiwan could have even more drastic consequences for the world's net-zero agenda.
Xi's dream of "reunification"
Chinese reunification with Taiwan is a key political goal of President Xi Jinping's "road to national rejuvenation" agenda. In the face of a stagnating economy, highly restrictive Covid-19 policies and the failure of his so-called 'Wolf Warrior' diplomacy, Xi is facing increasing pressure from within China to press ahead with this goal.
The 20th National Congress of the Chinese Communist Party – where it decides on a leader for the next five years – is coming up later in October, and there are fears Xi could decide to reunify Taiwan to bolster his support and secure the leadership. In its latest white paper on Taiwan, the Chinese government declared it planned to reunify with Taiwan peacefully but also refused to rule out a military invasion.
Any attempt at forced reunification would severely disrupt geopolitics in the region. Given Taiwan's importance to US foreign policy in East Asia as well as its wider economic value to the global economy, the US would likely support the island's sovereignty with economic and military aid. President Joe Biden declared in September that US troops would come to Taiwan's aid in the event of a Chinese invasion. This is despite the US's long-standing official policy of "strategic ambiguity", where it has been deliberately unclear about whether or how it would defend Taiwan in case of an attack.
Similarly, given Taiwan's historical ties to the G7, its members would most likely support the nation in any potential conflict. Nonetheless, it is still unclear how the situation would play out, and what the global fallout would be for both the economy and the plans to decarbonise it by 2050.
Cooperation versus competition
Some experts think that much would carry on as usual given that, even after an invasion, China would remain a permanent member of the UN Security Council and therefore able to avoid UN sanctions. In addition, China would remain a party to the UN Framework Convention on Climate Change and could therefore continue participating in international climate negotiations. "Judging from the experience with the Russian war in Ukraine, it is unlikely that there would be a united rejection of the Chinese aggression by the international community," says Max Gruenig, a senior policy advisor at the environmental think tank E3G.
The results could actually be less dramatic than those of the Ukraine war as, unlike Russia, China is not a major energy exporter. "The energy sector would be affected but more indirectly through supply chains," says Miles Weinstein, energy transition analyst at GlobalData, Energy Monitor's parent company.
Others are more pessimistic. A Chinese invasion would automatically trigger a global diplomatic crisis, if not an outright war between the US and China, suggests Ilaria Mazzocco, a fellow and Trustee Chair in Chinese Business and Economics at the Center for Strategic and International Studies, a think tank in Washington, DC. All diplomacy, including climate talks, would likely be put on hold and there would be widespread disruption to supply chains. Clean energy technologies rely on highly integrated and globalised supply chains, which run from natural resources like rare earths and lithium to components like battery cells and wind nacelles, to finished products like electric vehicles (EVs) and solar panels.
[Keep up with Energy Monitor: Subscribe to our weekly newsletter]
"In a war scenario, climate goals and the energy transition would likely take a backseat and no longer be considered a priority," says Mazzocco. "From that perspective, I think it would be disastrous for the world."
Some commentators have suggested that the global climate action agenda could benefit from increased competition between the superpowers. US-Chinese cooperation initiated at COP26 in Glasgow has failed to produce many tangible results, points out Barbara Monterrubio, a senior energy transition analyst at GlobalData. "For them to collaborate fully, it would take years to align policies and targets, which simply pushes the net-zero target way down the road," she says. "Climate competition on who does [it] better, faster and more efficiently is sometimes the best way to go."
Others, however, believe collaboration would be a quicker and cheaper route to achieving the net-zero transition. "The Inflation Reduction Act certainly accelerates the US transition but by including rather than excluding China, the overall cost of doing so would surely be lower simply due to the lower cost of goods from China," says Weinstein.
In reality, the difference between climate competition and collaboration is not always clear-cut, reasons Mazzocco. A certain level of competition when setting targets in international fora is welcome, and commercial competition is necessary when it comes to marketing and deploying new technologies. However, a level of understanding, dialogue and coordination is always needed to set the right standards for things like measuring greenhouse gas emissions and establishing institutions to oversee areas like climate finance.
"Advanced cooperation between the US and China in the field of climate change is obviously not possible but competition without established rules of the game and institutions may also go only so far," sums up Mazzocco.
Supply chain disruption
China is the world's leading producer of batteries, solar panels and wind turbines, and energy technology research and development. In that respect, sanctioning China would disrupt all energy transition-relevant supply chains, including those for EVs, solar power, wind power, carbon capture and storage and energy storage, to name just a few.
A separate question is whether liquefied natural gas (LNG) exporters would cut off China in the event of an invasion, potentially depriving it of a key fuel – at least until it gets pipeline gas from Russia. In practice, Russia is already China's top LNG supplier, but the US and Australia – previously China's leading suppliers – would likely halt exports. "The main question is whether Qatar would be delivering LNG to China even after an invasion," says Gruenig. "It is quite likely it would."
Sanctions could, however, limit China's ability to buy specific high-tech equipment. For instance, in the semiconductor sector, high-end chip manufacturing is based on extreme UV light and there is only one manufacturer in the world, ASML in the Netherlands, that offers the technology.
In fact, semiconductors would be at the heart of the fallout from an invasion, as this is an industry in which Taiwan is uniquely positioned. "China is in the strange situation where the longer they wait, the less impact an invasion would have on supply chains; but militarily, they are in the opposite situation," says Gruenig. If they invade soon, they would wreak global economic havoc and might be able to avoid drastic sanctions, given the world's strong reliance on their products, "but chances of success in military terms would be much better after 2025", says Gruenig.
Taiwan currently benefits from the so-called 'silicon shield': a near-monopoly in the field of logic semiconductors (below ten nanometres) provides a solid protection against overt military action, since both the US and China depend on the technology. South Korea is the only potential alternative supplier, but it still has limited capacity. For Taiwan, the more the US, EU and China succeed in building out their own logic semiconductor sectors, the less irreplaceable the island becomes. "The US may feel less inclined to take on a confrontational stance a few years down the road," says Gruenig.
Looking ahead, Taiwan will likely keep a dominant position in the semiconductor foundry market, having hit almost 50% of global capacity in 2022. Semiconductor foundries are factories in which devices like microchips are manufactured. In addition, an integral input for both the semiconductor and solar PV industries are (poly)silicon wafers, where Taiwan holds about a fifth of the global market share.
A Chinese invasion of Taiwan would force the US and the EU to limit imports of Chinese goods, including rare earth minerals, solar panels, EV batteries and electronics, which would hamper their roll-out of renewables in the near future. China is currently a leading player in the field of critical raw materials and effectively controls 95% of the solar PV supply chain. Both the US and EU are working on diversifying and securing their clean energy supply chains, but just as with semiconductors, that process will take years.
Gruenig can imagine a scenario in which the US and EU impose symbolic and limited sanctions against China but refrain from a full embargo, keeping the door ajar for some trade in critical sectors. "This would be rather cynical but a case of realpolitik," he says. "On the other hand, this kind of leverage for China will erode with every year, and by 2030, China may not be able to play this card any longer."
For China, Gruenig posits, an annexation of Taiwan could provide strategic advantage by securing more of the value chain in cleantech, particularly if the US and EU prove unable to ramp up their alternative supply chains through on and near-shoring. On the other hand, an invasion could also backfire and result in China becoming "isolated and secondary", he cautions.
Is net zero by 2050 still achievable?
A Chinese invasion of Taiwan would certainly push up the cost of the energy transition due to supply chain constraints and a resulting shortage of clean energy tecnologies. "That may set us back a few years," says Weinstein. It would further accelerate the de-globalisation of supply chains seen since Russia's invasion of Ukraine and embodied in the US Inflation Reduction Act. This would likely increase the cost of green energy to pay the price of security of supply. But "[net zero by] 2050 would still be feasible", argues Gruenig.
A US decoupling from China on cleantech would create more economic risks than benefits and harm global efforts to mitigate climate change, concluded a study published in the journal Science last month. The decoupling would slow the deployment of technologies needed to transition away from fossil fuels. "For most technologies, the decoupling 'cure' is likely to be worse than the 'integration' disease," said the authors.
The bottom line is that China and the US are by far the world's largest emitters, and if they are bogged down in either open or guerrilla warfare in Taiwan, they simply may not have the interest or resource to pursue decarbonisation. "That would have terrible implications for the world," concludes Mazzocco.