When French President Emmanuel Macron was re-elected in April, there was an audible sigh of relief in Brussels. The alternative – far-right Marine Le Pen – was a terrifying prospect for the EU. Many assumed the result meant things would mostly stay the same in terms of French (and EU) climate policy, or perhaps become more ambitious as Macron had made promises to woo voters from the left during the vote's second round.
But they were forgetting about the next election – the vote for the French legislature, which took place in two rounds this month. France does not have a completely parliamentary system like the UK, nor does it have a completely presidential system like the US. It has a hybrid system where the parliament could have significant power but usually doesn't because the elections are timed in such a way that the person who wins the presidency usually gets a majority in the parliament two months later. It has almost always worked out that way – but this time it didn't.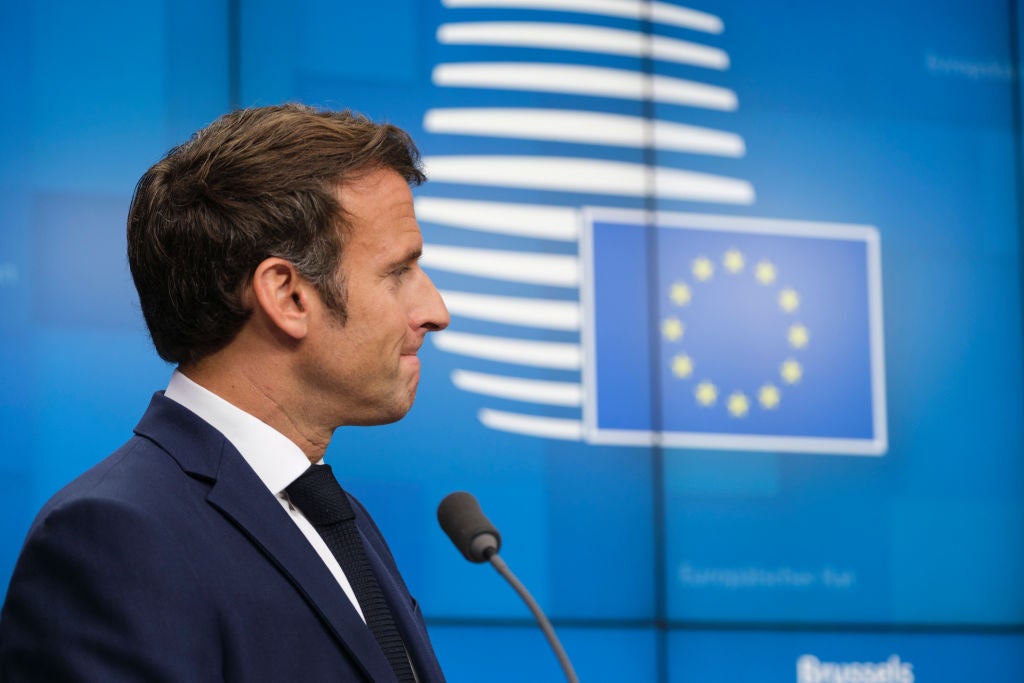 Macron's centrist Ensemble alliance won 245 seats, 44 short of the 289 needed for an absolute majority. The pan-leftist NUPES coalition, led by far-left firebrand Jean-Luc Melenchon, who was vying to become prime minister, won 131. Marine Le Pen's far-right Rassemblement National won 89 seats, the most surprising result of the day and an increase from just 8 seats over the past five years. The centre-right Les Republicains won 61 seats.
Now a coalition must be formed to reach an absolute majority in the parliament. While such coalitions are common in other European countries, they are almost unheard of in France. While Macron has been spared the nightmare scenario of having an opposition party reach absolute majority – which would have placed the parliament and its ministers in opposition to the president – he will still be working with a coalition where he needs to keep former opponents happy.
This development will likely mean a realignment of Macron's climate and energy priorities, both at national and EU level. His chosen environment minister, Amélie de Montchalin, was defeated in the election. She was going to be the main point person for implementing Macron's plan for an ecological transition, and would have been the one negotiating for France on difficult 'Fit for 55' files. She lost her seat to leftist NUPES candidate Jerome Guedj from the Socialists. It is now unclear who will head up France's energy and environment work. In addition, the chairmanships of the relevant energy and environment committees in the French Parliament may now go to people of very different political persuasions than their predecessors.
There is still much uncertainty about the final composition of the new French government. For now, the government continues with the cabinet assembled by Macron before the vote. That will include Clément Baune, Macron's point person on all things EU, and Trade Minister Franck Riester, widely viewed as a protectionist force (and therefore a staunch promoter of the EU's controversial carbon border tax).
The numbers point to a coalition with the conservative Les Republicains as the most logical outcome, putting Macron over the absolute majority threshold, but senior Republicain party leaders dismissed the idea this week and said they would prefer to be in opposition. Nevertheless, talks with the centre-right are ongoing. Olivier Marleix, the leader of the Republicains' parliamentary group, will be a major force in these negotiations. He has been somewhat unfriendly to environmental policy and co-drafted a parliamentary report on France's industrial policy in which he called for EU competition rules to take into account industrial policy goals.
Alternatively, Macron could try a coalition with the centre-left and the Greens, who have already broken loose from the NUPES alliance with the far-left. Green lawmaker Sandrine Rousseau would likely play a major role in such talks. She has been a fierce critic of Macron's energy policies, particularly his focus on nuclear power. She wants France to gradually phase out nuclear energy and has opposed the EU's taxonomy list, which includes nuclear and gas as transition fuels eligible for green investment and was a delicate compromise between the French and German governments.
Even before a coalition is formed, Macron will need to plug the holes in his cabinet created by three of his ministers losing their seats: Health Minister Brigitte Bourguignon, Ecological Transition Minister Amélie de Montchalin and State Secretary for Oceans Justine Benin. By 30 June 2022, the parliament will need to elect their presidents, vice-presidents and secretaries. It may be possible that the current prime minister, Macron ally Élisabeth Borne, will be able to hold on to her seat and secure a "working majority" to support the current cabinet to stay in office. What is more likely is that the price of any coalition, or even any working majority, will be ministerial posts for opposition parties. Melenchon's far-left La France Insoumise party has vowed to call a no-confidence vote in Borne and her cabinet on 5 July.
For the EU, the composition of that cabinet will make a big difference – particularly for environment and climate policy. A case in point will come on 28 June, a meeting of EU energy ministers will take important votes on elements of the 'Fit for 55' package. France currently holds the rotating presidency of the Council of the EU, but it is unclear who will be chairing this meeting. The presidency will be passed to the Czech Republic on 1 July, but even after that, France's role in the Council remains critical because it has the second-highest number of weighted votes, after Germany. Whether the person casting the vote for France is from the left, right or centre will make a big difference – and all three have a chance of holding it in this period of uncertainty.
The situation will not be as complicated as it would have been if an opposition group had secured an absolute majority, an arrangement called "cohabitation" in which the energy minister in the Council of the EU could have been in opposition to the president in the European Council. As it stands, even if a new energy minister is not from Macron's centrists, they will still have signed a coalition agreement with Macron that should spell out the government's position on major EU legislation.
[Keep up with Energy Monitor: Subscribe to our weekly newsletter]
Asked at last week's EU summit in Brussels about how this new unfamiliar coalition arrangement in France will affect the country's EU positions, President Macron said it should be workable. "France now finds itself in a parliamentary situation which it has already seen back in 1988," he said. "In European terms it is quite commonplace. If you look at all the member states, there are 20 of them which have coalition governments. Some have as many as seven partners in the coalition. Others have to govern in a minority. So I don't for one second believe that that is an issue.
"Together with other parties in government, we will have to build coalitions and find agreements on texts to try to make progress on a clear agenda," he added.
European Commission President Ursula von der Leyen, standing beside him, said she is not worried that France's new political situation will lead to indecision in Europe. "We know in Europe we can rely on France as one of our founding members. I know from personal experience with this French president we have not only a true Frenchman but also a true European."