Diversity is central to good decision-making. Yet the family photograph of heads of state and government broadcast to the world on the first day on COP27 last week included 110 men and seven women. Today, at 'Gender Day' in Sharm El Sheikh, it should be made clear that diversity is not a nice-to-have. Without it, a just and inclusive clean energy transition will not happen and emissions reductions in line with science will be much harder to achieve.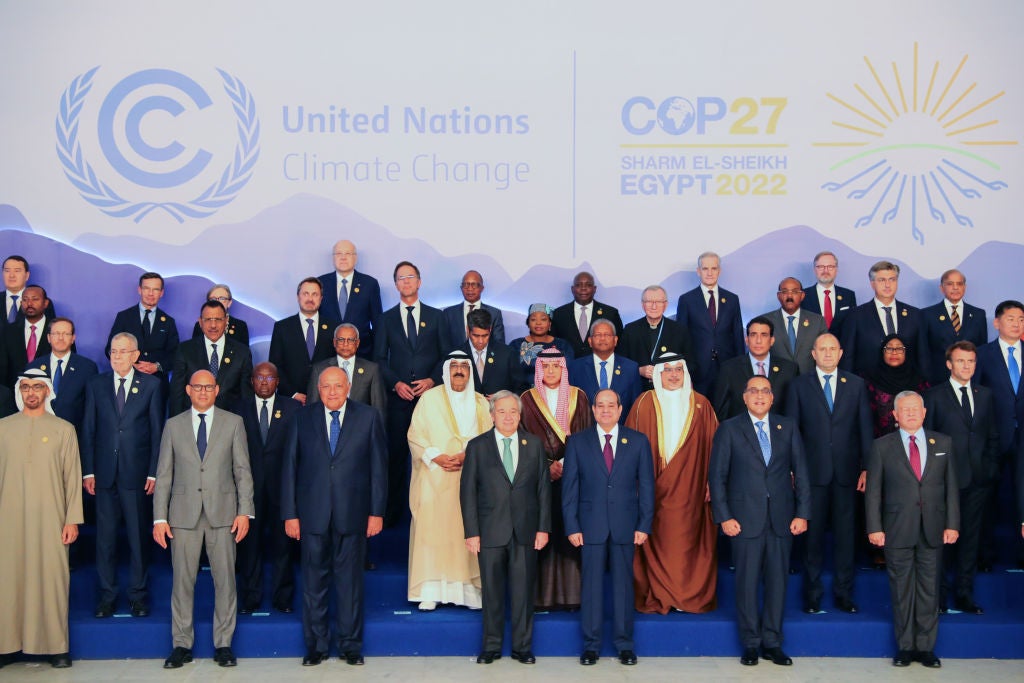 COP21 in Paris in 2015 is probably the only climate summit most people can name. The agreement to aim to keep global warming below 1.5°C above pre-industrial levels was heralded as a triumph and is the yardstick by which climate action is measured. There are many reasons why Paris succeeded, but it is worth noting that two women — Laurence Tubiana and Christiana Figueres — worked closely with French foreign minister and COP President Laurent Fabius to craft the deal and persuade countries to sign up.
Last year, there was uproar from many women in the UK's climate world when they realised the country's COP26 team contained not one woman in a top position. This glaring omission gave three women, Bianca Pitt, Antoinette Vermilye and Elise Buckle, the impetus to create She Changes Climate focused on "enabling women to lead just climate action globally". The year may be 2022, but gender equality, as the campaign highlights, remains a pipe dream. At COP26, only 34% of committee members and 39% of those leading delegations were women.
[Keep up with Energy Monitor: Subscribe to our weekly newsletter]
What happens at a COP is a reflection of society more broadly. There is progress: the global average share of women in ministerial positions nearly doubled between 2006 and 2022, increasing from 9.9% to 16.1%, shows the World Economic Forum's 2022 gender tracker. Similarly, the global average share of women in parliament rose from 14.9% to 22.9%. At this rate, however, it will take 155 years to fully close the gender gap.
Why does this matter? Women are on the frontline of climate change, in particular in low-income countries. They are generally responsible for feeding their families and collecting drinking water. Water for washing is vital when you menstruate every month. Of the people displaced by climate change, 80% are women, and displacement increases violence against girls and women. Research suggests that deaths among women are higher than among men when climate disaster strikes. Likewise, only a tiny amount of climate finance flows directly to women or women-led initiatives.
Forbes and the Harvard Business Review are full of articles flaunting the virtues of a diverse workplace. Diverse teams are more likely to make better, bolder decisions with a broader spectrum of people bringing more greater creativity and expertise to the table, shows a 2019 study by consultants McKinsey entitled Diversity Wins. Meanwhile, female participation helps negotiated treaties be more durable.
Climate change is the biggest challenge humanity faces. We need all the creativity and expertise we can find to implement the very best lasting solutions for people everywhere. Yet women still only have a minority stake in the conversation.
A letter initiated by She Changes Climate ahead of COP27 and signed by a raft of high-profile women – and men – wants a man and a woman to be co-president of every climate summit. Faced with finding solutions to protect our very existence, you wouldn't have thought that would be too much of an ask, would you?
Beyond women and climate action at COP27:
Reporter Nour Ghantous (week one) and senior writer Dave Keating (week two) are reporting from COP27 in Sharm El Sheikh, Egypt, on behalf of Energy Monitor and our parent company, GlobalData. They are providing the data-led analysis you have come to expect from Energy Monitor but also something new: video interviews with business leaders, policymakers and campaigners. We encourage you to return often to our Energy Monitor home page for updates from the conference. You can also sign up for our free biweekly newsletter here.
Other recent COP27 coverage includes:
COP27: Ukraine energy company DTEK maintains net-zero goal, by Nour Ghantous (14 November)
Opinion: COP27 comes after a year of unfulfilled COP26 promises, by Nick Ferris (11 November)
COP27: Data science can strengthen climate action, by Nour Ghantous (11 November)
COP27: Alpine Group proffers recycled textiles to combat climate, by Nour Ghantous (10 November)
Why the financial odds are stacked against developing countries, by Isabeau van Halm and Polly Bindman (9 November)
COP27: International Labour Organization wants to see a just transition "actually implemented", by Nour Ghantous (9 November)
COP27 take note: Climate tech funding has soared in 2022, by Eric Johansson (9 November)
COP27: How countries compare on carbon emissions and pledges, by Nick Ferris (7 November)
COP27: Mattie Yeta, CGI's chief sustainability officer, on the first-ever 'metaverse COP', by Nour Ghantous (7 November)
Which countries are already at net zero?, by Nick Ferris (25 October)
COP27: Manage your expectations, by Nour Ghantous (21 September)