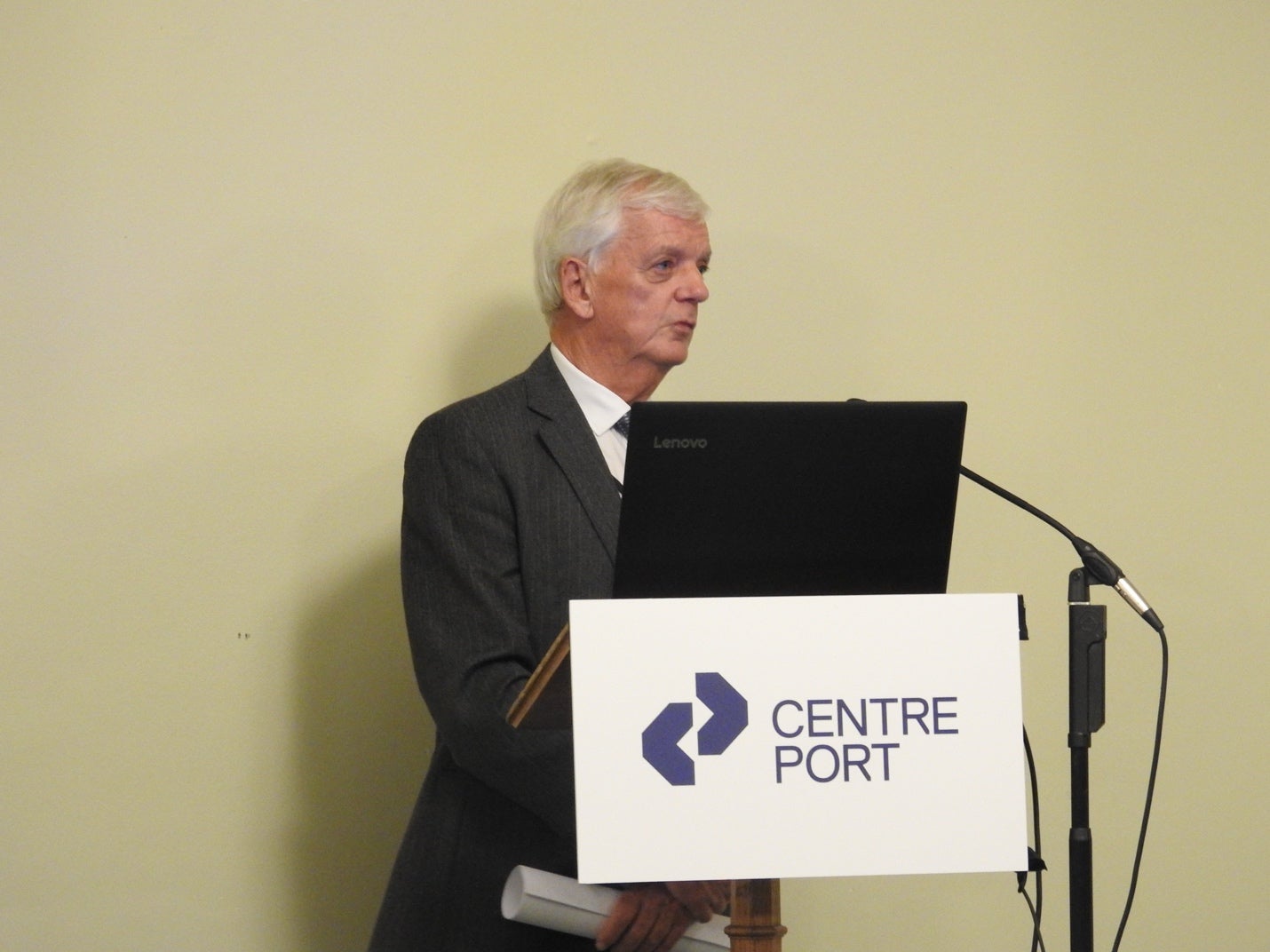 Port Evolution, headed up by James Sutcliffe, made a name for itself back in 2007 after it oversaw the development of Poland's largest container terminal, the Deepwater Container Terminal (DCT) Gdansk. Over a 22-month period, notwithstanding two biting (-20°C) Polish winters, Port Evolution transformed the area from a beach into a fully operational terminal, which sold for $1.3bn in 2019.
Now, the UK-based company is back with more ambition and closer to home, having announced on 17 November 2022 Centre Port, a vision for a renewables-powered £2bn DCT development along the East coast of England. Centre Port's launch was notable for laying out big ambitions on climate change and trade but also for the lack of women in attendance.
A hydroelectric dam
Centre Port will be the world's first hydro-powered sea terminal. The 12-mile-long dam in England's South-East is proposed to run from Wainfleet, near Skegness, to Hunstanton in Norfolk. Its hydroelectric power will be used to produce green hydrogen to power local farming machinery and transport, with the rest feeding into the national grid. (There were no specifics available on how much green hydrogen will be produced at time of publication.)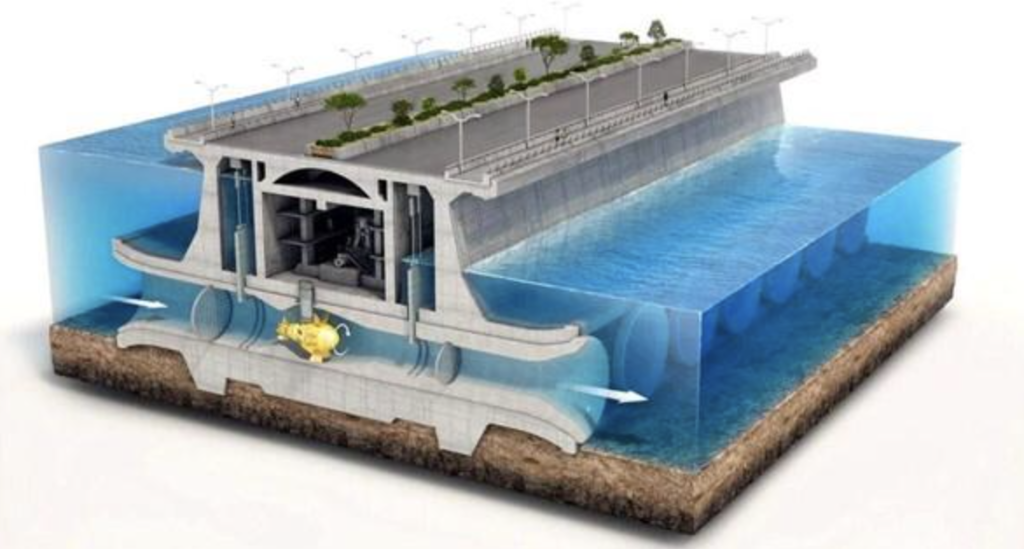 The Centre Port announcement comes not long after the US announced $3bn in funding to reduce air pollution and advance zero-carbon technology in ports as part of its Inflation Reduction Act.
A spotlight on maritime decarbonisation is a welcome first for many; following years of pressure on the International Maritime Organization, large initiatives such as Centre Port highlight the opportunity for change.
That said, hydroelectric power is not without its critics. One concern is the potential for environmental damage, as the construction of dams and reservoirs can displace local wildlife and alter natural ecosystems. Other worries include pollution from mining the cement and rock necessary for dam construction, as well as climate risk, human rights and the danger of big dam failure as infrastructure ages.
Centre Port's dam will completely seal off The Wash nature reserve, an East Anglian estuary famous for its 8,880 hectares of rich ecology. This has the Lincolnshire Wildlife Trust concerned. "As a natural flood defence, a source of food, and a wild place to visit, it [The Wash] should be protected at all costs – not destroyed to generate obscenely expensive energy and increase the risk of flooding," Tammy Smalley from the Lincolnshire Wildlife Trust told Lincolnshire Live.
However, Sutcliffe says the project will protect areas like The Wash from flood risks associated with rising sea levels: "Without the Centre Port development in place the Lincolnshire/Norfolk/Cambridge fens will be at the mercy of climate change-driven storms and catastrophic flooding… The 1953 flood… killed over 2,000 people and thousands of farm animals and untold wildlife. One million people and their businesses and homes are at risk in the next 25 years plus 33% of the UK's veg production. Saltwater ingress (the movement of saline water into freshwater aquifers) takes years to eradicate."
Smalley argues that the Centre Port dam will destroy The Wash's saltwater marshes, which sequester carbon more effectively than trees, and without adequate maintenance or in extreme weather, dams themselves create a risk of flooding.
On the flip side, droughts can reduce the amount of water available for hydroelectric power generation.
Nevertheless, there are many projects demonstrating hydropower's ability to bolster a nation's energy supplies, for example, in India, where if plans materialise for the development of a 91GW hydropower pipeline – nearly double China's 50GW pipeline – the country would be in good stead to meet its 500GW renewables by 2030 target. If Centre Port meets its estimated capacity to supply 600,000 UK homes with power, it would certainly rank as one of those game-changer projects. At the time of writing, just 1.2% (0.5GW) of the UK's electricity comes from hydropower.
The International Energy Agency and International Renewable Energy Agency have both concluded that hydropower "will be the dominant source of flexible generation" in a net-zero power system, playing a role in generation and storage.
A deepwater container terminal and a dual highway
British trade has suffered severe disruptions since Brexit and now even more so as a consequence of Russia's invasion of Ukraine. As it stands, no UK port averages less than one day of delays, says Sutcliffe, and 63% of shipments are not arriving on time. At the project's launch, Neil Wiggins, former deputy chairman for Dover Port, called Centre Port "a new link to secure and improve supply chains in the UK". As well as being a DCT (like the one in Gdansk), Centre Port will connect Norfolk and Skegness with a dual highway.
"Centre Port is 50% closer to the markets it serves in the East and West Midlands [than existing ports], saving thousands of truck miles and pollution, and contributing to decongesting the southbound [roads]," says Sutcliffe. "The fact that we can handle the largest and deepest container ships and RoRo [large seagoing vessels with ramps to roll cargo on and off] to Europe and potentially large cruise ships for tourism is an exciting development for UK trade internationally," he adds.
Some argue that a dual highway negates Centre Port's zero-carbon claims. The project also has plans to build a railway line to transport cargo – rather than constructing a road that facilitates carbon emissions, perhaps Centre Port could consider a fully electric railway.
Much hangs in the balance
The launch of Centre Port would have been entirely exciting had more of the attendees been women. Sutcliffe and three other white male speakers delivered opening presentations to a room of 57 men – 56 of whom looked to be white – and three women, one of whom was Sutcliffe's wife. The gender imbalance was underscored by a "women in energy" dinner taking place in the adjoining room.
When Energy Monitor asked whether Port Evolution had plans to improve diversity and inclusion as the project progresses, Sutcliffe responded: "The invitation list was constantly disrupted by the RMT rail strikes. We are open to all. The region desperately needs levelling up and new employment opportunities. We will work with schools and universities to engage people and future employees across a broad range of opportunities."
Just weeks since the COP27 family photograph featured 110 men and seven women, diversity often remains an ambition rather than a reality. Yet "without it, a just and inclusive clean energy transition will not happen and emissions reductions in line with science will be much harder to achieve", as Philippa Nuttall wrote in Energy Monitor.
Centre Port is ambitious and innovative, yet still at an early pre-feasibility stage. Its multipronged approach promises to target some of the UK's biggest issues such as climate change and trade disruption, while creating thousands of employment opportunities for locals. However, a multipronged approach also means there is much to consider – and much that could undermine the project's core goals of protecting local environmental and social interests. With much at stake, this is an interesting one to watch.