Covid-19-driven demand shocks have battered global oil consumption, leaving workers exposed to the risk of lay offs as refineries teeter on the brink of viability.
In California, a pandemic-linked demand plunge and the state's ambitious climate policies contributed to recent idling and a renewable fuels transition at two San Francisco Bay Area oil refineries. Now the region's political leaders must figure out how employees at the affected refineries who lose their jobs are supported and transitioned to comparable work.
The politics of the fossil fuel transition are not as straightforward as California's status as a global clean energy leader would suggest. California has more plug-in vehicles on the road than any other US state, accounting for nearly half of the nation's 1.6 million electric vehicles. More than one-third of California's electricity comes from renewable sources and state law requires 100% carbon-free electricity by 2045.
At the same time, more than a dozen oil refineries still operate in the state and the Western States Petroleum Association (WSPA), an oil industry trade group, is one of the most powerful voices in California's capital of Sacramento. The oil and gas industry supported 365,970 California jobs in 2017, 1.6% of the state's total employment, shows a 2019 study commissioned by the WSPA.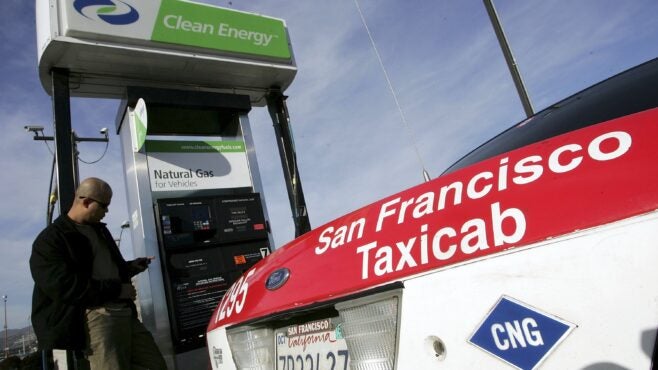 Indefinite idling
On 2 August 2020, Ohio-based Marathon Petroleum Corporation announced the "indefinite idle" of its Martinez, California refinery. The facility, the state's fourth-largest refinery, processed up to 161,000 barrels a day of crude oil and employed 740 full-time workers. For now, the refinery will be turned into an oil storage terminal, but may be converted into a renewable diesel facility in the future.
Ten days later, Texas-based multinational energy company Phillips 66 said it would stop processing fuels from crude oil at its San Francisco Refinery in Rodeo, California. Instead, the facility will be retrofitted to produce 680 million gallons annually of renewable fuels sourced from "used cooking oil, fats, greases and soybean oils", beginning in early 2024.
For workers at the two refineries, the future is far from certain.
Lay offs for salaried employees at the Martinez refinery are likely to begin in October and be completed by the end of the year, says Marathon's Brianna Patterson. Just 50 workers will be needed at the facility after its conversion to an oil storage terminal.
According to Phillips 66, 500 local union construction jobs will be created to retrofit its Rodeo facility, and more than 400 workers will be needed to operate the converted facility. However, in the same announcement, the company also said it would close two other plants in California.
The shutdowns are "a big loss for our workforce and potentially the economy", says Mark DeSaulnier, a Democratic member of the US House of Representatives whose district includes the Marathon Martinez refinery. "That is why, before the pandemic hit and had a drastic impact on energy production, I started convening labour unions, environmental groups and local governments to talk about how we prepare for a shift to sustainable energy and renewables."
For local activists who have fought refinery expansion projects for years, the moves reinforce the need to account for the long-term fate of workers.
"This is what an unplanned transition looks like," says Greg Karras, author of a report on decommissioning California's refineries.
Added:
Deleted:
Plunging demand
Refineries outside of California are exposed to the same powerful market forces. Demand for transportation fuels, road petrol and diesel, as well as aviation fuel, plummeted globally as populations locked down to control the spread of Covid-19.
Plunging demand compelled Marathon to idle the Martinez refinery from April – US gasoline consumption was down 18.2% in August compared with the same month last year, shows the latest data from research firm IHS Markit. Gasoline demand on the Pacific Coast was down even further at 24.4% below August 2019 levels.
Globally, oil demand may never fully recover from the coronavirus-driven demand shock.
BP's latest 'Energy Outlook ' forecasts a business-as-usual scenario resulting in demand for liquid fuels globally levelling off at around 100 million barrels a day in the early 2020s before entering a slow decline after 2035. Its more aggressive rapid and net-zero scenarios, which assume more robust government action on climate globally, show demand for liquid fuels remaining below pre-Covid levels and plunging to half or one-third of pre-pandemic levels, respectively, by 2050.
The demand shock coincides with a rapid expansion of global oil refining capacity. Global investment in new downstream oil refining and chemicals capacity will average $55bn in 2025, says energy research firm Bloomberg NEF (BNEF). If planned projects come online, BNEF expects the cumulative refining capacity surplus to hit 5.2 million barrels a day, leading to overcapacity and "a prolonged drag on downstream profitability".
Australian officials are so concerned about the viability of the country's four remaining oil refineries that Prime Minister Scott Morrison recently proposed paying A$2.3bn ($1.67bn) over ten years to keep the plants open.
A managed phase-down
Karras's report, written for Communities for a Better Environment, a non-profit environmental justice organisation, calls for a managed decommissioning of the state's remaining refineries. If started within the next few years, refineries could retire just 4.4–8.6% of their capacity annually and California could still meet its 2050 carbon reduction targets, says the report. In the shorter term, refineries could manage a gradual phase-down by focusing on retiring exports.
Such an approach would allow a just transition, says Karras.
"There is a big difference between a planned, managed transition where each community is given the time to gradually ramp down and just letting [owners] run them until they, for their own reasons, want to abandon the community suddenly," he says.
As California's oil production has gone down – in-state oil production peaked in the mid-1980s – crude oil imports and refined fuel exports have increased, says the report. Up to 33% of refined fuels are now exported by California's refineries, providing a buffer to meet in-state fuel demand while ramping down refinery capacity until mid-century.
The report calls on local and state policymakers to adopt a host of measures to ramp-down refining capacity without leaving workers and communities behind. The recommendations include initiating the gradual decommissioning of refining capacity; expanding social safety net supports for oil-dependent workers and communities; establishing "just transition bonds" and securing a bond from each refiner to hedge against abandonment; establishing site-specific refinery emission and oil throughput limits; and promoting the rapid electrification of transport.
Issuance of "just transition bonds" would address site-specific impacts such as pollution or deferred economic opportunities.
"That is a huge gaping hole that there is no set policy for," says Karras. "The company that profited from the using the land, and using the community's resources, for all this time, do they just get to walk away and externalise all those costs?"
Karras also wants a halt on refinery expansions.
A just transition model
California can provide leadership on the transition and show other jurisdictions the way forward, believes DeSaulnier.
"I hope to create a model that can be replicated in other parts of the country," he says. "We want to avoid what happened to the coal industry in West Virginia. Don't just say there is no business model anymore. Let us prepare for it to make sure the transition is as smooth for everybody as possible knowing it is going to come."
Despite US coal-fired power falling to a 42-year low in 2019, the federal government has not enacted a comprehensive plan to provide economic development opportunities to historic coal mining states like West Virginia.
The role of refineries in driving regional economic activity looms large in any transition discussion. Contra Costa's four refineries rank among the county's ten largest taxpayers and the facilities' mostly unionised workforce is paid decent wages.
However, DeSaulnier insists this is not a reason for inaction. Oil-dependent communities must prepare for the coming economic disruption, he says.
"How do we make sure that people who work there get good-paying jobs?" he says. "How do we make sure that communities have real input and don't get impacted negatively by just another industrial facility? And how do we fill the municipal revenue that will be affected by their property tax going down?"
There is a need for policymakers at all levels to think big about the scale of the challenge. DeSaulnier cites workforce development boards, which operate in all 50 states and direct federal, state, and local funding to workforce development programmes.
"They are a good idea, but they are not equipped for this kind of transition," he says. "These are big, big challenges to transition workforces. I am hoping the federal government can do more to incentivise and deploy resources that both local and state government can use to make sure that the transition is better than it has been."
Some displaced refinery workers could find work in California's expanding clean energy sector. By the end of 2019, there were 536,919 total jobs in energy efficiency, renewables, clean vehicles and other clean energy sectors in California, making up 3% of the state's workforce. However, the sector is still recovering from pandemic-related economic disruption and by the end of August, clean energy employment in the state was still down 15% from pre-Covid levels.
Renewable fuels transition
And what of the potential conversion of Marathon's Martinez refinery to a renewable diesel facility? The company has not announced a timeline for a final decision, says Patterson.
"We are evaluating the opportunity to strategically reposition Martinez as a 48,000 barrel-per-day renewable diesel facility, which aligns with California's Low Carbon Fuel Standard objectives and [Marathon Petroleum Corporation's] greenhouse gas reduction targets," she says.
The Low Carbon Fuel Standard aims to decrease the carbon intensity of California's transportation fuels. Marathon set a goal in March to reduce its greenhouse gas emissions per barrel of oil equivalent processed to 30% below 2014 levels by 2030.
In the meantime, employees facing lay offs "are regularly being made aware of open roles at our other facilities and how to apply for them", Patterson says.
If Marathon approves the crude-to-renewable diesel conversion at Martinez, initial production will likely come online in 2022.