This week, European Commission Vice-President Frans Timmermans, the EU's climate chief, announced to delegates at the COP27 climate summit in Egypt that the EU will increase the emissions reduction target for 2030 in its nationally determined contribution (NDC) to the Paris Agreement from 55% to 57%.
"So don't let anyone tell you, here or outside, that the EU is backtracking," Timmermans said.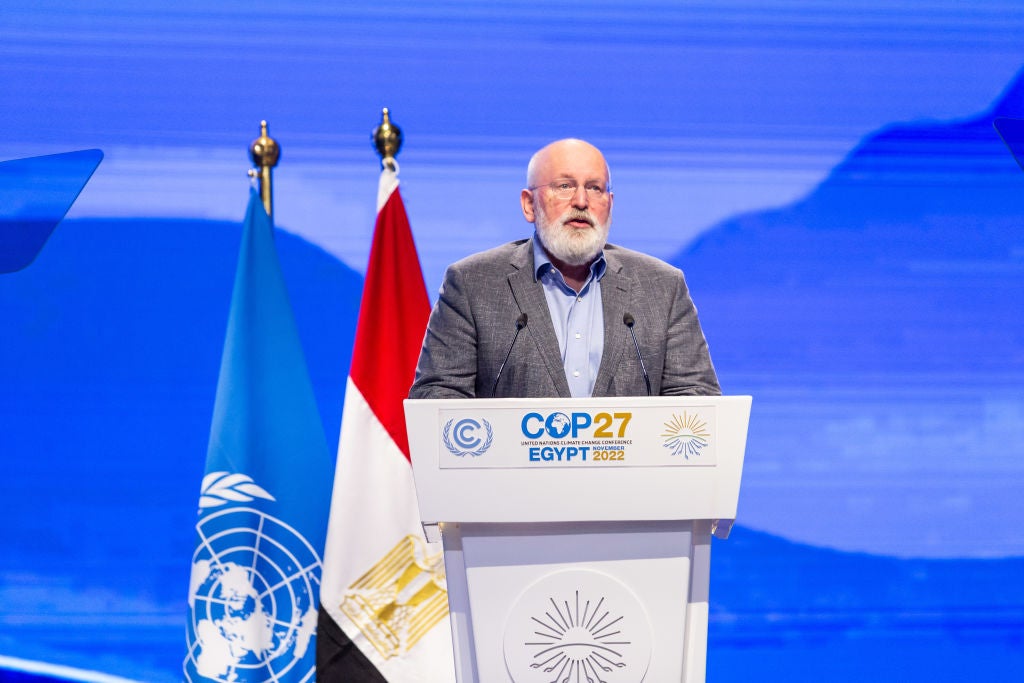 The claim that the EU is increasing its climate ambition with this announcement is dubious. However, Timmermans' follow-up comment, pointing to the new target as evidence the EU is not decreasing its climate ambition because of the Ukraine War and accompanying energy crisis, reveals how essential it was that the EU show something to delegates in Sharm El Sheik.
Throughout COP27's first week there was a narrative going around, particularly from African countries, that the EU is pulling back from its climate plans in light of the war. Immediately upon arriving on Monday 14 November, Timmermans sought to fight back, saying: "There has been this very strange narrative going around, that because of the challenges coming to Europe because of Putin's war against Ukraine, we would be stepping back from our ambitions. Nothing could be further from the truth."
On that he was backed up by a report unveiled here on Tuesday by the Powering Past Coal Alliance, which found that even though there has been an increase in coal power generation over the past months in Europe to make up for the absence of Russian gas, it is minimal and temporary, and will not knock the EU off its trajectory in phasing out coal.
However, Timmermans needed something more to demonstrate the EU isn't stepping back on ambition, and so on Tuesday he unveiled, with much fanfare, the plan to increase the EU's emissions reduction target for 2030. There is only one problem: it isn't real.
The EU's new 57% target is a fudge
The new 2030 target of 57%, which will be registered in an updated NDC to the UN, is the byproduct of a bit of fudging in the European Climate Law that cemented the 2030 goal, and a mandate from the European Parliament to account for land sinks separately, explains Mark Preston Aragonès, a policy advisor at the think tank Bellona.
"Originally the 2030 target was going to be a 40% gross emissions reduction based on 1990 levels," he explains. "But they later decided to do 55% net instead and include both reduction and removals [measures to take carbon out of the atmosphere]. But they didn't clarify how much needed to be reduction and how much removals. We pushed for the European Parliament to mandate a capped contribution from removals, and they [did]."
The additional 2% comes from a recently concluded EU law on land use, land-use change and forestry. The Parliament insisted that carbon removals through reforestation are separate from the 55% goal. That gives the appearance of an extra 2%, even though the original intention – and what was pushed for by EU national governments in the Council – was to have that removal as part of the main target. The 57% can legitimately be described as an increase in ambition, because now the EU can't use the land sinks removal to meet 55% – but it is not really an increase in the target.
[Keep up with Energy Monitor: Subscribe to our weekly newsletter]
"The announcement Timmermans made, it is great, but it is a bit misleading," says Preston Aragonès. "Removing CO2 by storing it in land sinks is not the same thing as reduction. Removals are undoable, reductions are not."
To be fair, vice-president Timmermans made it clear at his press conference on Tuesday 15 November that the 57% is a recognition of the EU's new trajectory. "It is not a new target, it is not formulating new ambition," he said. 'It is just translating what we have decided into actual numbers. So we don't need to change any legislation, but we can write this down in the next NDC."
The EU is not going to update its own legislation codifying 55% – we are not going to now have "Fit for 57", Timmermans clarified. The extra 2% is superfluous to that package. The EU Council will, however, need to pass a measure to increase the EU's NDC. That will only require a qualified majority vote, so it cannot be vetoed by Poland like a change in the 'Fit for 55' target could be.
The EU's new 57% target does the job
So how are we supposed to feel about the 57% theatrics? Has it helped dispel the untrue narrative that the EU is backtracking on climate ambition, and if it has, is there any harm done?
"I do think it is helpful for the Commission to come out and say we have upped our climate target, but lumping it into the 57% isn't helpful," says Preston Aragonès. "They are probably smelling the potential failure of what will happen here [at COP27] and need a morale boost, but this is a game the Commission made for itself by doing a net target. It is quite big but not particularly helpful, a bit like net zero by 2050."
It is possible, however, that the increased NDC could build momentum in the Council towards actually increasing the 2030 target. Speaking alongside Timmermans at COP27 on Tuesday, Marian Jurećka, environment minister of the Czech Republic, which currently holds the Council's rotating presidency, hinted this could be possible. "We have agreed legislatively on 55%, but if you look at the current tempo and situation, there is an obvious need to accelerate the efforts in light of changes and in light of the war in Ukraine," he said.
The Czech Republic is not normally known as a climate champion, so this was an interesting signal of where things could go. The figure of 57% may have been a bit of theatrics in Sharm El Sheikh this week, but if it has the effect of boosting climate morale globally and at EU level, then theatrics can't hurt.