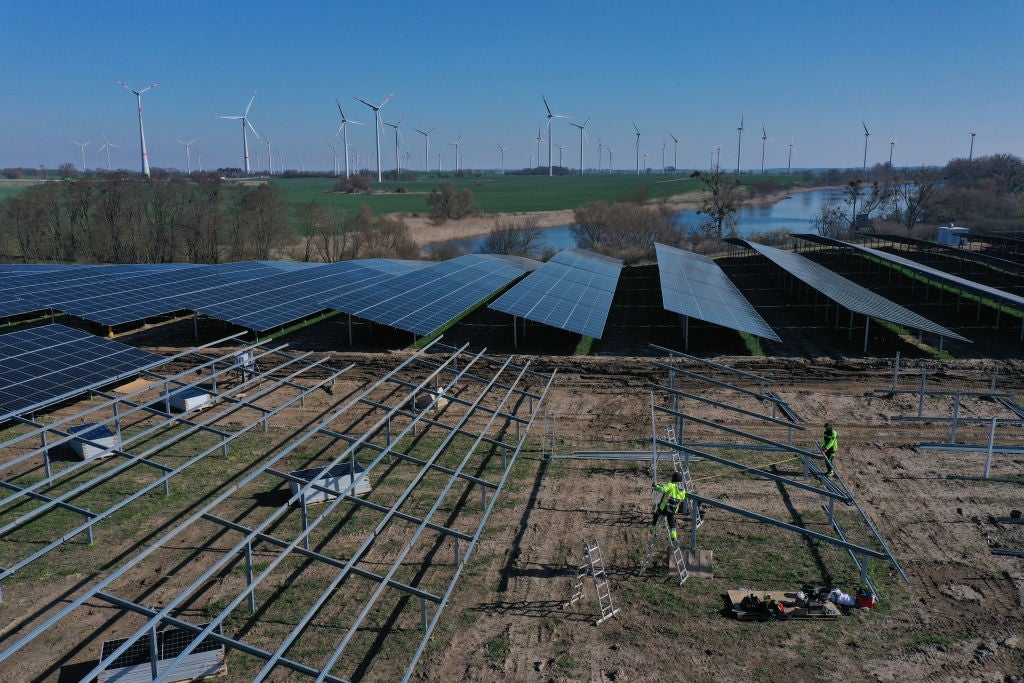 Europe has seen undersubscribed renewable energy auctions over the past few years that are at odds with its goal to accelerate the roll-out of solar and wind power to reach net zero and bolster energy security, reports Energy Monitor's parent company GlobalData in a new study.
In October 2021, the Danish Energy Agency announced that not a single bid was received for its technology-neutral renewable energy tender in June 2021. A similar scenario was witnessed among other major European nations in 2022. It was an underwhelming year for German solar PV auctions, with both ground-mounted and rooftop auctions underperforming. A total of 4,858MW of capacity was offered, of which only 2,897MW was subscribed.
In Italy, between 2019 and 2022, a total of 7.3GW of planned renewable energy auctions were conducted, of which only 3.9GW of projects were awarded. Spain introduced updated auctions in 2021, which initially received a tremendous response, with both auctions oversubscribed. However, in 2022, the two rounds of auctions were a failure, with only 223MW capacity awarded against an auctioned capacity of 3,820MW. France's renewable energy auction programme also underperformed between 2018 and 2022.
GlobalData analysts say a low ceiling price and slow permitting are to blame. "Developers across Europe find it extremely difficult to get approvals from government authorities, and the lengthy bureaucratic procedures discourage investments," said Attaurrahman Ojindaram Saibasan, a power analyst at GlobalData, in a press statement. It takes about five years to get a permit for an onshore wind farm in Italy, he noted.
Emergency measures agreed late last year to speed up permitting across the EU were last month cemented in a new EU renewable energy directive.
Saibasan continued: "European governments should [also] look at increasing support by raising the ceiling price [for renewable energy auctions]." Or alternatively, consider contracts for difference, which "will reduce the burden on the government by paying only the differential price as well as benefit the developers by protecting them from fluctuating energy costs". The rising costs of equipment and components across the value chain – due to inflation, supply chain constraints, high raw material costs and an increase in logistics expenses – has pushed up developers' bids, the GlobalData study reports.
Governments are starting to respond – and see results. The latest German ground-mounted solar PV auction, for which bids were submitted on 1 March 2023, was "significantly oversubscribed", announced the German Federal Network Agency on 13 April. With a tendered volume of 1,950MW, 347 bids with a volume of 2,869MW were submitted.
"For the first time since June 2022, the bid quantity received significantly exceeds the quantity advertised," said Klaus Müller, president of the agency, in a press statement. "Never before have so many bids been submitted in such a tender by the Federal Network Agency. The task now is to maintain this high level of bids in order to drive forward the necessary expansion in the long term."
The agency had raised the maximum value for bids to €0.737/kWh. It also raised the maximum value for "innovation" tenders – solar PV plus storage – by 25% at the end of March, compared with December, in response to the "significant increase in the cost of plant components". German renewable energy auctions for onshore wind and solar PV on buildings earlier this year were also undersubscribed.