More than 20 years ago I was a recent graduate shlepping out to the suburbs of Paris to teach English to a variety of businesses. One of which was Schneider Electric. Headquartered in the wealthy suburb of Rueil-Malmaison, the company felt very much a French enterprise. Back then, Schneider had already moved a long way from its mining origins. Today, the company has taken another leap forward, from being a provider of 20th-century electrical solutions to a smart company leading the clean energy transition with efficiency and sustainability at its core.
The company was born in 1836, when the Schneider brothers acquired mines and forges at Le Creusot in eastern France. Quickly the potential of the electricity market was grasped and less than 60 years later, the company launched itself into this emerging sector.
"Schneider's transition to the identity it embodies today began ten to 15 years ago," says Philippe Delorme, Schneider's executive vice-president for energy management, speaking to Energy Monitor from his office in Hong Kong. "We started with energy efficiency and have since then ramped up, championing efficiency and sustainability."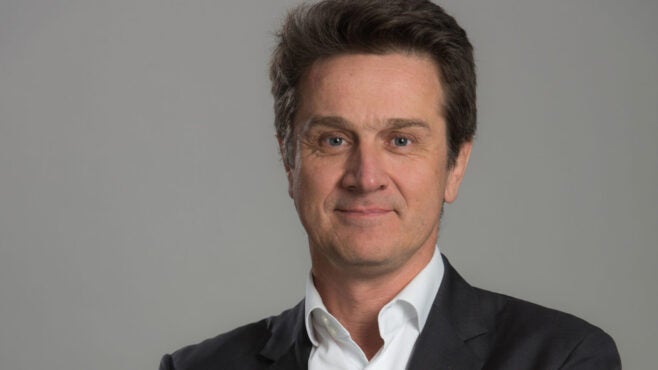 Digitalisation is at the heart of the company's transformation. Its focus today is on providing energy and automation digital solutions to enable buildings, data centres, heavy industry and infrastructure sectors to save energy and be more able to face the challenges of the 21st century.
Indeed, Delorme doubts whether the goals of the Paris Agreement can be met without more high-tech computer technology. "I don't think we can have more efficiency without digitalisation," he says. Data centres and data transmission networks are responsible for just "a small per cent of the global energy bill", underlines Delorme, adding that "data centres can be carbon-neutral". This issue is vital for Schneider since the company has a presence in one out of every two data centres in the world.
The latest research by the International Energy Agency (IEA) on data centres and data transmission networks backs Delorme's conclusion. Published in June 2020, the IEA shows that global internet traffic surged by almost 40% between February and mid-April 2020, as the world went into lockdown to try to stop the spread of Covid-19.
"However, rapid improvements in energy efficiency have helped to limit energy demand growth from data centres and data transmission networks, which each accounted for around 1% of global electricity use in 2019," it states.
Demand for data and digital services will continue its exponential growth in the coming years, with global internet traffic expected to double by 2022 to a mind-boggling 4.2 zettabytes (4.2 trillion gigabytes) a year and the number of internet of things connections doubling from 12 billion to 25 billion, forecasts the IEA.
However, this strong growth in demand for data centre services "continues to be offset by ongoing efficiency improvements for servers, storage devices, network switches and data centre infrastructure, as well as a shift to much greater shares of cloud and hyperscale data centres", says the agency.
That data centres continue to become increasingly efficient is important if companies like Schneider are to meet commitments to eradicate emissions the length of their supply chain.
In 2019, Schneider pledged to achieve carbon neutrality in its own operations – so-called scope 1 and 2 emissions under the Greenhouse Gas Protocol – by 2025, and net-zero CO2 emissions by 2030. The company has also committed to become carbon-neutral on its "full end-to-end footprint" by 2040, meaning it would also eliminate scope 3 emissions – all indirect emissions that occur in a company's value chain. By 2050, Schneider says it hopes to operate in a totally "net-zero CO2 supply chain".
Devil is in the detail
Tracking and reducing scope 3 emissions is a demanding process and Schneider is "feeling its way" in this area, says Delorme.
"Our advice to other companies wanting to follow in our footsteps would be to be super granular and work with specialists," he says. "The devil is in the detail. We are doing lots of evaluation along our supply chain to see if and where we need to change suppliers or our game plan."
Schneider recently took a clear step in this direction, partnering with Swedish company EcoDataCenter to help build what has been dubbed "the world's first climate-positive data centre". Climate positive means a product helps remove more greenhouse gases from the atmosphere than are released during its creation. The data centre says it achieves this aim by being 100% powered by renewable electricity, extremely efficient and by feeding excess heat into the local district heating network.
Schneider is also greening its buildings to help it reach its carbon-reduction goals. A total of 13 of its 1,110 or so sites worldwide are now classed as net zero carbon. The World Green Building Council defines such buildings as highly energy efficient, powered by renewables and not reliant in any way on offsets. By 2025, Schneider hopes to have increased this number to 150 through energy purchase agreements.
In Grenoble, France, with its brand spanking new IntenCity building, the company has gone several steps further. The 26,000m² office uses very low amounts of energy compared with the average office and is energy autonomous – getting all the energy it needs from 4,000m² of rooftop solar and two onside wind turbines that will produce 970MW-hours a year. The site aims to consume no more than 37 kilowatt hours a square metre (kWh/m²) a year – an average office block in the EU uses around 330kWh/m2 over 12 months.
The building is also classed as "smart grid ready" as it is equipped with technical solutions allowing it to "communicate" with other buildings in the same district to form a local network. IntenCity can, therefore, decrease energy use when electricity demand or tariffs are high, store renewable energy or change consumption to benefit neighbouring buildings.
The result should be lower energy use, fewer carbon emissions and reduced costs for all. Schneider hopes the building will be awarded the highest certification in terms of green buildings, namely the LEED Platinum, and be bestowed the honour of being the greenest office block in the world. The current title holder is the Platinum@BCN building in Barcelona.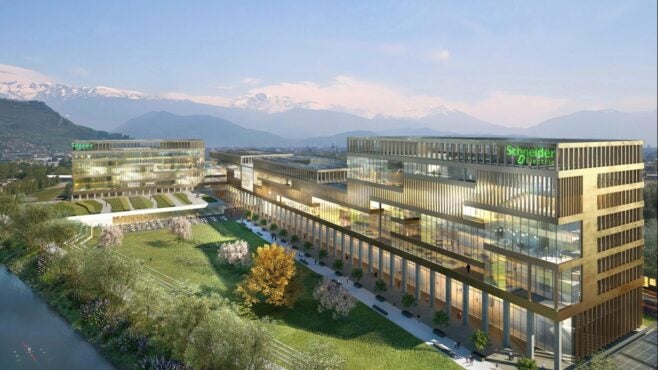 The Covid pandemic has accelerated the adoption of digital technologies and increased interest in sustainability, says Delorme. Together they can boost a company's resilience, he believes.
"During Covid, people have seen how vulnerable society is if we don't have the right infrastructure, such as hospitals, in place, and people have seen the importance of being able to manage businesses and buildings remotely," he says.
Delorme believes the technologies being developed by Schneider will help build a new electric world, and underlines the importance of companies practicing what they preach. "As a business, we try to be pragmatic and a role model to move forward the move to carbon neutrality," he says.