Just 40km from Sharm El Sheikh, the Egyptian resort town where COP27 will take place in November, is NEOM, Saudi Arabia's $500bn project that will see a 26,500km2, self-governing, carbon-free city built into the Saudi Arabian, Egyptian and Jordanian desert. The latest addition to those plans is 'The Line': a 200m-wide series of neighbourhoods in "module" form, sandwiched between two 500m-high, 170km-long mirrored exterior walls that run from the Red Sea through the Saudi Arabian desert.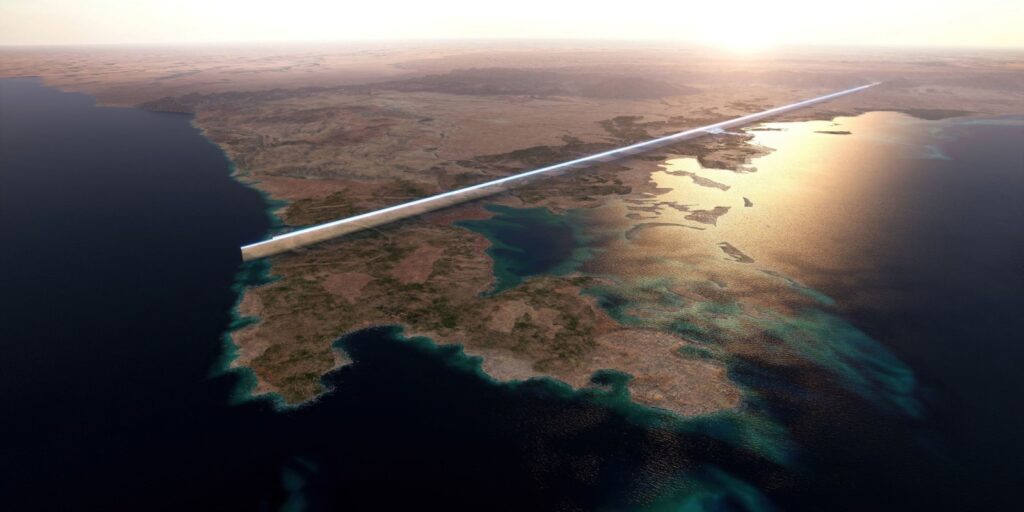 NEOM aims to be a zero-carbon region, running on 100% clean energy. The project's website says: "Via unrivalled wind and solar resources, and through the world's largest hydrogen plant, we will incubate and accelerate renewable solutions."
The Line leaves motor vehicles out of its plans entirely; instead, there will be a fully renewable-powered high-speed rail line that NEOM claims will take citizens from one end of the 170km-long structure to the other in under 20 minutes.
Saudi Crown Prince Mohammed bin Salman announced the project at a conference in October 2017. Egypt unveiled its involvement in 2018, allocating more than 1,000km2 of land to the project in the South Sinai governorate. The extent of Jordan's contribution of land to the project is not known.
While the Saudi kingdom's sovereign wealth fund is the cornerstone investor in the new mega-city, Egypt's Ministry of Investment and International Cooperation will finance the development on the Egyptian side. NEOM is seeking cooperation with Jordan on the development, but a partnership is yet to be announced.
"Saudi Arabia has a strategic interest in the Red Sea [and this region's] security, stability and economy," says Banafsheh Keynoush, a geopolitical consultant and scholar at think tank the Middle East Institute. "Should NEOM be realised, [it] will advance commerce and security along one of the world's most vital waterways [for global trade]. The idea is that the project will assert Saudi Arabia's power and leadership in the wider region and bring prosperity to many other countries nearby that can benefit from its employment opportunities."
How well do you
really

know your competitors?

Access the most comprehensive Company Profiles on the market, powered by GlobalData. Save hours of research. Gain competitive edge.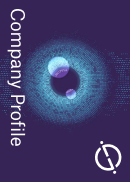 Company Profile – free sample
Thank you!
Your download email will arrive shortly
Not ready to buy yet? Download a free sample
We are confident about the unique quality of our Company Profiles. However, we want you to make the most beneficial decision for your business, so we offer a free sample that you can download by submitting the below form
By GlobalData
From NEOM to The Line
Most of the NEOM project was supposed to be completed in 2020, but Google Earth reveals that the mega-city consists of a single 500m square built in the desert, consisting of several rows of homes, two swimming pools and a football pitch. Ali Shihabi, a member of NEOM's advisory board, told the BBC the visible square was living quarters for Neom staff, although the BBC could not verify his claim.
Despite the apparent delays in getting NEOM built, the Crown Prince announced The Line in January 2022: a supplementary development that would mean a major scale-up of NEOM's already grandiose vision.
With The Line, NEOM now says it will house 450,000 people by 2026, up to two million people by 2030 and, ultimately, nine million by 2045.
"Big and bold tends to sell in Saudi society, as well as in many other Gulf states," says Keynoush. "It is a cultural and social trait of wanting to transform life in vast desert land. Whether it is feasible or likeable or full of character or not is secondary."
The interim goal is to make the mega-city bigger than Abu Dhabi and eventually for its stock exchange to be among the three largest in the world, the Crown Prince has said.
NEOM will be floated on the stock market in 2024.
"NEOM will add a trillion riyals to the Saudi stock market value," said the Crown Prince on state-owned al-Ekhbariya TV on 19 July 2022. "At least 1.2 trillion in the beginning and the total will increase after project completion to exceed five trillion."
"I don't know [if the project will be completed]," says Keynoush. "I thought NEOM was moving forward with confidence that funding for it would be available. According to the latest reports, it is moving forward slowly. I imagine that the rapid deterioration of the global financial structure caused by numerous conflicts as well as the [Covid-19] pandemic are major hurdles in advancing extremely large projects."
Oil first, renewables later
Crown Prince Mohammad bin Salman announced The Line in all its green glory just months prior to US President Joe Biden's visit to the kingdom in July 2022, where he attempted to resuscitate US-Saudi relations and encourage the nation to ramp up oil production.
Saudi Arabia has no plans of its own to slow down oil production and exports. Despite warnings by the International Energy Agency (IEA) that no new oil and gas fields can be approved if the world is to limit global warming to 1.5°C, Saudi Arabia has set a net-zero target for 2060 that lets it continue to produce oil from new fields.
Independent research group Climate Action Tracker says Saudi Arabia's "critically insufficient" 2030 emissions reduction target is consistent with more than 4°C of warming.
Yet some Gulf nations contend that quantifying emissions per capita overstates the region's contribution to climate change because of its recent industrialisation, relatively small population and energy-intensive economies.
"If Saudi Arabia don't sell their oil, the American producers out there waiting in the wings are very willing to do it for them," said Karim Elgendy, a non-resident scholar at the Middle East Institute, a think tank, to Energy Monitor back in June. "I can see the irony that those same countries producing oil and gas are getting impacted by climate change, but […] they are not historically responsible for the emissions, so they don't see it as their responsibility to fix this before anyone else."
[Keep up with Energy Monitor: Subscribe to our weekly newsletter]
Saudi Arabia is the biggest net exporter of crude oil in the world and produced 12.3% of the world total in 2019, according to the IEA.
While the kingdom is in no rush to change this, The Line and its parent project NEOM suggest it is conscious of an eventual energy transition. That, or Saudi Arabia is drawing up a plan B in case demand for oil wanes.
"What is pushing these large projects forward is a desire by Saudi Arabia to test if it can turn into a vibrant non-oil economy," reckons Keynoush. "In the long-term, the kingdom's survival depends on how well it transforms from an oil economy to a more diverse economy."
The Line as a net-zero pioneer
Specifics regarding the Line's funding, construction and energy strategy are not readily available. When contacted for information or comment, NEOM did not respond and one employee informed Energy Monitor of a non-disclosure agreement that all involved have signed, obliging them to refuse to divulge information regarding the project in any capacity.
"Saudi Arabia says it is committed to zero emissions, but whether and how that commitment transforms a fossil fuel economy is an open question," says Keynoush.
Saudi Arabia came under public scrutiny in late 2021 when it was revealed in leaked documents that it had requested scientists on the Intergovernmental Panel on Climate Change to delete a conclusion that the energy sector must focus on "rapidly shifting to zero-carbon sources and actively phasing out fossil fuels".
The kingdom is clear that it wants oil to remain a big part of its economy for the foreseeable future; it is less forthright about its energy transition strategy. NEOM provides a bold and innovative, yet so far largely intangible, vision for the Gulf's future. If Saudi Arabia was less protective of fossil fuels and more candid about the energy transition, it would bolster NEOM's likelihood of success as a net-zero pioneer.