On 31 March, Russian President Vladimir Putin issued a decree to force countries that are "unfriendly" to Russia to pay for Russian gas in rubles. On 27 April, Bulgarian and Polish state gas companies refused to pay in rubles and Gazprom halted natural gas deliveries to both countries.
Energy Monitor's weekly data investigates whether Bulgaria, a country that received more than 75% of its imported natural gas from Russia up to 27 April, can weather the consequences of the war in Ukraine.
Despite Russia being its biggest source of gas, data from Bulgaria's Ministry of Energy shows that Bulgaria is a country with a relatively low dependency on gas. Only a small percentage of buildings use gas for heating, and coal and nuclear plants are the main pillars of the electricity sector, accounting for 50% and 35% of the power mix, respectively. The country's main gas consumer is industry – namely the chemicals, glass and metallurgy sectors.
However, the cut-off from Russian gas comes at a time of low preparedness in Sofia. In comparison with Poland, Bulgaria has very low levels of gas in storage; storages are currently around 20% full.
In addition, Poland has been working to diversify its gas supplies on multiple fronts – from the Baltic pipeline that will create a gas connection between Poland and Norway, to the Gas Interconnection Poland–Lithuania pipeline, which will connect Poland to the Baltics and Lithuania's liquefied natural gas (LNG) port in Klaipėda.
In comparison, Bulgaria's plans for diversification were delayed or on hold prior to Gazprom's decision, with the Interconnector Greece-Bulgaria project more than 12 years late and Bulgaria's caretaker government in autumn 2021 refusing to buy Azeri gas, despite it being cheaper than Russian gas.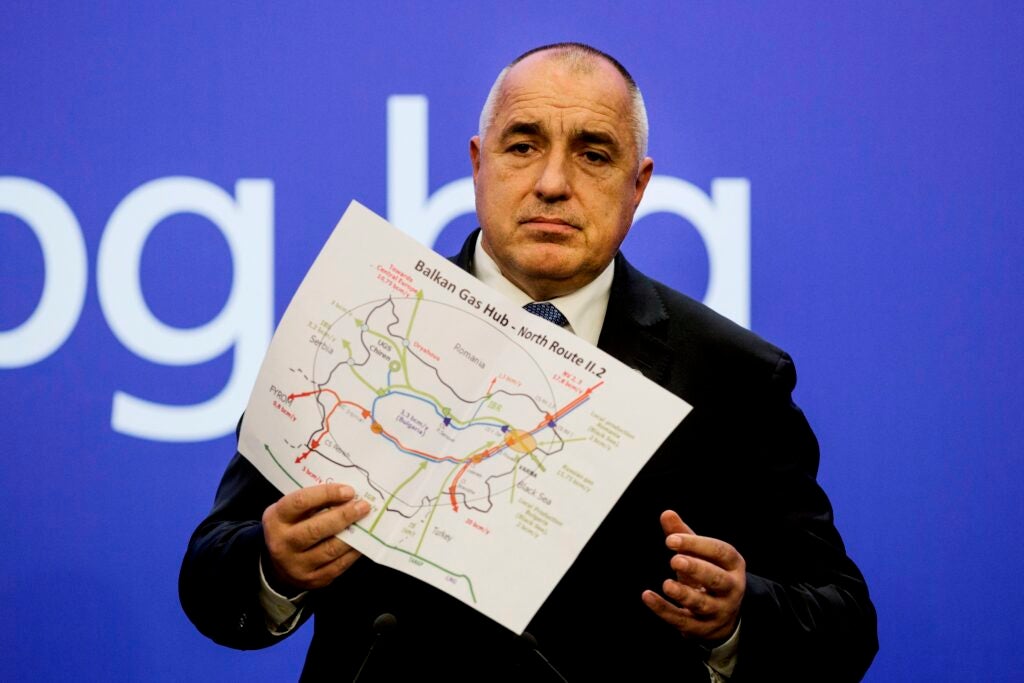 Efforts have been resuscitated following Gazprom's announcement, but prospects for immediate alternatives to Russian gas seem dim.
Despite Sofia's small annual gas consumption of 2.4 billion cubic metres (bcm) in 2020, the country has managed to secure just 200 million cubic metres of LNG from the US, following a visit there by Prime Minister Kiril Petkov. Two US LNG tankers are supposed to arrive in early June, but their cargo will not be enough to meet Bulgaria's needs. In addition, the government has now managed to secure gas from Azerbaijan, with Energy Minister Alexander Nikolov stating that deliveries of 1bcm will start flowing to Bulgaria as of July 2022.
Azeri gas and US LNG combined are still not enough to fulfill Bulgaria's needs, hence the country will have to look for other long-term alternatives or new LNG supply contracts; the US delivery is a one-off.
The interconnector between Athens and Sofia is slated to go into operation at the end of 2022 and the Balkan country is also looking to get involved in the construction of a separate project in synergy with the Interconnector, the LNG terminal in Alexandropoulos, Greece. In August 2020, Bulgaria's national gas company, Bulgartransgaz, signed an agreement for the purchase of a 20% share of the project company. The floating storage regasification unit is set to be operational by December 2023 at the earliest, showcasing Bulgaria's urgent need to find short-term solutions.
There is uncertainty over how much new gas deliveries will cost, but Bulgarian consumers had already experienced a steep increase in the price of Russian gas delivered through pipelines.
While gas prices depend on multiple demand and supply factors, the EU Agency for the Cooperation of Energy Regulators (ACER) attributes skyrocketing gas costs first and foremost to booming global demand for LNG deliveries as a result of the economic recovery following the Covid-19 pandemic. This demand has been fuelled in particular by north-east Asian and South American customers. Other factors are Europe's lower-than-average gas storage levels and the rising EU carbon price, ACER suggests. The Bulgarian government has not intervened on gas prices to protect vulnerable households, despite providing state aid to private businesses and energy companies to offset the impact of high electricity prices.
Most recently, in April 2022, the European Commission endorsed the country's €6.3bn Covid-19 recovery and resilience plan. Commission President Ursula von der Leyen has hailed Bulgaria's proposal – which aims to cut CO2 emissions in the power sector by 40% by 2025 and triple power generation from renewables – as "one of the greenest plans". It remains to be seen whether Bulgaria will manage to achieve the objectives it has set, considering that with the gas halt, the country's coal exit might be up for renewed debate.