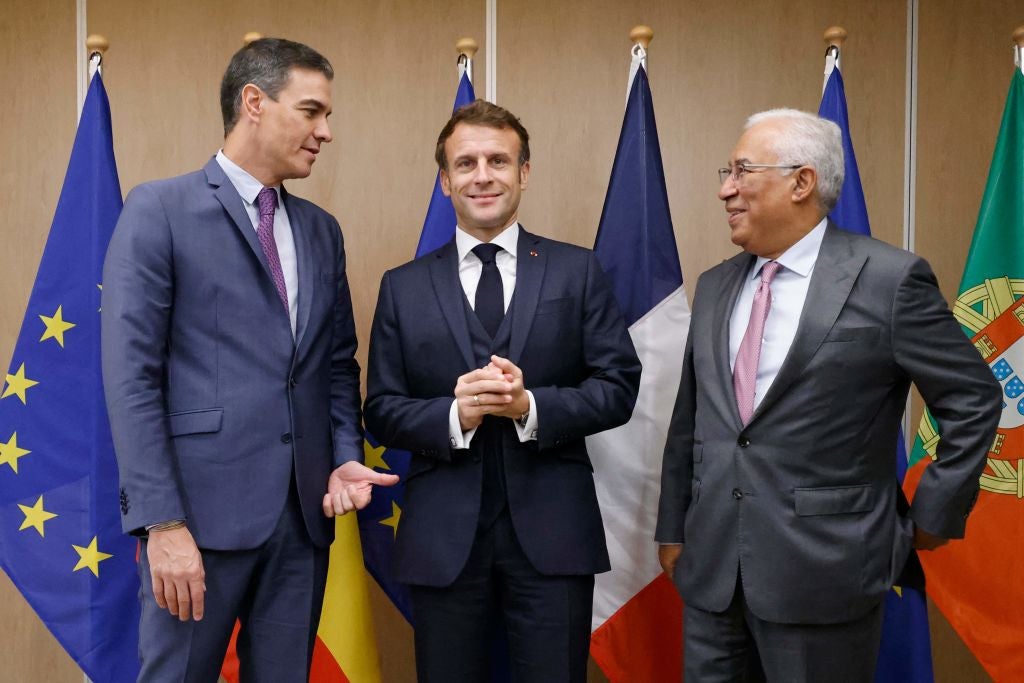 After several months of deadlock, the leaders of Spain, France and Portugal agreed on 20 October to move ahead with a new "green energy corridor" that will connect the Iberian Peninsula with France for green hydrogen transport and, during a transitional period, natural gas from south to north. In other words, the 'BarMar' pipeline replaces the long-stalled 'MidCat' pipeline as a new route for liquified natural gas (LNG) imports to Germany – now all the more urgent to replace Russian gas.
Spain's Prime Minister Pedro Sánchez, Portuguese PM António Costa and French President Emmanuel Macron met on the sidelines of a European Council summit where EU leaders endorsed a "temporary dynamic price corridor on natural gas transactions" and joint purchases of gas.
The new French-Spanish project consists of an undersea pipeline that would connect the cities of Barcelona and Marseille. BarMar "must be technically adapted to transport other renewable gases, as well as a limited proportion of natural gas as a temporary and transitional source of energy", said the three leaders in a joint declaration.
In addition to the new pipeline, the agreement also envisions the development of new gas interconnection capacity between Spain and Portugal and speeding up the development of a power link in the Gulf of Biscay connecting Spain and France.
Since Russia's invasion of Ukraine, EU capitals have scrambled to find alternatives to the supply of Russian gas – and given that the 27-nation bloc has proposed an objective to fully get rid of Russian gas by 2027, more gas is expected to flow from west to east.
Moreover, significant developments have taken place in the field of 'green' (renewable) hydrogen. The European Commission's REPowerEU plan in response to the Ukraine War doubled to 10 million tonnes the ambition for green hydrogen production in the EU by 2030.
How well do you really know your competitors?
Access the most comprehensive Company Profiles on the market, powered by GlobalData. Save hours of research. Gain competitive edge.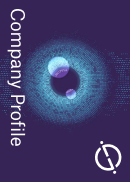 Company Profile – free sample
Thank you!
Your download email will arrive shortly
Not ready to buy yet? Download a free sample
We are confident about the unique quality of our Company Profiles. However, we want you to make the most beneficial decision for your business, so we offer a free sample that you can download by submitting the below form
By GlobalData
The BarMar project will "anticipate itself to the future", Spain's environment minister Teresa Ribera said in an interview for regional newspaper La Vanguardia in October. However, the project will do little to address the current gas supply shortage and energy price crisis.
MidCat is dead, long live BarMar
The BarMar agreement is the nail in the coffin for the so-called 'MidCat' (Midi-Catalogne) project, a Spanish-French gas pipeline discussed since the early 2000s. The circa 200km project was meant to be an overland pipeline between Hostalric in Catalonia and La Perthus and Barbaira in the south of France. Construction began in 2013 and 86km between the Catalan cities of Martorell and Hostalric have already been built.
However, in 2019, the Spanish and French energy regulators negatively assessed the economic viability of the MidCat project – with estimated costs amounting to some €3bn – and argued that the interconnection was not needed. The project did not make it onto the Commission's list of Projects of Common Interest (PCI) in 2019 or 2021 (the list is issued once every two years).
MidCat also saw staunch opposition from environmental activists on both sides of the border, who opposed the construction of additional gas infrastructure and warned against harm to the region's biodiversity.
Nevertheless, the project re-emerged this year in response to the energy price crisis. It was publicly endorsed by German Chancellor Olaf Scholz, who saw in MidCat an opportunity to ship LNG regasified in Spain and Portugal to Germany and Central Europe via France.
"Back in 2019, the project didn't appear to have any strategic value," says Ramon Mateo, director at Madrid-based consulting firm beBartlet. "It didn't make much sense if Spain and France were investing in renewables and Germany had access to cheap Russian gas.
"The context has now changed: a deeper interconnection with southern Europe would support the EU's energy security, and there's been notable developments in the field of green hydrogen in recent years," Mateo continues. "Even from the economic point of view, high gas prices have made infrastructure investments like this much more profitable. There's an economic opportunity, but also a strategic opportunity."
At first glance, the abandoned MidCat project and BarMar appear similar: both were meant to connect Spain and France, and both were meant to transport green hydrogen – and natural gas in a transitional period – from the Iberian Peninsula towards Germany and Central Europe via France.
However, the logistics of the BarMar pipeline are different: while MidCat was meant to be overland, BarMar will be an undersea pipeline. Moreover, the project is meant to connect two of the Mediterranean's most industrialised cities.
"Considering long-term hydrogen infrastructure, hydrogen pipelines could make sense if they help meet the needs of industrial zones," says Nicolas Berghmans, lead for European affairs and energy and climate expert at French think tank IDDRI. "BarMar would link two industrial clusters such as Barcelona and Marseille, and we know that hydrogen is to a large extent meant to meet industrial needs."
An undersea pipeline brings complexity to the whole project – it will take longer to build and it will be more expensive, said Berghmans. "This is clearly not a short-term solution as a way out of the crisis, but a long-term investment," he told Energy Monitor.
Still, climate activists fear the project will give the natural gas industry a lifeline. "This proposal 'greenwashes' the gas industry and will make use of financial resources that should be directed to real solutions that can be readily implemented, such as the massive deployment of renewables and energy efficiency measures," said a coalition of environmental NGOs including the Spanish branches of Friends of the Earth, Greenpeace and WWF in a joint statement on 21 October.
"The proposed infrastructure does not respond to the needs of citizens to face the energy crisis and drifts us further away from a just energy transition," they added. "The difficulties at technical level reveal that this is a project promoted by the gas sector," the statement added, referring to the complexity of building an undersea pipeline.
The French U-turn
France had long opposed the MidCat project. "A large part of the [MidCat] pipeline would have been laid out in French territory, which means that a large part of the investment would have been borne by France," Berghmans explains. MidCat was not eligible for EU funding as it did not make it onto the PCI list; leaders in both Madrid and Paris hope that BarMar would be eligible.
In addition, MidCat would have bypassed France's own regasification terminals. Instead, the BarMar pipeline connects two Mediterranean cities near two LNG terminals – the Barcelona regasification terminal and the Fos Cavaou terminal close to Marseille, in France.
The new project could ease an additional hurdle: France has two gas transmission system operators – Terega for the region of Occitania and its interconnection with Spain, and GRTgaz for the rest of the country and other interconnections. Connecting Barcelona and Marseille would bypass the Terega network and connect with the already constructed GRTgaz infrastructure, which would make it substantially easier to bring the gas and hydrogen to the rest of Europe, beBartlet's Mateo said.
[Keep up with Energy Monitor: Subscribe to our weekly newsletter]
"France also scored a partial victory," Mateo adds, "because MidCat had strong opposition in the French Midi [region] as a result of its environmental impact on the ground. Macron could try to sell the fact that he has fought for the interests of French citizens in the area and won."
However, one of the main reasons for France's opposition to MidCat was Paris's desire to protect the country's nuclear energy production from any competition, notably renewable energy coming from the Iberian Peninsula.
While the agreement between Spain, France and Portugal insists on the need to accelerate the construction of a power link in Biscay, the deal does not make any mention of two other electricity interconnection projects that were planned between Spain and France through the Pyrenees. Some suggest the agreement reached last week may have 'ditched' these two projects, therefore securing France's opportunity to continue selling its nuclear electricity to the rest of Europe without much competition.
The deal was heavily criticised by politicians in opposition in Portugal. "This deal undermines the objectives to achieve an Energy Union," says Lidia Pereira, a Portuguese member of the European Parliament for the centre-right EPP group. "The biggest winner is France, who will be able to continue building nuclear reactors and selling its nuclear energy rather than allowing cheap renewables from the Iberian Peninsula to flow [to the rest of Europe]."
"It is essentially undermining projects that were already scheduled, such as the two interconnections in the Pyrenees, for other projects that are not sustainable and [not] proven," Pereira told Energy Monitor. "This solution is not addressing energy independence and access to clean energy."
Many 'unknowns'
Spain's Sánchez, France's Macron and Portugal's Costa will meet again on 9 December in the Spanish coastal city of Alicante to outline the details of the BarMar pipeline.
This summit is supposed to lay to rest many doubts and question marks around the pipeline, including timings, capacity, and how much and how it is going to be financed.
The date by which the project is meant to be completed is already causing some friction between Madrid and Paris. While Spanish environment minister Teresa Ribera said the project could be completed in just four to five years, the Elysée insists it will not be ready until at least 2030.
The project also relies on green hydrogen production capacity in Spain and Portugal that is yet to be realised.
"With hydrogen there's a lot of unknowns," says Berghmans. "We know it's needed in industrial clusters, but there's little understanding around the infrastructure needs."
"If hydrogen needs are high, then it makes sense to invest in hydrogen corridors, and in that case BarMar has a lot of potential to supply to the rest of Europe," he adds. "However, if hydrogen demand is very concentrated in few sectors we might not need this infrastructure."
Both the Spanish and Portuguese governments have issued their own national hydrogen strategies, with the aim to contribute to the EU-wide objective of installing 40 gigawatts (GW) of electrolyser capacity in the EU to generate green hydrogen by 2030. Spain aims to install 4GW, whereas Portugal expects to contribute to the EU goal with 2–2.5GW.
However, while the Iberian Peninsula has favourable conditions to produce green hydrogen, beBartlet's Mateo says Spain needs to further define its ambition and objectives. "There are still several question marks: do we simply want to replace gas with hydrogen, or to export it to other countries? In that case 4GW by 2030 is not massively ambitious," he says.
"It is an adequate level of ambition, but if you would aim to position Spain as a leader, more capacity will likely be needed."