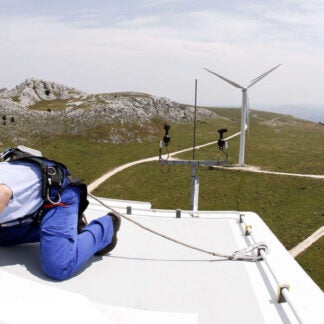 GlobalData insights state that renewable energy held a 19% share of the US's total power capacity in 2020, and this is expected to increase to 48.4% by 2030. This means that over the next decade, more money is expected to be invested in constructing and maintaining these energy, power and utilities industries, including wind and solar farms.
Workers in these industries will face several of the same safety hazards than other industrial sectors, including the risk of falls and slips. For Carroll Technologies, providing workers with the best fall protection equipment is a key priority.
Wind turbine fall protection
OSHA fall protection standards require that any personnel working on a surface more than 6ft high with an unprotected edge must have fall protection equipment.
For offshore wind farms, good practice guidelines from the G+ Global Offshore Wind Health and Safety Organisation state that sites need to have collective protection (such as fixed guardrails), and personal protection (such as fall prevention or restraint systems).
Both onshore and offshore wind farms will require guard rails, safety nets, and personal fall protection equipment (such as lanyards and harnesses) to keep workers safe when they are required to climb turbines.
Fall protection for solar installers
Solar installation and solar panel maintenance will typically take place on roofs, so it is essential that workers are kept safe. Workers installing solar panels above a height of 6ft will require fall protection equipment such as lanyards and harnesses, as well as adequate safety anchors.
Alternative energy companies and fall protection
Carroll Technologies has searched and tested the market to find the best fall protection equipment for energy, power and utilities industries.
Carroll supplies rugged, energy-absorbing lanyards that keep fall arrest forces below 6 kN. MSA's restraint lanyards are designed to be placed between the anchor point and the harness, which prevents workers from dropping into the fall area.
Honeywell's Miller brand provides a high-quality range of full protection solutions, including its harness and fall limiters. The Miller AirCore harnesses are lightweight and made from corrosion-resistant aluminium and breathable open-core padding to allow for optimal airflow, as well as reduced heat and moisture entrapment.
Fall protection equipment available through Carroll Technologies includes:
MSA retractable lanyards
MSA vest-style harnesses
MSA full-body harnesses
MSA lanyard restraints
MSA trauma prevention
MSA lanyards with hooks
Honeywell Miller AirCore harnesses
Honeywell personal fall limiter