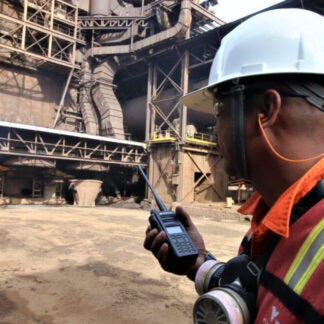 The energy industry operates in many challenging and remote environments, and any disruptions or downtime is costly. Effective communication solutions for the energy industry are key to ensuring that operations run smoothly and that any problems are corrected quickly should they arise.
Adverse environments make it difficult to develop reliable communication solutions, and those working in the energy industry need a system that they can depend on to facilitate collaboration and report any problems.
Reliable communication solutions for the energy industry
Carroll Technologies is dedicated to finding the most reliable and effective communication solutions on the market. With PBE Group, customers can be sure to have clear and undistorted communication.
PBE Group has extensive experience providing customized communication solutions to energy, construction, mining and tunneling industries. PBE's team is focused on building long-term relationships with its customers to provide perfect execution and delivery of its safety and communication solutions. From handheld radios to fixed phones, and from man-down features to bullhorn speakers, PBE can supply communication solutions perfectly calibrated for any energy industry application.
PBE's 112S/S Standard GEN II Model 112 page phone features sounder strobe for increased audible and visual alerts in noisy working areas, whereas the model 111 Page Boss is fitted with a bullhorn speaker, 110 or 220 VAC power supply and 12VDC output. The model 140 Page Boss features a touch tone keypad that can make calls through Model 139 or operate as a standard 12 VDC paging phone
PBE also supplies and installs leaky feeder cable. Any leaky feeder system can be customized for specific site requirements to ensure the best radio coverage and data communications.
Ensuring safety and productivity for its customers is key, so PBE is ISO-certified and ATEX-approved. For more information about PBE products, or to find out what communication solutions are best suited for your site, call Carroll on 606-573-1000 or send an inquiry here.