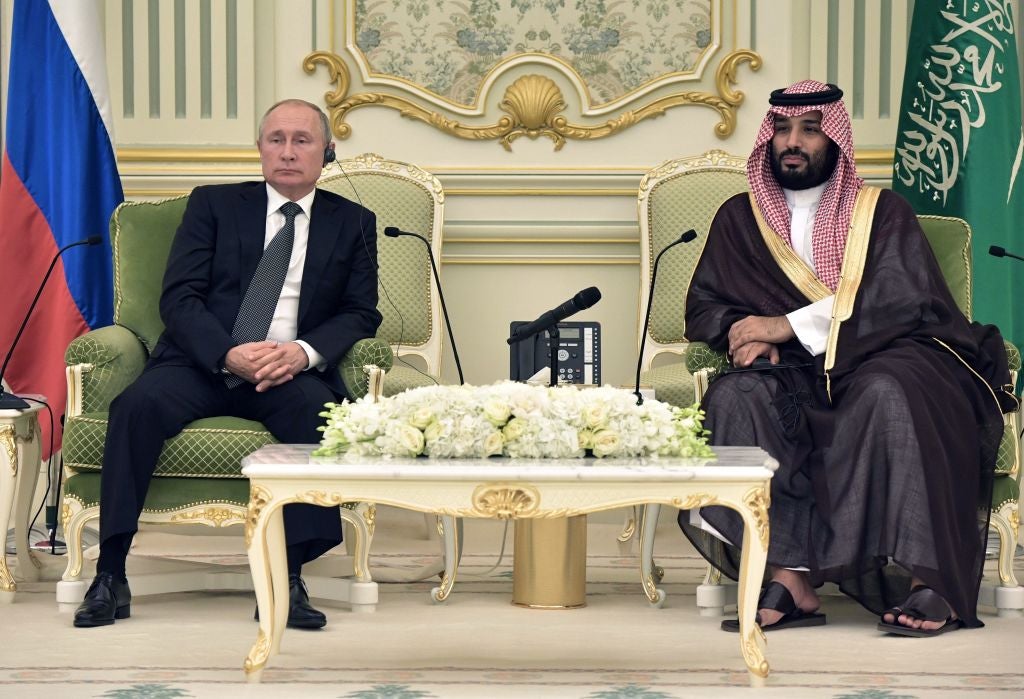 In the wake of the Russian invasion of Ukraine and the resulting sanctions on Russian oil, world leaders (particularly those in the West) have been playing a tricky balancing game. As oil prices continue to climb, Western leaders are having to confront the need for alternative supplies while withstanding pressure to fulfil carbon emission quotas. Alongside this, geopolitical relationships are under heavy scrutiny, with economic deals increasingly viewed as a seal of approval for the leaders of the country on the sell side.
After Ukraine… The spotlight falls on Saudi Arabia
Despite Venezuela having the largest global oil reserves, ever since the invasion of Ukraine the global spotlight has fallen more firmly on Saudi Arabia – as the largest global exporter of oil – with regards to the role it can play in the future of the West's energy security strategy.
Saudi Arabia has been subject to a number of controversial headlines in recent years with the Crown Prince, Mohammed bin Salman – who has been leading the conservative nation since 2017, drawing criticism for ruthlessly silencing his critics. Most infamously, journalist Jamal Khashoggi who was assassinated at the Saudi consulate in Istanbul in 2018.
Another area of criticism for the country lies in the ongoing armed conflict in Yemen, which intensified in 2015 after a Saudi-led coalition (backed by the US, the UK and the United Arab Emirates) used military intervention to stifle the uprising of the Houthi rebellion. As recent as March 2022, air strikes have been ordered by the Saudi coalition in the Yemeni cities of Sanaa and Hodeidah, in retaliation to attacks on Saudi oil facilities. As a result of the conflict, Yemen is home to one of world's largest humanitarian crises, with Unicef estimating that there are approximately 23.7 million people in need of assistance.
Amid this conflict and criticism, Bin Salman's Vision 2030 strategy – a plan to diversify the Saudi economy away from oil – has seen huge investments go into hosting prestigious sporting events and the introduction of simplified tourist visas to boost the country's tourism industry.
It is through such ambitious policies that Saudi Arabia has been positioning itself as a global power. As Russia continues its assault on Ukraine and sanctions against the country are solidified, Western leaders are considering their own energy security and are having to contemplate their stance on Saudi Arabia and its oil.
Biden's strained Saudi relationship
When President Joe Biden stepped into the White House in January 2021, he embarked upon a relationship with Saudi Arabia that stood in stark contrast to that of his predecessor, Donald Trump.
Trump stated in March 2018 that relations between the two countries were good, highlighting the billions in investment that had been exchanged between the two, all while sat next to a smiling Bin Salman. In 2022, it is being reported that Biden cannot get through to Saudi leaders on the phone to discuss an increase in the production of oil.
With Biden facing problematic mid-term elections later in the year, the pressure is on for the president to take action to lower gas prices in the US. So far, however, Saudi Arabia does not seem to be offering a solution. In the unlikely event of any deal being agreed between the two countries, it would then be subject to a high level of public and congressional scrutiny, given the reputation of Saudi Arabia as an oppressive country.
Furthermore, Sanam Vakil, deputy director of the Middle East and North Africa programme at international affairs think tank Chatham House, says: "Saudi Arabia has an Opec+ arrangement. That includes Russia and maintaining this arrangement has been strategically important for Saudi Arabia." Established in 2016, Opec+ is an agreement between 23 oil-exporting nations – led by Saudi Arabia – that would see crude oil production reduced in a bid to cause an increase in oil prices.
Vakil adds that Saudi Arabia's refusal to increase oil output in a bid to lower prices (a stance upon which it has been joined by the UAE) is exacerbating tensions between the country and Europe and the US.
Alongside this, the decision to eliminate the International Energy Agency's (IEA) numbers from the Opec+ assessments of the oil market was largely driven by Saudi Arabia. It was reported that this was due to Saudi's concern that the US had too much influence over the IEA figures. The US is seen as the IEA's most influential member, and this move shows just how high the level of mistrust is between the US and Saudi Arabia.
Despite these strains in the relationship between Saudi Arabia and the US in particular, Vakil is optimistic that they will improve. "There has been a reset in the US-Saudi relationship since Biden came into office." he says. "Perhaps we could say that there's been an overcorrection to compensate for what we saw during the Trump period. I hope and I expect that there will be a rebalancing from that overcorrection, but it can't be done immediately, because of the optics in both Riyadh and Washington."
Another factor to take into account is that Saudi Arabia has tilted more towards China in recent years when it comes to investment. Given the trade wars between the two countries, this has caused both anger and consternation in the US. Moreover, Saudi Arabia overtook Russia as the largest exporter of crude oil to China in January and February of 2022; further cementing strong trade ties between the nations.
Climate concerns versus energy security worries
Europe has different vulnerabilities to the US when it comes to the question of energy security. On 11 April, 2022, during talks in Vienna, Opec warned the EU that continued sanctions on Russian oil could create a record-breaking oil supply shock for the continent, which could be impossible to replace.
Many European leaders appear to be revaluating their energy security. The UK Prime Minister Boris Johnson held talks with Bin Salman in Saudi Arabia in March 2022 but returned without a pledge from Saudi Arabia to boost oil supplies. The UK appears to be positioning itself to boost production from its own shores, as highlighted by the recent controversial sale of Cambo oil field.
More generally, the EU appears to be split on the level of restrictions when it comes to the purchase of Russian oil. During a meeting of all 27 EU countries in Luxembourg on 12 April, 2022 there were reports of a growing rift between member states on whether to enact further sanctions against Russia, though the bloc is maintaining a united front for the time being.
As the EU continues to make moves that will reduce its dependency on Russian gas, there is widespread public distaste regarding the potential embrace of other oil-rich countries with repressive regimes, such as Saudi Arabia. Moreover, there is backlash more generally about any expansion of the production of oil due to climate concerns.
Despite this, Vakil says: "What is abundantly clear is that Europe and the US need diversification in their energy dependency, and so we will see the development of a diversified energy policy. How that is going to be executed, with climate change pressures and concerns over human rights violations, is going to be interesting to watch."
He adds that many Western countries are hedging, waiting and watching to see how the Russian invasion of Ukraine plays out over the longer term. In the meantime, civil, if not warm, relations with more palatable oil-rich countries is likely to prove preferable to Western leaders under pressure to improve their energy security and tame the cost of living crisis.
Investment Monitor parent GlobalData is providing an ongoing analysis of the war's impact across business sectors.