Rapidly ramping up investment in renewable energy is the quickest and cheapest way to meet South Africa's growing energy demand and reduce carbon emissions. However, the government still seems wedded to building new coal-fired power plants, and climate campaigners are concerned it may be pushing forward with gas exploration and imports to placate vested interests.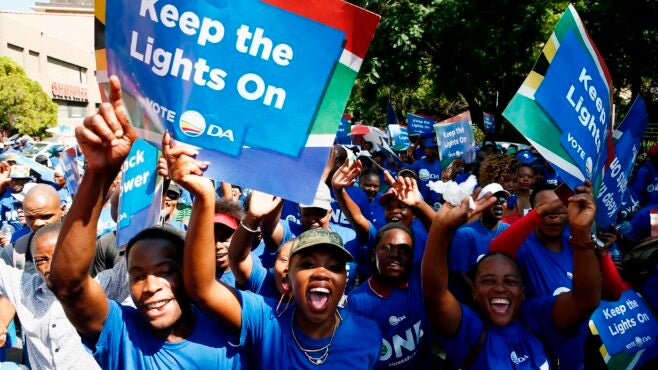 The government is increasingly aware that South Africa's coal is at risk of becoming a stranded asset, but "so much has been invested politically and financially in the coal market, they don't know how to deal with it", says one South Africa-based energy consultant, who wishes to remain anonymous. "The last 20 years in this country have not been about economic growth, they have been about the enrichment of vested interest and privileged networks. You can see people still clinging to that – and justifying it because thousands of jobs still depend on it."
However, external forces may be forcing policymakers to change tack. The new Medupi and Kusile plants, which will bring 10GW of coal-fired capacity onto the system by 2023 or 2024, could be the last coal-fired power plants to be commissioned in the country.
For six years, project developers have been trying, and failing, to finance two other coal-fired power plants – the 630MW Thabametsi and 300MW Khanyisa projects. Both are being challenged in court on multiple environmental grounds; Khanyisa's environmental authorisation has expired and, in October, Korea Electric Power Corporation announced it would not invest in new overseas coal power projects. It will either cancel the Thabametsi project or look at ways to run it on liquified natural gas (LNG).
South Africa is likely to come up against similar challenges when it tries to finance and develop new coal-fired capacity proposed under its latest integrated resource plan (IRP), the most recent ten-year national electricity plan that was approved in October 2019. The first 750MW plant is expected to be brought online in 2023, followed by a second 750MW plant in 2027. However, financing these plants looks "unlikely given that local commercial banks and international owners are exiting fossil fuels", says Jesse Burton, senior associate at climate think tank E3G.
The development banks, international financial institutions and export credit agencies (ECAs) South Africa has traditionally relied on to fund its power projects are all moving away from coal. Eskom, South Africa's public electricity utility, could help ease its staggering R488 billion (€26.7bn) debt burden by accessing cheap financing offered by some of these institutions to encourage decarbonisation.
Since 2017, the OECD has restricted the coal projects to which members can lend. While loopholes have allowed deals to slip through and coal financing surged in the years immediately after the deal was signed, countries are now making stronger commitments to stop financing fossil fuels. The UK's ECA UKEF will no longer lend to coal projects; Sweden's ECA, AB Svensk Exportkredit, has limited lending to oil, gas and coal to at most 5% of its total lending; and France's ECA banned export credits to coal in 2019. Even China, Korea, Japan and Canada, which previously accounted for 79% of G20 ECA fossil fuel support, look set to scale back.
"There is still some coal finance out there, but almost none of it is government backed, so it is more risky and more expensive," says Bronwen Tucker of Price of Oil, which tracks ECA financing.
Even commercial banks in South Africa are withdrawing from the sector. The country's top five wealthiest local banks have started releasing publicly available policies on financing fossil fuels and have improved their disclosure on climate-related risks. Nedbank has indicated it will not fund any coal-fired power stations, while the other four banks have increased restrictions on financing new coal-fired power and require enhanced due diligence.
"None of the big five banks has excluded funding coal mining in South Africa, but neither will they fund Thabametsi or Khanyisa, at least with the technology that, to date, has been proposed," says Robyn Hugo from Just Share, a Cape Town-based non-profit organisation. "Banks are increasingly understanding their role and improving their disclosures and policies, but could and should take more meaningful and decisive steps, and do so more speedily."
South Africa's development finance institutions, such as the Development Bank of Southern Africa and the Industrial Development Council (IDC), have not made as much progress in terms of public disclosure as local commercial banks. However, there are indications they are starting to shift. The IDC has initiated a review to determine its position on financing new coal projects and recently declined to extend funding to Resgen's Boikarabelo thermal coal mine, says Mike Davies, director at Kigoda Consulting, which focuses on sustainable investment.
Even the ruling ANC party, which had previously debated whether to use "prescribed assets" to force pension funds to invest in new coal projects, "has recently shifted away from this approach, towards one that will lift current limits on pension funds investing in [all] infrastructure", he adds.
Retiring old coal early
However, cancelling new plants is not enough.
"Even if all the planned and announced plants are shelved, operating coal plants exceed Paris benchmarks by four times in 2030 and more than 20 times in 2040," says Just Share's Hugo.
The IRP assumes all coal stations will run to their design life end dates, but this looks unlikely. Even without taking into account carbon emissions, there could be a strong economic case for retiring them early. The costs of operating and maintaining older power stations, many of which have not had any major overhauls, are likely to become prohibitive, especially if the government forces Eskom to comply with minimum emissions standards. Most of the company's coal fleet would require retrofitting to meet air emissions standards, something the utility has said it cannot afford.
Eskom has continually sought to postpone its requirement to meet the standards, but a recent change in the emissions law could stop this. Power stations that cannot immediately meet the standards may now either be granted a five-year postponement and then must comply by March 2025, or may be granted a one-off suspension from the standard provided they are decommissioned by 2030.
If the utility wants to access green finance it will need to "drastically change its practices and reduce emissions – moving over to clean electricity generation sources", says attorney at the Centre for Environmental Rights Nicole Loser.
Terminal decline of coal
There is also the issue that global trade in coal is decreasing and will continue to do so. India, South Africa's largest export market, is stepping up efforts to limit coal imports to protect jobs in its own coal industry and improve energy security. China, the world's largest importer, has said it is targeting net-zero emissions before 2060, while Japan and South Korea, the world's third and fourth-largest importers of thermal coal, respectively, have announced they are targeting net-zero emissions by 2050. Pakistan last year cancelled a new coal-fired plant, and is redrafting its renewable energy strategy.
As more of South Africa's trade partners move towards a path consistent with the Paris targets, the financial risks of not following suit will become even more pronounced.
"South Africa is one of the least prepared countries in the world for the low-carbon transition," says Hugo. "We face a staggering $125bn in transition risks, resulting from the country being locked into fossil fuel-dependent infrastructure."
Eskom and the ANC are aware of these risks and have started making some moves towards a "just transition" to ensure the estimated 120,000 workers employed in the sector are not left jobless. Progress has been slow, but efforts by unions and environmental groups are starting to pay off. The government has created a Presidential Climate Change Coordinating Commission to coordinate and oversee the transition, and is looking at how to develop regional strategies. Eskom also recently established a Just Transition Office.
In Mpumalanga, home to some of the world's most polluting coal-fired power plants, the provincial government is starting work on implementing its green economy plan.
"It is nascent, but they are taking the risks related to coal a lot more seriously than some people sitting in Pretoria," says Burton. Eskom is looking at repurposing four coal-fired plants in the province that are scheduled for decommissioning between 2021 and 2028 with low-carbon alternatives.
Filling the coal gap
As wind and solar energy are the lowest-cost sources of new power generation – and South Africa has plenty of sun, wind and land – renewable energy should play a major role in replacing the capacity gap left by coal. However, new gas-fired power is increasingly on the table. South Africa's IRP forecasts an additional 3GW of gas-fired capacity will come online by 2030 – 1GW in 2024 and 2GW in 2027. The government is also planning a tender to establish the first LNG-to-power into Coega in the south of the country.
"If you develop gas-fired power [at the repurposed coal sites], you keep jobs, you produce less CO2, less SOx, less NOx, no ash, use far less water," says Paul Eardley-Taylor, Standard Bank's head of oil & gas Southern Africa. "The only issue is a long-term supply of natural gas feedstock, but once the Matola terminal comes online in Mozambique, that will be solved."
Total and South African gas facilities developer Gigajoule have signed an agreement to import LNG into Matola, a suburb of Maputo, Mozambique's capital. It will likely be possible to secure ECA and other concessional financing to help develop the schemes, believes Eardley-Taylor.
However, environmental groups argue the role of gas should be kept to a minimum given it is still a fossil fuel producing greenhouse gas emissions not in line with the Paris Agreement.
"We need some flexible capacity to complement wind and solar, but this could be part of a portfolio of dispatchable generation, some batteries, some gas," says Burton. "Running gas at baseload is very expensive, when South Africa has extraordinarily good renewables resources. Rather than following the US model, where gas replaces coal with some renewables, it is cheaper and more sustainable to move away from fossil fuels, straight to big renewables – that is the least-cost solution based on all the modelling that has been done."
The push for gas
Unlike coal, South Africa doesn't produce its own gas. The government hopes to accelerate investment in exploration and production as part of the country's post Covid-19 recovery efforts. Total announced at the end of October that it had made a second "significant" gas condensate discovery in the Outeniqua Basin, 175km off the country's southern coast. The government is also examining new regulations to encourage shale gas exploration – a move which has been met with a huge environmental backlash, particularly as exploration would focus on the water-scarce region of the Karoo.
Gas could become the next coal from a political and an emissions perspective, warns climate justice campaigner at 350 Africa Alex Lenferna. "Large-scale centralised energy projects allow greater scope for patronage and corruption as economic gains are concentrated with a handful of people in a way that more distributed renewable energy power is not," he says. "There are multiple lines of evidence the government is making a stronger political push for gas."
Even the presidential economic advisory council seems concerned about plans to address a short-term electricity supply gap of around 2GW between 2019 and 2022 with gas.
"Instead of aiming to bring online the low-hanging fruit of short-lead-time, already developed and permitted renewable projects, the widely held view in the industry is that the 'emergency' power producer procurement programme request for proposals is 'extremely complicated' and appears to be specially written for more expensive power ships [floating power stations that can be connected to onshore grids, developed by Turkey's Karpowership] and gas-to-power projects, and to exclude competition from renewable projects," says the council.
In addition to environmental concerns, since LNG-to-power projects and power ships are complex, it is unlikely they will be online in time to address this power shortage.
"Renewables are the cheapest and fastest source – and the least harmful to people and planet – to fill this gap," says Hugo. "'As a result, government plans that prioritise fossil fuels over renewable power and storage capacity would be misguided."
Leigh Elston is an energy journalist based in Maputo, Mozambique.