The Gulf of Mexico is the hub of the US offshore oil and gas industry, but by the end of the decade, oil and gas companies in Texas and Louisiana could be busy helping to deliver a new energy source to shore – electricity from wind turbines erected in the waters of the Gulf.
Last month, Louisiana Governor John Bel Edwards asked the Bureau of Ocean Energy Management (BOEM), the federal offshore energy regulator, to establish a task force to coordinate commercial offshore wind leasing in federal waters in the Gulf of Mexico.
"This is not some 'pie in the sky' promise of economic opportunity," Governor Edwards said when announcing the move. "We already have an emerging offshore wind industry, and Louisiana's offshore oil and gas industry has played a key role in the early development of US offshore wind energy in the Atlantic Ocean."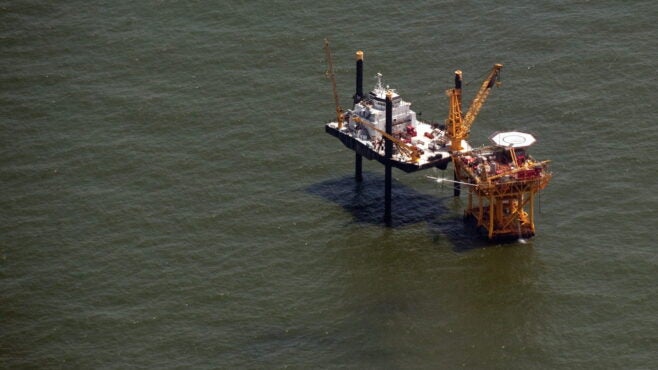 In August 2020, Edwards signed an executive order establishing a Climate Initiatives Task Force charged with recommending how Louisiana could reduce its greenhouse gas emissions by 40–50% by 2030 and to net zero by 2050. Carbon-free electricity sourced from wind farms located offshore Louisiana will likely be part of the plan.
The push by Edwards to launch the formal federal process to license wind energy development off the shores of Louisiana comes after the BOEM released two reports in April 2020 documenting the technical feasibility and economic potential of offshore wind energy in the Gulf of Mexico.
Offshore wind showed the greatest technical resource potential – 508GW – of all the offshore renewable energy technologies assessed by the National Renewable Energy Laboratory (NREL), which prepared the two reports.
"These wind resources are generally lower than in northern Atlantic and Pacific coastal states, but the quantity of resource capacity in the [Gulf of Mexico] is large, especially in shallow water less than 60m (197ft) deep," the authors wrote.
The economic analysis found that a single 600MW Gulf of Mexico offshore wind project commissioned in 2030 could support 4,470 jobs and create $445m in GDP during construction, and 150 jobs and $14m in GDP annually during operation. If developers decide to build wind projects along the Gulf Coast, the region's oil and gas sector is capable of supplying and servicing the new industry.
"The oil and gas supply chain sees this as a major opportunity moving forward," says Erik Milito, president of the National Ocean Industries Association (NOIA), a Washington, DC-based trade group. "It is really additive to what energy needs the US and the global economy are going to have over time."
Offshore energy synergies
The Gulf of Mexico accounts for approximately 17% of US oil production, says NOIA. If it were a country, the Gulf of Mexico would be the world's eighth-largest oil producer. In recent years, crude oil production in the region has averaged more than 1.5 million barrels a day.
Over many decades, the oil and gas industry on the Gulf Coast has developed know-how and resources that can be repurposed for offshore energy writ large, including utility-scale wind power projects. A NOIA-commissioned study found that the region's oil and gas industry supported 345,000 jobs.
"Offshore oil and gas projects are marine construction projects, and offshore wind projects are marine construction projects," says NOIA's Milito. "It has been nothing but positive from the oil and gas supply chain in terms of viewing this as a good opportunity."
Harry Vorhoff, deputy director of the Louisiana Governor's Office of Coastal Activities, is also upbeat about the opportunity. "The good thing is that the synergies already exist," he says. Indeed, Louisiana-based companies played a key role in building the Block Island wind farm in Rhode Island, the first commercial offshore wind project in the US. "Louisiana already has expertise in servicing offshore oil rigs," says Vorhoff. "That expertise really just feeds very nicely into this expanding industry in offshore wind."
Expect the incoming Biden administration to offer more fulsome support for offshore wind than the industry received from the Trump administration, says Erik Milito.
"They have not only placed a priority on the build out of offshore wind, but they are putting a significant focus on making sure this industry is supported by US companies, US jobs," he says. "There will be a lot of pressure coming from this administration to build out what will be a true US offshore wind sector."
Development challenges
The wind potential along the Gulf Coast is vast, especially off the coasts of Texas and Louisiana. The Gulf of Mexico accounts for approximately 15% of the gross offshore wind energy potential in the US and 25% of the technical offshore wind energy potential, shows a 2016 NREL report. Florida, Texas and Louisiana come in second, third and fourth, respectively, in a ranking of US state offshore wind technical potential. But barriers must be overcome to realise that potential.
The BOEM reports document some of the hurdles. The Gulf of Mexico is in 'Hurricane Alley', meaning offshore wind project developers in the Gulf may need to deploy turbines that can withstand hurricane-force winds. The Gulf Coast's lower annual average wind speeds offshore relative to the US west and east coasts could require the use of turbines optimised for low wind speeds. Softer soils on the Outer Continental Shelf in the Gulf of Mexico could require heavier, more costly turbine foundations.
Then there is the economics. The crescent of states that hug the Gulf of Mexico – Texas, Louisiana, Mississippi, Alabama and Florida – boast some of the US's lowest average retail electricity prices. The cheap electricity, around $0.10 a kilowatt-hour (kWh), is one reason why offshore wind development may take longer to reach the Gulf Coast despite the abundant resource.
In the economic feasibility study, NREL used a levelised cost of energy range for offshore wind of $0.095–$0.19/kWh. Rapid cost reductions and technology innovation in the offshore wind industry could render those assumptions too conservative, the researchers acknowledge.
"Offshore wind economics in the [Gulf of Mexico] could improve sooner than 2027, especially given the rapid global price declines," they write. "Under some aggressive technology development scenarios, ([for example] 15MW wind turbines) it is possible that some [Gulf of Mexico] sites could potentially reach economic viability by 2030."
The world's leading offshore wind turbine manufacturers are racing to develop mega-turbines that could make Gulf Coast offshore wind projects pencil out sooner. GE is already testing a 13MW version of its Haliade-X offshore wind turbine. Siemens Gamesa launched a 14MW offshore wind turbine in May 2020. MHI Vestas is expected to announce an even larger offshore wind turbine early next year.
From oil and gas platforms to ocean energy hubs
In addition to its experienced workforce and extensive oil and gas supply chain, the US Gulf Coast hosts offshore assets that could be enlisted in a transition from fossil fuels. Some 2,000 oil and gas platforms remain scattered across the Gulf of Mexico in federal waters. The platforms are linked to the mainland via an extensive network of pipes.
"There are a lot fewer production facilities out there," says NOIA's Milito. "At one time, there were about 4,000; now there is about 2,000. The oil and gas development has moved to deep water." The removal of shallow-water installations opens up the opportunity for wind farms offshore, he adds.
Federal law requires that platforms be removed or turned into a permanent artificial reef one year after they stop producing oil and gas, says Kent Satterlee, executive director at the Gulf Offshore Research Institute (GORI). Platform owners can, however, ask the BOEM to approve an alternative use for the platform.
Satterlee's organisation is working to do just that. GORI, a Louisiana-based not-for-profit corporation, is working to acquire and convert retired offshore oil and gas platforms in the Gulf of Mexico to hubs for marine and environmental research, aquaculture and ocean energy production. GORI's portfolio includes three offshore platforms operated by Peregrine Oil and Gas off the coast of Texas.
One potential platform conversion scenario envisaged by GORI is a "power to fuel skid." With its renewable energy partner, Houston-based Excipio Energy, GORI proposes to outfit retired oil and gas platforms with a suite of onboard equipment – such as a water desalination unit and electrolyser to produce green hydrogen – powered by wind turbines and wave energy devices sited near the platform.
"We would take wind energy and wave energy and solar energy and send that into the power to fuel skid and produce a syngas that could be used on the platform," explains Satterlee. "It could also be transported to the shore and would be either a carbon-neutral or a carbon-negative fuel," for which, he believes, people would be willing to pay extra. The low-carbon fuel could be used in aviation, shipping and other hard-to-decarbonise sectors.
"What is attractive about the Gulf of Mexico is that we have an elaborate pipeline system, much of which is no longer being used," adds Satterlee. "If we can combine offshore renewable energy with the infrastructure we have already got out there, we may have a transportation network to get that low-carbon/carbon-neutral fuel back to the beach and into distribution."
When a state as associated with oil and gas as Louisiana commits to carbon neutrality, change is afoot. Assuming the BOEM approves Governor Edwards's request to establish an intergovernmental Renewable Energy Task Force for the Gulf of Mexico, it could take two years to reach a decision on commercial leasing for offshore wind. On a track parallel to the governor's Climate Initiatives Task Force, the Louisiana Office of Energy will soon launch an effort to develop a comprehensive energy plan for the state.
"One important potential question it could answer is what is the near-shore, in-state waters opportunities for such things as offshore wind," says Harry Vorhoff. "It is all on the table. We are just starting the process to understand what the best opportunities are."