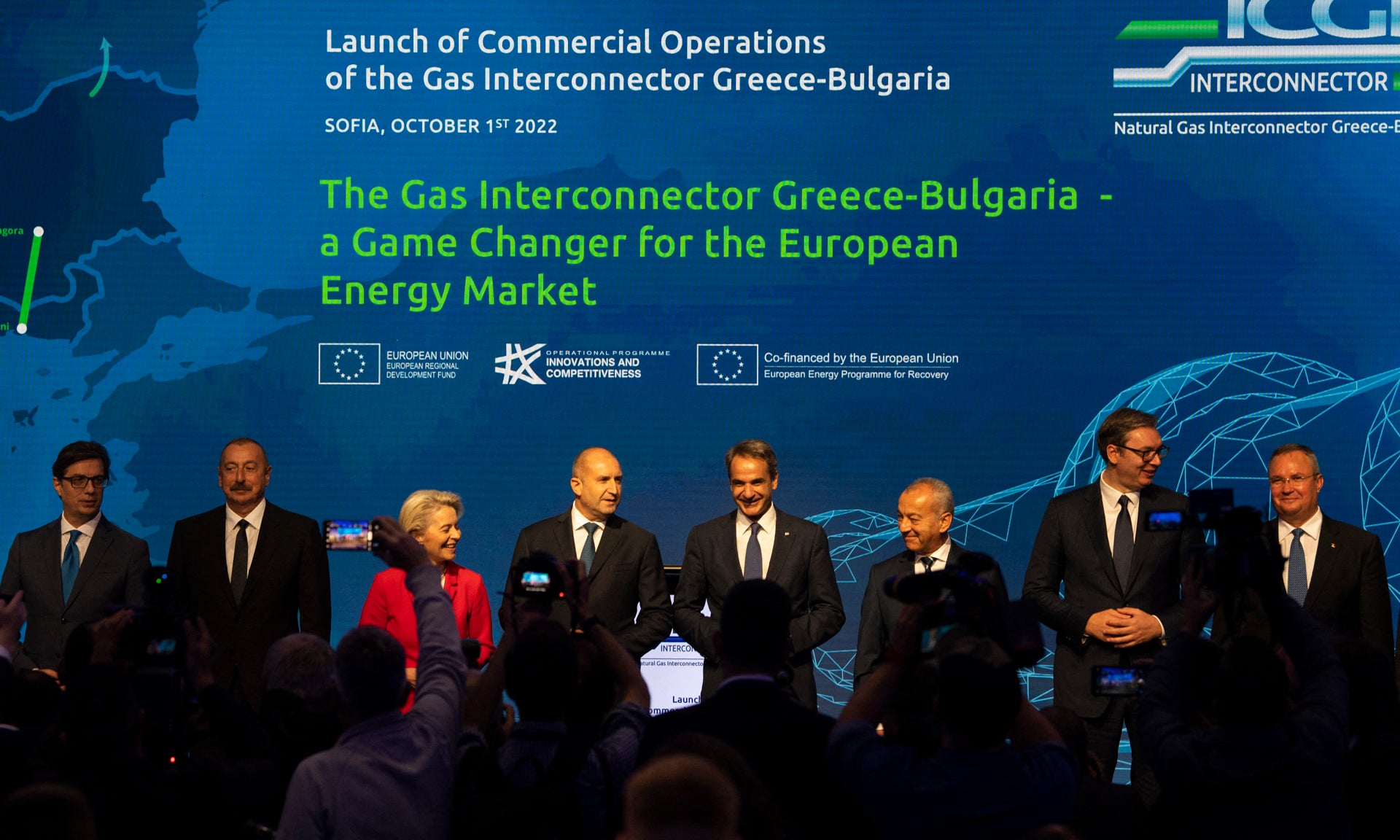 Bulgaria has had a summer of extreme weather, with floods in the central part of the country forcing hundreds to evacuate and causing massive damage to infrastructure, while coastal provinces declared a state of emergency due to hurricane-force winds. Despite its growing vulnerability to extreme weather, Bulgaria has struggled to raise its climate ambition and kick-start its energy transition. Solar and wind power made up only 1.7% of the country's total energy consumption each in 2021, and around 3% each of electricity generation.
The country's political situation has not been accommodating to major reforms that could ease renewables deployment. Bulgarians headed to the polls for the fourth time in 18 months on 2 October. The election's outcome has done little to ease the uncertainty of who will govern – the centre-right GERB party of ex-premier Boyko Borissov, blamed for presiding over a decade of corruption, won with only around 25% of the votes, necessitating coalition talks. There is already talk of a fifth snap election in early spring 2023.
In such a context it is no surprise that political fatigue has claimed big parts of society on various issues – a recent sociological study shows that 76% of Bulgarians do not know what the country's climate policy is.
However, not all can be blamed on a rocky political situation – GERB managed to rule almost uninterrupted from 2009 to 2021 and one of its most notable acts was building the Bulgarian section of TurkStream, a natural gas pipeline from Russia to Turkey, with €1.5bn of taxpayer money. It did this despite the State Agency for National Security concluding in 2017 that the project would not bring gas to Bulgaria but instead squeeze Ukraine as a transit route for Russian gas to Europe.
"Technologies from the last century are being prioritised," says Meglena Rusenova, head of the Bulgarian Photovoltaic Association. "Now, with the [Ukraine] war, these technologies are putting at risk the security of supply."
More gas not energy transition in Bulgaria
Poland and Bulgaria became the first European countries to stop receiving Russian gas in late April 2022. Since then, Bulgaria has been busy negotiating new gas deliveries with Azerbaijan, Greece and the US to secure sufficient supplies ahead of winter. There has been little public discussion about the country's stalled renewables deployment and the sudden gas halt as an opportunity to accelerate the energy transition.
Negotiations with Azerbaijan have taken centre stage as Baku has declared it can double its gas deliveries and cover at least one-third of Bulgarian consumption as of this year. While Azerbaijan may seem like an unlikely partner, in July the European Commission signed a memorandum that foresees the doubling of Azeri gas deliveries to the EU via the Southern Gas Corridor. Since Bulgaria's interim government turned down US-based Cheniere's offer of liquefied natural gas (LNG) deliveries and did not succeed in renewing negotiations with Gazprom, Azeri gas has become the most viable solution.
On 1 October, the Gas Interconnector Greece-Bulgaria (ICGB) started operation, making it possible for Bulgaria to receive the pledged quantities of Azeri gas. Baku has confirmed that Bulgaria can rely on around one billion cubic metres (bcm) of gas per year, which equates to a third of the country's consumption. As south-eastern Europe's sole LNG terminal, in Alexandropoulos, Greece, is only set to start operations in 2023, this further strengthens the importance of deliveries from Baku.
Altogether, Azerbaijan has pledged to increase gas exports to the EU to 20bcm by 2027, up from around 10bcm today. This puts it on track to become a key energy supplier to south-eastern Europe. Following the inauguration of the ICGB, gas network operators in Romania, Hungary and Slovakia have also said they will ship additional natural gas from Azerbaijan to Europe.
"More natural gas will be required to increase the transmission capacity of the Southern Gas Corridor," says Farid Mehralizadeh, an independent Azerbaijani economist speaking to Energy Monitor in a personal capacity. The Shah Deniz gas field in Azerbaijan, the country's largest, has entered a third development stage that will enable the extraction of an additional 15bcm by 2030. In addition, the new fields Absheron and Karabakh are expected to produce an additional 1.5bcm.
All in all, data from Energy Monitor's parent company GlobalData shows that Azerbaijan is undertaking oil and gas construction projects with a total value of at least $23bn out to 2027.
However, a number of factors threaten Azerbaijan's gas export aspirations. For example, a significant part of the critical infrastructure needed to extract the natural gas is co-owned by Lukoil, Russia's second-largest oil producer. Lukoil is the second-biggest shareholder in the Shah Deniz gas field with 19.99%, coming second after BP, which owns 29.99%. Shah Deniz is likely to remain Azerbaijan's main gas field for the foreseeable future; data from GlobalData indicates that gas extraction is likely to continue to 2080.
Lukoil also owns 15.99% of the company that ships and sells Azeri gas to Europe via the Southern Gas Corridor. Here as well, the biggest shareholder is BP with 23.99%.
On top of the potentially problematic ties to Russia, a number of politicians and human rights groups in the EU have criticised Brussels' choice to make the bloc dependent on yet another autocratic regime. Renewed fighting between Azerbaijani and Armenian forces in September, less than two years after the 2020 war, has brought further condemnation of this element of the EU's approach to energy diversification.
Mehralizadeh notes that the Azerbaijani government is interested in increasing its share in European natural gas supplies for political as well as economic reasons. "Cooperation in the field of energy allows the Azerbaijani government to obtain concessions on some issues and opportunities for manoeuvre in its relations with different countries," he says. "The increase of its share in the energy supply to Europe is a factor that increases the geopolitical [weight] of Azerbaijan."
Bulgarian business turns to renewables
For Bulgarian political circles, natural gas remains an appealing fuel and the pursuit of long-term deliveries from Azerbaijan is evidence of that. Private businesses, however, have turned their attention towards renewables. "An increase in electricity prices for businesses has led to a huge increase in demand throughout the solar industry," says Antoaneta Kaloferova, owner and CEO of Solarity, a provider of PV systems. "New customers have been aware of solar power for years, but either didn't have the financial opportunity or didn't have the incentive to invest because electricity prices weren't that high."
As a consequence of Putin's war in Ukraine, demand for solar PV has outrun supply and while many new providers have emerged on the market, they often lack the resources and ability to take on larger solar projects, adds Kaloferova.
The tendency is to build smaller capacities first from 1–5MW and then increase to up to 20MW, says Rusenova from the Bulgarian Photovoltaic Association. "Solar energy is becoming one of the cost-cutting tools for [big] industry but also for small and medium-sized enterprises and micro ones," she adds.
Building out renewables goes beyond just saving money. "Investments in renewables are an important factor in the modernisation of our energy system," says Rusenova.
Grid connection projects for renewables are mostly carried out by companies experienced with Bulgaria's administrative hurdles, with few new market entrants. The solar industry says administrative regulations remain a big burden. Bulgaria is divided into three geographic regions for energy distribution, which are run by three different companies with three different procedures for connecting a solar plant to the grid. This means that a 100kW rooftop installation will be built according to different connection specifications depending on the region, even though renewables targets are national, says Kaloferova.
National legislation too, could be further improved to support the roll-out of renewables, says Rusenova. Net metering regulations – which allow distributed generation customers to sell surplus electricity to the grid – could be powerful incentives for households to become not only consumers, but also producers of renewable energy, she suggests.
[Keep up with Energy Monitor: Subscribe to our weekly newsletter]
Despite the hurdles, private investors have persevered in investing in renewables in the face of the state's neglect of the sector. "The renewables sector [in Bulgaria] is entirely private," says Rusenova. "New investments after 2010 have been realised entirely with private capital."
Borissov's central campaign message of a return to stability and an end to "chaos" won GERB over a quarter of all votes cast on 2 October. But a stable government does not necessarily equal a good government for Bulgaria's stalled energy transition, when one looks at GERB's track record.
"A stable government with tight and clear policies can make a change, but such a government has not been in place for years," sums up Kaloferova. "And even if there is a stable government, if energy [transition] is not a priority, nothing will change."